Short Reviews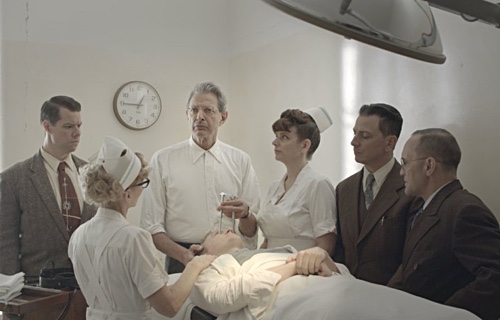 The Mountain (2018)
★ / ★★★★
The defiantly obtuse "The Mountain" could have been a humanistic story centering a young man (Tye Sheridan) who is recently hired by a doctor (Jeff Goldblum) to take pictures of lobotomy procedures and patients as they travel across the country. Instead, this simple plot is shoved into an experimental route: a minefield of characters staring into space as the irksome score wriggles like a worm in the eardrums; clichéd illusions, daydreams, fantasies; and blinding chalk-white interiors that look and feel like a movie set. Not one element is convincing—the acting, how people actually spoke in the 1950s, the clinically sanitized atmosphere—and especially the ill-paced and ill-placed histrionics of a French-speaking drunkard (Denis Lavant) who wishes for his daughter to be lobotomized. When he is front and center, one could feel the remaining curiosity of the picture shriveling into itself. Who is the movie for? Just as it is reluctant to look deeply into what makes its characters interesting and thus worth following, it, too, is afraid to stare at lobotomy in the face, particularly the long-term side effects that patients experience: incontinence, seizures, apathy. The work fails to take on a specific perspective and so a potentially worthy subject is reduced to an opaque exercise designed to test the patience. Directed by Rick Alverson—giving the impression he was half-asleep while helming the film.

Body at Brighton Rock (2019)
★ / ★★★★
Situational horror picture "Body at Brighton Rock" inspires the viewer to look up the qualifications for becoming a part-time summer park ranger because the protagonist (Karina Fontes) has a tendency to make one mistake right after another, most often due to a lack of common sense and consistent failure to follow simple directions, that we question whether she is worth following all the way through the story. And so despite the film just clocking in under ninety minutes, it feels significantly longer. It is highly frustrating to watch a main character—one hired to be out in the wilderness and promote safety—who has minimal knowledge of survival skills. Imagine this: Wendy comes across a lighter and she still has trouble starting a fire. The screenplay by writer-director Roxanne Benjamin is the issue here; it lacks pragmatism, creativity, and imagination. It does not know where to go once Wendy comes across a corpse. There is talk among friends that the woods may be haunted. It is acknowledged that Wendy might be sitting in the middle of a crime scene. Cue shots of creepy-looking branches which suggest the woods may be alive. Is a hungry predator within the vicinity? Leaves make crunching noises but there is no one there. Likewise, ideas are introduced but never explored in meaningful ways. There is no suspense, thrill, or horror. Just a whole lot of waiting for nothing to happen.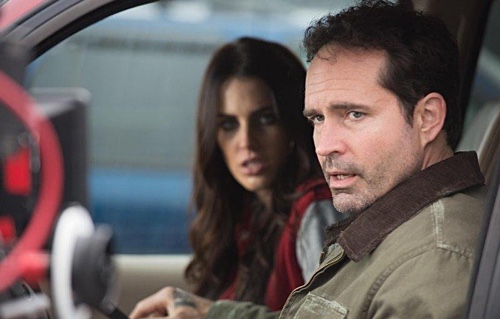 The Prince (2014)
★★ / ★★★★
Brian A. Miller's "The Prince" is yet another action-thriller in which a desperate father must rescue his daughter from bad guys, but what makes it a tolerable experience is its insistence in providing background information so that viewers have an appreciation of why violence must occur—to a fault. The screenplay by Andre Fabrizio and Jeremy Passmore is so heavy on expository and repetitive dialogue, the first half is a soporific bore, particularly when a character named Angela (Jessica Lowndes), the party-loving best friend of the missing college student, is placed alongside our central protagonist, Paul (Jason Patric), the mechanic with a mysterious past. The majority of their dialogue simply serves to explain the plot—unnecessary given the story's familiar premise. More interesting is the lo-fi approach to shootouts. It makes the point that violence is ugly and painful, not beautiful or well-choreographed as often shown in polished and expensive action flicks. There is a hint of a superior story, however, when Paul crosses paths with old friend (John Cusack). The two reminisce days gone when they were young killers. There is a calm to their aged faces and bodies which helps to convince us of their once savage natures now suppressed. I would have preferred to experience that movie.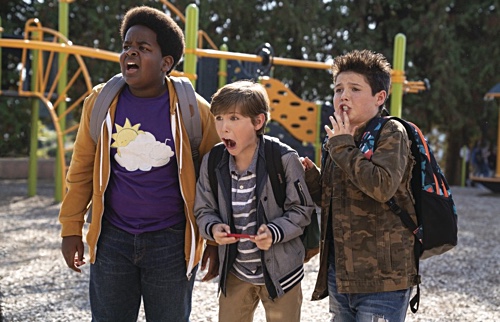 Good Boys (2019)
★ / ★★★★
There is a way to make a raunchy tween pseudo-sex comedy for adults, but Gene Stupnitsky's "Good Boys" misses the mark completely. The reason is because it is a one-trick pony when it comes the would-be comic moments: Put six-graders Max (Jacob Tremblay), Lucas (Keith L. Williams), and Thor (Brady Noon)—collectively known as the Beanbag Boys—in adult situations (buying drugs, stealing beer, spying on neighbors, and the like) and allow their innocence to shine through. The formula is lazy, repetitive, and, for the most part, unfunny. Notice how there is minimal flow to the comedy; just a parade of one wacky scenario after another with no dramatic pull. Cue the boys screaming when things go awry. Just because the tweens utter curse words like sailors does not automatically mean the material is effective. Two-thirds of the word through, the work undergoes a forced and unconvincing tonal shift. However, there is a lack of convincing drama in the boys realizing they will not be best friends for life precisely because the screenplay by Stupnitsky and Lee Eisenberg has treated these characters as cardboard cutouts for the majority of the picture.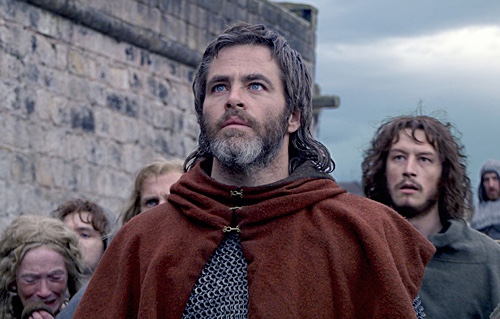 Outlaw King (2018)
★★★ / ★★★★
With a keen eye for beautiful vistas of majestic cliffs overlooking rivers and oceans, verdant forests, and flat terrains plagued with bogs, "Outlaw King," directed by David Mackenzie, is visual splendor. It has a knack for placing the viewer into its particular time and place. But the deeper it gets in excavating the conflict between Robert the Bruce (Chris Pine), soon-to-be murderous king of Scotland, and the tyrannical King Edward I of England (Stephen Dillane), details are presented in a cursory and unsatisfying manner some of the time. Its constricted two-hour running time does not allow for the material to breathe between major turn of events. Right when one is finished, the next one is presented. It becomes a challenge to buy into the passage of time and so a fully immersive experience is not achieved. In the middle of it, one considers that perhaps telling the story in the form of mini-series might have been more effective. The work is elevated, however, by committed supporting performances, from Florence Pugh as Elizabeth de Burgh, Robert's intelligent, supportive, and headstrong wife; Billy Howle as the irascible Prince of Wales with serious daddy issues; and Aaron Taylor-Johnson as revenge-driven James Douglas whose lands have been taken away on the basis of treason. I wished to know these figures and all their complexities, but we are provided only a glance.