Short Reviews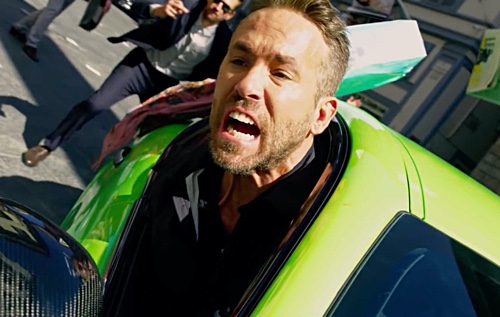 6 Underground (2019)
★ / ★★★★
Pointless, loud, and constantly on the move, there is no denial that "6 Underground" is a Michael Bay movie. I enjoyed the first fifteen minutes which features an extended car chase in Florence—on labyrinthine streets, through cafe dining areas, inside museums, with little regard for pedestrians—but it's a nosedive the moment we leave Italy. The story revolves around a vigilante group (led by Ryan Reynolds) whose goal is to rid of the planet of what they consider to be evil persons, groups, or organizations. This time, they set their eyes on a dictator of "Turgistan" for… generic reasons why a dictator is a very, very bad individual. The picture is so reductive with its politics that it is almost satirical. But this is no political thriller; it is an action-thriller. However, the action scenes are no good either in that they fail consistently to incite excitement. A case can be made that these sequences are anti-action: viewers are inspired to sit back and simply absorb images as if we had just undergone lobotomy. Production value is sky high: we visit at least three countries; cars are cut in half, explode, and crash onto one another; stuntmen crawl up and down skyscrapers like spiders; there is even a yacht that sinks. Despite this, there is no heft in whatever the hell is going on (if you can make sense of it). Reynolds' try-hard would-be comic one-liners are especially annoying when spouted in the middle of dead dull action. The experience at offer here feels worse than eating junk food because at least when you're eating junk food you feel happy until you get to the bottom of the bag. Co-starring Mélanie Laurent, Ben Hardy, Corey Hawkins, Adria Arjona, Manuel Garcia-Rulfo, and Dave Franco.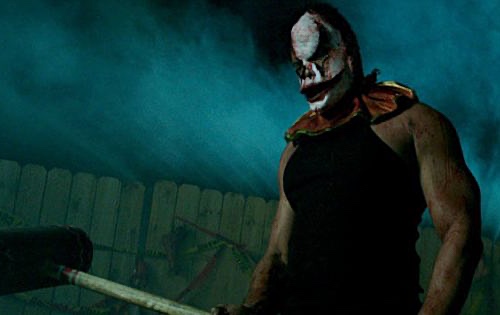 The Funhouse Massacre (2015)
★ / ★★★★
In the middle of this torturously slow horror-comedy, I wondered if director Andy Palmer and screenwriter Ben Begley intended to make a movie to be enjoyed only by viewers who are stoned. Sure, it offers some neat practical effects like throat slashing, beheading, and skull drilling, but there is no sense of joy, creativity, or real wit emanating from it. Since its focus is on things like how to make plastic look like human flesh and how to create convincing blood spurts, one is better off watching a documentary of artists who specialize in special effects. I bet they'd have something interesting to say. In this film, the humor is so try-hard, so forced, even Gregory Plotkin's "Hell Fest" is funnier by comparison—and that is a terrible movie regardless of the genre. One of the main problems is that every single character is written like he or she has only one brain cell and this neuron functions at half capacity. When confronted by a threat, not one person has iota of what to do in order to survive and so these potential victims are left running around like headless chickens. The filmmakers have forgotten that going through a haunted house or maze should be enjoyable, not a death march to the finish line. I hope the legendary Robert Englund, playing the warden of a mental facility that houses notorious serial killers, got paid well to appear in this junk. He should consider himself lucky that he's only in it during the first ten minutes. The rest of us had to stay and be insulted.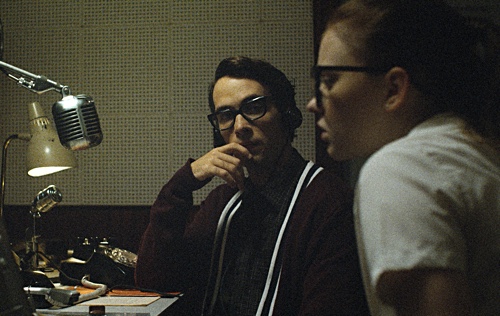 The Vast of Night (2019)
★★★ / ★★★★
The supremely confident directorial debut of Andrew Patterson tells the story of two teenagers in Cayuga, New Mexico who come across strange sounds through the radio while most of the town residents attend the first basketball game of the season. It is without compromise: dialogue-heavy, unfolding in real time, penchant for long takes, ostentatious (but accurate) in terms of embracing the 1950s milieu, and demanding viewers to adapt to its offbeat rhythm—there is no typical three-arc structure of storytelling to be had here. What results is a work that coaxes those looking in to catch up to it despite the fact that UFO stories have been done to death. It is anchored by two strong central performances by Jake Horowitz as the smooth cool local DJ Everett Sloan and Sierra McCormick as the plucky sixteen-year-old Fay Crocker. Fifteen minutes into the picture, I was reminded of films in the 1940s and 1950s where characters have real drive and personality; I wished to know more about this duo as young people with potential bright futures outside of the UFO plot. Even the supporting characters—an old lady (Gail Cronauer) and a voice via telephone (Bruce Davis)—command attention. This is a film in which words, sounds, and timing—together—is paramount; tension depends on the synergy among them. I look forward to Patterson's follow-up.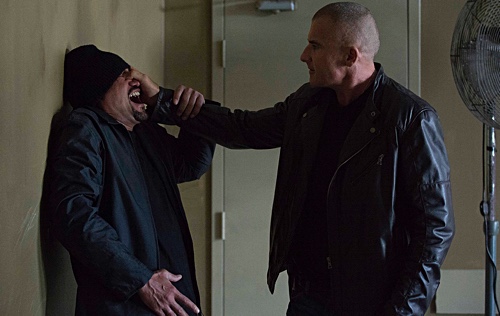 Gridlocked (2015)
★★ / ★★★★
High body count action-thriller "Gridlocked" delivers the expected from the genre, but it falls flat nearly every time it tries to pull off a surprise. The premise is cheeky: narcissistic and troubled movie star (Cody Hackman) who assaulted a paparazzo is assigned by the court to shadow a cop (Dominic Purcell) as good faith that he means to change his ways. In reality, it is a PR strategy to keep the actor out of jail so he can continue making his next blockbuster. The serious cop and flashy clown pair is nothing new, but screenwriters Rob Robol and Allan Ungar (who directs) go for the laughs and commit to them even though a good number of jokes are made-for-TV fluff. At first, the cop is not keen on babysitting but the more the duo spend time with one another—well, you know how it goes. The centerpiece is the action: a mysterious shadow group (Stephen Lang) breaks into a police training facility for… something not worth waiting for; the picture takes more than half of its nearly two-hour running time to reveal the motivation of its standard slithering villain. Action sequences are occasionally well-choreographed and exciting. Although there is no convincing danger, I found myself wishing to know what would happen next. Comic touches which set the initial tone are relegated behind loud and busy shootouts eventually. And when they do return to the foreground in the action-heavy latter half, they feel out of place. There is an undeniable lack of discipline in tone.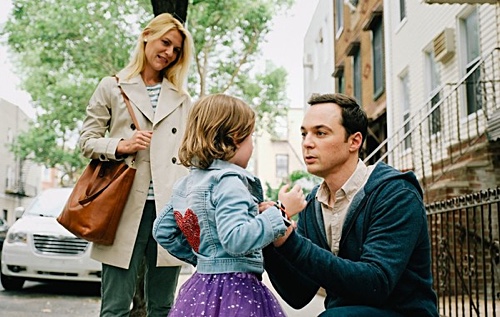 A Kid Like Jake (2018)
★★ / ★★★★
With a title like "A Kid Like Jake," it is reasonable to assume that the movie will be about parents who must come to terms with their child's nature. Specifically, it is brought to Alex (Claire Danes) and Greg's (Jim Parsons) attention that perhaps their four-year-old son (Leo James Davis) is showing signs of being "gender-expansive." Jake prefers to play with dolls and princess dress-ups than he does sports or superheroes. In actuality, however, the child's sexuality or gender is not what this film is truly about. It is about parents who must deal with their own fears or concerns regarding 1) having to raise a child in a society that doesn't really understand—or care to understand—what gender identity means, 2) their feelings of inadequacy—what they did or didn't do, if they could have done things differently as to prevent "confusing" Jake about his gender and 3) the boy not having a spot in private school that could foster his potential. The movie is well-acted, its heart is in the right place, and it does reach a few compelling moments when characters clash while the camera is right there mere inches away from their expressive faces. We feel the unsaid words behind their eyes. But the movie lacks subtlety, even common sense at times. For instance, the couple's state of conflict is rooted upon how they perceive their child and yet there is not one convincing moment in which a case is made that a boy preferring traditionally feminine toys or a girl preferring traditionally masculine toys does not have to mean anything at all. Maybe, just maybe, parents nowadays, especially those who come from privileged backgrounds, tend to overanalyze. When basic facts are ignored in what is supposed to be intelligent and thoughtful drama, it is a house of cards. Based on the play and adapted to the screen by Daniel Pearl. Directed by Silas Howard.