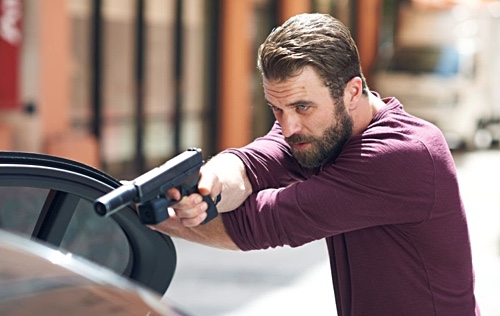 All the Devil's Men (2018)
★ / ★★★★
Those who don't mind an action picture with minimal charm are likely able to endure "All the Devil's Men," a work filled to the brim with clichés and funny blunders, like a man capable of getting up within seconds of being tasered and a smashed window somehow magically unbroken the very next shot. While not completely terrible as a shoot-'em-up, ambition and creativity in terms of its characters who are capable of double- and triple-crosses certainly would have taken the material to the next level. It lacks intrigue.
The mission is to capture a disavowed CIA operative (Elliot Cowan) who is currently at the top of the U.S. president's kill list and extract him from London. Soon he plans to meet with the Russians and purchase a warhead. Naturally, he must be stopped at all cost. Two mercenaries (William Fichtner, Gbenga Akinnagbe) and a former Navy SEAL named Collins (Milo Gibson) are hired to complete the task by CIA handler Leigh (Sylvia Hoeks), daughter of a man beheaded on camera by the man of interest. Although the performers are game for their respective roles, it is written all over their faces that they are not challenged by the material.
Numerous line deliveries are flat on paper and downright uninspired when it comes to delivery. I felt uncomfortable as rehearsal-sounding dialogue actually made it to the final product. (At one point I wondered about the length of the shooting schedule. It could not have possibly been more than a month based on the number of scenes that needed to be reshot.) Thus, would-be emotional moments when characters look into the distance and describe what is at stake for them personally are neither dramatic nor resonant. These come across as scenes that had to be inserted between action sequences rather than a natural development when the conflict gets increasingly personal as corpses begin to pile up.
Gibson has the physique of a potential action star (notice how the camera admires his body during the opening shot), but it is difficult to determine whether he has range based solely on this project. As shown by the striking first sequence in Marrakesh, Collins is someone who prefers to work alone—he does not say much but he is highly efficient. Had a keener eye been behind the camera, coupled with a more intelligent script actually interested in men numbed by death and murder, perhaps it have worked as a character study of some sort. Collins is not uninteresting, but the script consistently puts him in situations that are uninteresting. There is a difference.
Shootouts are standard but occasionally exciting. These suffer from diminishing returns, however, because each confrontation is pretty much the same but occurring at a different location. I found it curious that the central villain is not actually the most interesting antagonist. More menacing is a high-ranking henchman (Joseph Millson) who is easily persuaded by money. Deighton is Collins' friend and also a former Navy SEAL. He is the more effective adversary because he appears to be just as strong, as smart, and as cunning as our protagonist. He seems to enjoy his profession. When the two finally duel, the writer-director, Matthew Hope, proves not to have the wisdom to draw it out a little more. Deighton is such a detestable, weaselly figure. He wish for him to suffer, preferably slowly.