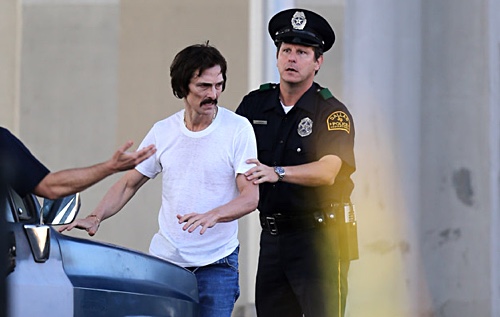 Dallas Buyers Club (2013)
★★★ / ★★★★
An accident at work leads Ron Woodroof (Matthew McConaughey) to the hospital. After going through his blood work, the doctor tells Ron that he has AIDS and it is estimated that he has only about a month to live. Ron responds with outrage and insists the diagnosis is a mistake. He is, after all, not a homosexual and has never had homosexual encounters. Though he later decides to take treatments in the form of experimental and high dosages of AZT, he becomes convinced that AZT is not a good solution. It made him feel very sick. When Ron hears about alternative drugs in Mexico—drugs that are not approved by the Food and Drug Administration—he goes there to obtain the medications.
Based on the screenplay by Craig Borten and Melisa Wallack, "Dallas Buyers Club" captures the confusion and desperation of people in the '80s who lived with AIDS. Forget a typical character arc in which the main character embraces valuable lessons along the way. Ron learns a thing or two but that is far from the point. We just so happen to see the story through his eyes. It could have been told from the perspective of Rayon (Jared Leto), a transgender woman and Ron's eventual business partner, and the story would still be interesting.
The picture falls a bit short on providing sufficient specifics regarding Ron's drug deals abroad. We see large paintbrushes of what he must do—contacting the necessary individuals, putting on a disguise, taking the plane, bribing—but there are not enough conversations that detail the business deals. Sometimes the material leans too much on images to convey an idea. While a good framework, it is not always the best way to amp up the drama in a subtler way.
McConaughey and Leto provide solid performances. The relationship of their characters snuck up on me because I thought I saw them only as partners in running the Dallas Buyers Club, a business that offers a person a variety of drugs, proteins, and vitamins—less deadly than AZT that hospitals use—for four hundred dollar per month membership. But then the second half comes around and we realize how they have learned to help each other not just from the financial side but also in sharing an experience of carrying a disease that will kill them eventually. We know they will die because there is no cure, only treatment that prolongs.
I wished it had shown more images of how AIDS wreck havoc on the body. We see a bit of McConaughey's near emaciated frame and some blood being coughed out, but I got the impression that the film is not willing to go all the way and show the true ugliness and tragedy of the disease as in Friedman and Joslin's "Silverlake Life: The View from Here."
Regardless, "Dallas Buyers Club," directed by Jean-Marc Vallée, is worth seeing mainly for the strong performances by McConaughey and Leto as well as successfully showing a time in which information that we know now about AIDS is not yet known.