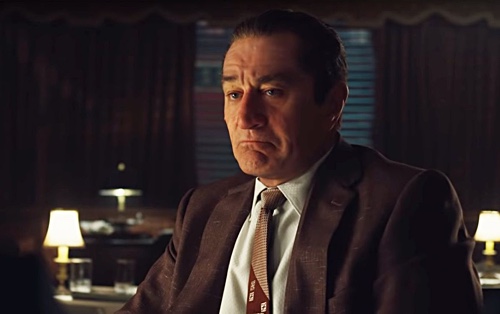 The Irishman (2019)
★★★ / ★★★★
Martin Scorsese's "The Irishman" reaches full power only in its final seventy-five minutes—which is a long wait because the entire work is about three-and-a-half hours. Within this compelling final section, we observe two things: Frank Sheeran (Robert De Niro) betraying a friend during his time as a hitman for the Mafia and his family leaving him, Frank now a regretful elderly man who cannot even walk, in the nursing home to rot. The latter is a betrayal in itself—at least Frank's mind. Because, for him, working for the Mafia for as long as he did was an act of protecting his family. In reality, however, the strangers he called friends could have just as quickly turned their backs on him. This is a story of a man who lost everything. And by the end he is nothing.
We meet numerous personalities within the Philadelphia crime family. The screenplay by Steven Zaillian is peppered with a wicked sense of humor, especially when the movie screeches to halt and right next to a man's face is a quick description of how he would come to meet his demise. More savage is in how Scorsese focuses on the big personalities—like Russell Bufalino (Joe Pesci), one of the leaders of the Mafia, and Jimmy Hoffa (Al Pacino), leader of the labor union International Brotherhood of Teamsters with an obsession for decorum and punctuality—and constantly puts them through a wringer. Bufalino and Hoffa are nearly complete opposites, in temperament and physicality, but Scorsese is so confident and so focused in communicating to us what gets under these men's skins. Pesci and Pacino deliver strong, hypnotic performances—they are masters of keeping silent but saying more than enough. And De Niro matches their terrific performances every step of the way with seeming ease.
However, the majority of the film failed to engage me in a way that is completely enveloping. While showing Frank's rise within the Mafia ranks is consistently beautifully photographed, especially in getting period details exactly right, the dialogue possessing a firecracker quality at times, and historical events are tied into the plot in a relatively seamless manner, I found nothing particularly fresh in the rising action. I felt as though the director has told this type of story before with far more energy and creativity in "Mean Streets," "GoodFellas," and "Casino." It feels like dragging our feet while traversing a familiar pathway. It is without question that the work lags and sags in parts.
Another problematic element is the de-aging technology. While it is impressive to see the performers magically turn young, I urge you to look a little closer. Focus on the eyes. This technology fails to get the eyes right because a young face is often shown possessing old eyes. It is creepy at times, yes, and some may even find it amusing, but more problematic is the fact that it is highly distracting during the most dramatic or tense sequences. As a viewer who has made it a habit to really look into the eyes of the characters in order to try to understand what it is they really mean behind their words, silence, and actions, aged eyes not matching much younger faces is impossible to overlook.
An additional shortcoming, but to lesser degree of severity, is the occasional voiceover not quite matching the lips. A tighter editing might have helped to cover up the poor audio post production. But for a high caliber director like Scorsese, this is an elementary mistake; I found it insulting that the final product, from a technical standpoint, is this sloppy.
"The Irishman" is worth seeing at least once, but it is far from this master filmmaker's best work. The intention to tell a sprawling but personal story is present, but I feel both the innovation when it comes to telling a fresh crime story and the discipline to ensure the presence of top-notch technological and technical elements are not always present. See it mainly for the performances.