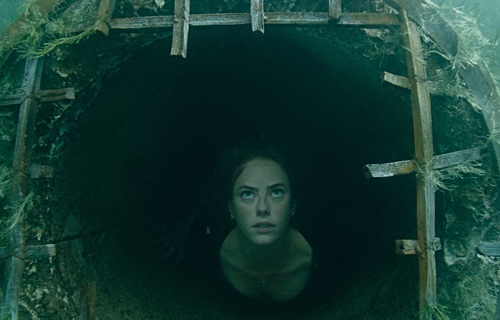 Crawl (2019)
★★★ / ★★★★
Like strong creature features of the 1980s, "Crawl," based on the screenplay by Michael and Shawn Rasmussen, strips away the fat and dares to focus on the survival aspect of the story. But in order to increase the ante, there is no creature that had undergone genetic mutation or a bizarre alien being that crash landed on our planet. Instead, it takes a realistic approach: a father and his daughter find themselves trapped in their Florida home during a Category 5 hurricane—alligators just so happen to be on the hunt for food. In a way, the alligators are simply trying to survive, too. The movie is fun, full of energy, and as it moves forward, I caught myself pulling my limbs toward my torso. Cue the alligator's jaws snapping shut around a character's arm.
It is exciting visually. While the storm does not look particularly impressive or expensive, the increasingly terrifying flood does. There are numerous before-and-after shots. For instance, in the beginning of the film, we get a chance to observe the water levels around town as our heroine makes her way through evacuated roads to check up on her father. Then we spend the majority of the picture under a house as our characters evade the hungry reptiles.
Later, when we lay eyes on the outside again, it is shocking how trees are now bent a certain way, cars are floating about, the wind at least twice as strong, and the water can be seen as far as the eye can see. Because there is attention to detail, we believe that there really is a hurricane ripping through the state. Just as quickly, our minds drift toward Haley (Kaya Scodelario) and Dave (Barry Pepper) who are increasingly tired, injured, and bloody. Alligators prove to be most patient hunters.
There is human drama in the middle of this survival feature, but it is the correct decision to minimize it. Flashbacks are utilized to show how close Haley was to her father when she was a child. He was her coach and mentor. Haley is angry at her father but we do not know why initially. We do know, however, that Haley is unhappy right from the opening sequence during swim practice. She is the kind of person who has been trained to hide or mask her emotions. Did Dave push her too hard? Was there a traumatizing event? Is it something else entirely? The story can be seen then from the perspective of a familial anger that must exorcised through great violence in order for the relationship to move forward. Credit to the Rasmussen brothers for their efficiency.
The true stars of the picture are the alligators. Director Alexandre Aja has a knack for showing how beautiful these creatures are… then perverting that beauty into terrifying encounters. Underwater shots clearly serving to admire their sheer size and majesty are examples of the former. Latter examples are the gator attacks on land: how fast, smart, and powerful they are even when they are not in water. Most enjoyable is the fact that the filmmakers are willing to show how an alligator attempts to overwhelm its prey: how it uses its tail, its jaws, its own body weight, even its own surroundings. Each confrontation is different and that makes it exciting.
"Crawl" will tickle those who like their creature features short and sweet… but also dirty and bloody. Whether a chase sequence unfolds indoors or outdoors, it has a wonderful habit of placing the viewers close to the center of action for maximum impact. Every splashing of the water counts. Even tiny bubbles can be detected by these ferocious gators. It inspires us to clean closer yet remain guarded just in case there is a jump scare. In the middle of it, I wished more modern survival horror-thrillers were as lean and efficient as this experience.