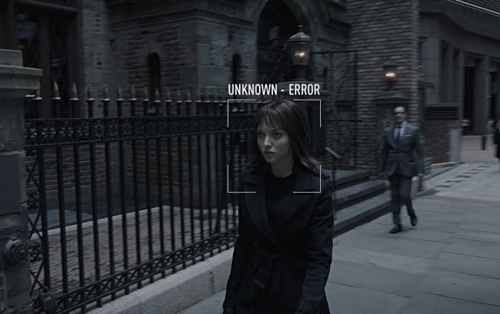 Anon (2018)
★★ / ★★★★
The high concept sci-fi thriller "Anon," written and directed by Andrew Niccol, possesses a curious idea, but the execution is so dour and so slow that at times experiencing it feels more like a chore than entertainment. In the middle of it, one considers the possibility that the story might have been better off had it been shaped as a tight episode of "Black Mirror" instead of a feature film. At times the pacing is not at all appropriate for the type of technology or future it attempts to criticize.
Niccol presents a future without privacy in which the government has complete access to every single thing that nearly every single person does every second of every day—with the exception of a select few, most of them hackers, who have found rather creative ways to remain anonymous. Should investigators wish, they are able to review records of past events taken from people's recollections. No warrant is required. Initially, this level of access appears to be highly beneficial because there is a killing spree in New York City.
Detective Sal Frieland (Clive Owen), a man still mourning his young son's death, is assigned to the case. The prime suspect: an anonymous hacker named only as The Girl (Amanda Seyfried) whose speciality is in removing or altering memories of her clients. The police force aims to capture her, but she is consistently one step ahead. Clearly, it requires more than ingenuity to take her in.
The picture is fond of detours when the story is best told straight: Frieland's grief and alcoholism, pressure from high-ranking officials to protect the sanctity of a technology currently on the verge of being utilized nationally, a suspect possibly a misunderstood persona. With every left turn, which is meant to become an interesting subplot, notice how the pacing tends to slow down. The reason is because these elements are nothing new or compelling; they are simply plugged into this particular world and unnecessary plotting is written around them. Remove the futuristic world altogether and realize there is nothing worth seeing here. Therein lies the problem.
Owen and Seyfried are fine; they try to do what they can with the material. I am almost certain they have been instructed to speak in a low-key way in order to amplify the mystery of the setting. Normally, these are expressive and emotive performers. It feels like they hold back here. When their characters show more varied expressions, particularly during the final act, it comes across as false because they are quite muffled throughout the picture's duration. The sudden disparity took me out of the supposed drama.
"Anon" wants to be taken seriously and the photography reflects this yearning. The images are drenched in neutral colors. Primary colors appear to be banned. Voices must be kept under a certain decibel. The sun's rays are barely seen despite numerous shots of skyscrapers. I suppose this level of control should be applauded, but I wished the same effort was made to create an extremely efficient screenplay. There is more style than substance here.