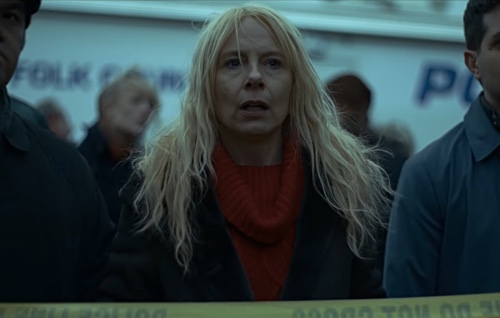 Lost Girls (2020)
★★★ / ★★★★
Here is a movie that by the end the police have found four corpses and at least ten to sixteen human remains in Long Island, but it is not about uncovering the identity of the infamous serial killer. Liz Garbus' melancholic, angry, and focused "Lost Girls," based on the book by journalist Robert Kolker, tells the story of sex workers whose deaths are treated cheaply by those whose job is to find truth and justice. It is a human story, interested in the flaws of its victims, their families, and the cops themselves. The work demands attention. It offers no easy or convenient solutions.
Amy Ryan portrays the mother of one of the missing girls. Her Mari is a force of nature, a fighter, the kind of person who speaks and demands others to listen to what she has to say. Ryan is not interested in vanity; she provides the audience raw anger—anger toward the authorities for their sheer incompetence (and disinterest) and also anger toward herself as a mother who knows deep down that she had not done all she could so that Shannan could fulfill her potential while growing up. It is fascinating that although Ryan is given strong dialogue by Michael Werwie's screenplay, her strongest moments are entirely silent, when Mari must restrain herself from screaming, crying, or taking action that she might regret later.
We are provided details of the crime. There is a clear pattern in the victims' profiles: women in their twenties, short stature, their line of work, their cause of death. And yet despite all the information that has come to light, the police, led by Commissioner Richard Dormer (Gabriel Byrne), has time and again fallen short of solid leads. The material shows us why. For instance, the investigators neglect to look (or simply choose not to look) at footages recorded by a residential camera the night of Shannan's disappearance. And another: the hysterical Shannan called 911 and begged for help… but help arrived over an hour later. Why?
The movie does a good job in creating a sense of frustration. There is tension because the question of, "What if this crime happened to one of your loved ones?" is always in the back our minds. Wouldn't you want justice? Wouldn't you want to call out and root out incompetence? The first group of bodies found is discovered completely by accident. The police are not even trying to look for the missing Shannan. Again, why is that? Is there a cover-up? Throughout the film, we are inspired to ask questions about the players involved and also ourselves. How would we react if we saw the news and our sister, cousin, or friend is only referred to as a prostitute, a sex worker, an escort—as if she were to blame for being murdered?
"Lost Girls" could have been a syrupy melodrama that follows the usual beats and the same old boring dramatic parabola, but the filmmakers are too smart for that. The correct choice is made: To focus on showing the characters as messy, imperfect, and perhaps even unlikable. Because we are able to recognize real people on screen, we empathize even more with the crises they face. The film treats the story from which it is based upon with respect—which is more than what those in charge of the case at the time had given.