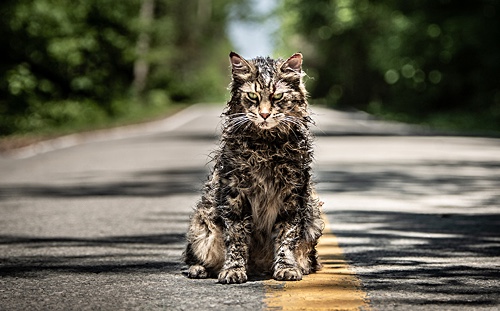 Pet Sematary (2019)
★★ / ★★★★
The second reimagining of Stephen King's "Pet Sematary" is better than the first—but not by much. It is composed of the same mistakes that modern horror movies tend to make: a noticeable score designed to tell the audience what to think and how to feel, silly jump scares that can be predicted beat by beat, laughable instead of genuinely horrifying violence, and a rushed final act that offers minimal catharsis. The viewer is likely to walk away feeling cheated because of the generic nature of the experience.
I found the exposition to be safe but tolerable. Hoping to spend more time with their children, Louis (Jason Clarke) and Rachel (Amy Seimetz) decide to uproot their family and start anew in rural Maine, away from the hustle and bustle of Boston. In Ludlow, Louis will work in a clinic instead of a hospital while Rachel will stay home with the kids. But when the family cat, Church, dies in an accident, their friendly neighbor, Jud (John Lithgow), has an idea: to bury the cat in the woods where the land has a reputation of bringing the dead back to life. About a third of the way through, although the pacing is slow, each step is purposeful. There is a sense of foreboding. We even learn about Rachel's relationship with death, particularly the guilt and trauma that linger in her regarding her sister's passing.
However, once the typical horror elements begin to take over the plot, especially those normally found in slasher movies, the picture falls apart. One gets the impression that screenwriter Jeff Buhler has failed to find true inspiration and so he decides to utilize shortcuts as a substitute. The dead coming back to life should be a terrifying notion, especially if these beings are able to retain their memories and the ability to communicate. Already they are different from zombies who only wish to bite flesh and eat brains. Instead, there is more attention placed in the running around, the stabbings, and the struggles of getting to a weapon. It all just feels so tired and pointless.
There are watchable performances here by Clarke, Seimetz, and Lithgow. The actors who play husband and wife are believable in that the more recent changes in their lives are not easy for either of them. And yet they try to make it work. The widower, too, is a curious character. When he is finally invited for dinner, we feel his joy of being welcomed by the family, including the cat. However, the enthusiastic yet grounded performances still fail to save a screenplay lacking both strong vision and fresh execution. The entire work must be effective as a horror picture above all.
"Pet Sematary" is directed by Kevin Kölsch and Dennis Widmyer in a most pedestrian fashion, especially when it comes to the scares. If anything, precisely because the work is both based on a book and a remake of an overrated would-be classic, every second should be dedicated to surpassing them. Instead, it appears to be content in delivering familiar tropes that lack imagination and tension. It feels like another cash grab.