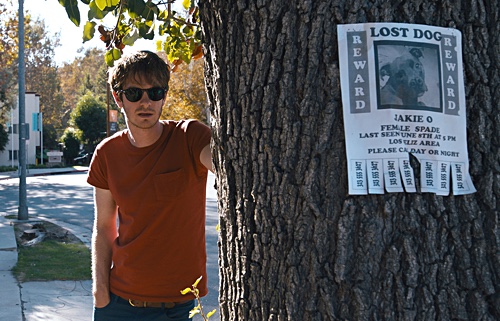 Under the Silver Lake (2018)
★ / ★★★★
Beware: "Under the Silver Lake" is a hundred forty minutes of writer-director David Robert Mitchell masturbating on film and then dunking the viewer's head onto the pretentious bodily fluid. It is polarizing and perplexing… and yet the same time an argument can be made it is a passionate amalgamation of genres tied together by a central mystery. There is a saying that one man's trash is another's man's treasure. To me, this is trash. Let me tell you why.
I found no enjoyment out of it. The question to be solved involves what really happened to a neighbor (Riley Keough) whom Sam (Andrew Garfield) developed a crush on over the course of one meeting. Sam's initial investigation suggests that she perished in a car explosion along with two other women and a man. The story takes place in Hollywood and so it is insinuated that the neighbor is some sort of call girl. Throughout the picture the viewer is required to read in between the lines. At times we have no choice but to make assumptions based on other media we had consumed. While not a negative quality, the picture is filled to the brim with bizarre coincidences, many of them leading nowhere. One wonders eventually why the story must be told in a protracted manner. There is no reason for it but to punish even the most patient watchers.
Even Garfield's performance is awkward and strange. Although I found it fresh that he has chosen to play a boyish loser who has five days left to pay his rent before getting evicted instead of yet another hero or some sort of genius, I did not believe his portrayal. There is not one second when I was not reminded that I was watching Garfield acting. The character's sense of being changes from one scene to the next—so much so that at one point I wondered that perhaps Sam is a manic-depressive. Here is a man so desperate to find the girl that he wills himself to find clues that may or may not be there to discover. Sam is defined mostly through irrational behavior, but it is a critical miscalculation that the screenplay fails to move this figure beyond that.
It is supposed to be a neo-noir mystery-thriller with a sprinkling of comic touches. Way before the halfway point I caught my mind drifting toward Rian Johnson's excellent "Brick." In that film, the investigation is tightly paced, every character we come across matters, and the central mystery is so potent, we get the sneaky suspicion that it may not end well—for anyone. Yet it is not without a sense of humor. They talk funny, they act funny, even the pauses in between are funny. Together, these elements make all the difference. In Johnson's film, the world is a living, breathing microcosm. In this film, on the other hand, nearly everything feels like plastic decoration. If this is the point, then the commentary is shallow. It is important to change gears once in a while.
If I wanted to watch a series of freaky moments that do not add up to anything significant, I'd log on YouTube. Despite the colorful eccentricities of "Under the Silver Lake," the overarching message is that there is an insanity to Los Angeles (the mystery to be solved) and yet people all over the world (our protagonist) are drawn to its enigma and/or promise of a better life. But this is obvious, nothing new, certainly not fresh. Neither is its approach. It fails to command tension even in the most rudimentary manner. Then what are we left with as intelligent consumers?