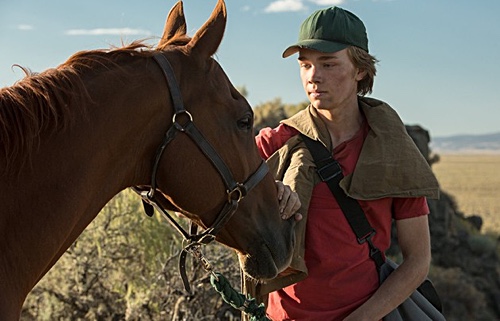 Lean on Pete (2018)
★★★★ / ★★★★
Although the plot involves a fifteen-year-old boy deciding to rescue the titular racehorse from being put down because it is no longer deemed profitable by its owner (Steve Buscemi), it is not what the movie is about. It is about a young person without an anchor, without a home, and little hope for the future. The horse, I think, is a metaphor for his willingness to fight and take his life toward a direction that makes sense—even if the road required to get there may not make a whole lot of sense to us. I found it achingly beautiful, poetic, and moving.
"Lean on Pete" is based on the novel by Willy Vlautin—and it shows. Notice that nearly every single adult Charley (Charlie Plummer—perfect for the role) knows or comes across has been chewed up and spit out by life, from his own father (Travis Fimmel) who pays more attention to wooing women than ensuring the well-being of his son, a female jockey (Chloë Sevigny) who has had her share of broken bones but cannot seem to care deeply about the horses she rides, to the pair of young soldiers (Lewis Pullman, Justin Rain) who just returned from the Middle East. A humanist writer-director, Andrew Haigh underscores the loneliness and sadness that these characters attempt to cover up. So even when someone makes a cruel decision, we do not hate them for it. It can be interpreted that their actions are based upon what life has taught them.
And then we look at Charley—quiet, hardworking, smart, and not yet hardened by life despite the near poverty of his household. We suspect what might be in store for him, the challenges he will face once he takes the horse in the truck and drives to nowhere. Particularly impressive is how the second half rests on Plummer's shoulders and there is not a moment that rings false. It is interesting how the writer-director keeps sentimentality at bay, often choosing to highlight the boy's inner fire, his ability to push through even when he must sacrifice a bit of his innocence just so he can take one more step toward his destination, than the tough circumstances that plague his journey. Lesser filmmakers may likely have opted for tear-jerker moments.
I read somewhere that the movie is not for children—which surprised and frustrated me. I cannot disagree more; it is exactly the kind of movie, I think, that children will connect with, especially because they will have questions. But the questions, I think, will not be about plot points but why certain things are happening, why there is death, why children are neglected or abandoned by their parents. These are tough questions. I believe that those who think that the movie is not for kids are people who are not ready to face and answer the challenging questions for someone else. We often underestimate what children can process.
"Lean on Pete" is a story of a boy who does not have a home. He looks to the people around him: his father, a horse trainer, a jockey; to the gentle animal considered to be old and useless; to the strangers capable of both kindness and inhumanity. They offer no home. He even looks inside himself and finds nothing still. And so he forges on, looking to the past to see if remnants of comfort remain. As the minutes trickle away, we look at Charley, desperately hoping he'll be all right somehow even if he doesn't find what he's looking for.