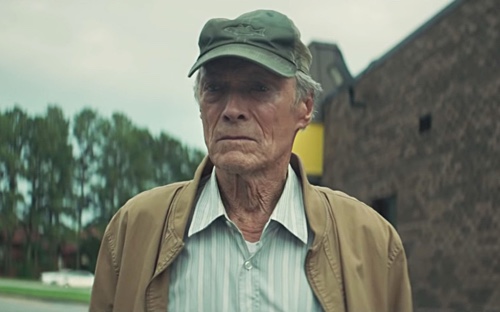 Mule, The (2018)
★★ / ★★★★
"The Mule" attempts to deliver a moving family drama and a suspenseful dance between a ninety-year-old drug courier (Clint Eastwood who also directs the picture) and a hotshot Drug Enforcement Agency agent (Bradley Cooper), but it succeeds at neither. The reason is because the material lacks the necessary subtlety so that lessons about family and personal responsibilities seep through both strands in a way that surprises us. As a result, although the film offers strong performances, especially by Eastwood and Dianne Wiest, the latter portraying the former's ex-wife who has had it with decades of the man's absence as a husband, a father, and a grandfather, the work offers neither excitement nor freshness.
Nearly every point about Earl Stone, a Korean War veteran, is handled with a hammer, from the way he treats his family—and the manner in which they treat him—to the rapport he builds with various members of the cartel. Initially, it is entertaining because the man lacks a filter. For instance, he makes pointed racial jokes so often that we wonder whether eventually a person might take it the wrong way and decide to put a gun on his face. But there are jokes about him, too. His age is a source of humor but so is his obstinacy. Pardon the pun but the usual tricks grow old eventually.
Halfway through, one cannot help but realize that the screenplay by Nick Schenk has gone on autopilot. While I enjoyed that the film actually takes the time to establish the subject's usual patterns of drug transport, it grows repetitive by the fourth or fifth run. It gets interesting only when wrinkles are introduced such as Earl getting handler (Ignacio Serrichio) because the boss (Andy Garcia) is so impressed that the old man is able to deliver over a hundred kilos of cocaine every run without arousing suspicion. (The man has never gotten a speeding ticket—impressive especially given the fact he has driven across forty-one states.) The relationship between Earl and the handler is interesting at times, but it never gets a chance to take off since the plot is too busy juggling Earl's family problems and the DEA closing in.
Regarding the investigation, there is not much of it—lukewarm at best. Cooper's character is shown taking pictures from afar, putting pressure on a metrosexual informant, and keeping his cool when mistakes or misinformation lead to relatively small arrests. But we never see the man pushed to his absolute limit. I was not convinced of his formidability as a person without the badge. So when Agent Bates and Earl finally meet, there is only minimal tension. Performance-wise, Eastwood steamrolls over Cooper not because the latter is incapable of holding his own but because he does not have much to play with. As Earl must remain interesting whether he is on the job or with his family, the man hunting him must be equally absorbing as well.
We all know the importance of family and so when a mature drama comes along, especially one based on an incredible true story, it is expected that the lesson be explored in meaningful ways rather than simply resting on platitudes. While not short on personality, "The Mule" lacks specific details that help to turn the work into something memorable and special.

City Island (2009)
★★★ / ★★★★
Vince (Andy Garcia), a corrections officer, gets the surprise of his life when he recognizes the last name of one of the new transfers. Tony (Steven Strait) is the son he had abandoned twenty-four years ago and had since started his own family in City Island, an old fishing village in the Bronx. Although Tony is eligible for temporary release, he has no family member to claim him. So, Vince decides to take responsibility for Tony and welcomes the unsuspecting young man into his home.
Given that the recurring theme in "City Island," written and directed by Raymond De Felitta, is secrets, big and small, it is only a matter of time until all the dirty laundry is exposed. It is an amazing feat, however, that even though we know what to expect in the third act, the material remains fresh and exciting for two reasons: there are enough small twists in the screenplay to keep a potentially tired material afloat and the performances, especially by Garcia, are surprisingly heartfelt.
The picture does not try too hard to be funny. For instance, Vince Jr. (Ezra Miller) having a penchant for feeding large women crazy amount of food could have been most sleazy, not to mention mean-spirited, if pushed too much. Instead, the subplot involving the youngest son is executed with a gentleness despite his rather crude—but nonetheless hilarious—personality. In addition, the only daughter, Vivian (Dominik García-Lorido), tries to hide the fact that she had been kicked out of school, lost her scholarship, and since been working as a stripper. Although less amusing and equally underdeveloped as Vince Jr.'s subplot, we still care about her and how her secret will be digested by the parents.
Surprisingly, the heart of the picture comes in the form of the patriarch's shame of really going for his ambition. That is, Vince so wishes to pursue acting, pretending to attend poker games with his buddies when he is actually taking an acting class, but he thinks his wife, Joyce (Julianna Margulies), would laugh in his face if she knew. Garcia is excellent as someone who seems tough on the outside but is actually emotionally wounded. Each time the camera captures only his face, I could feel Vince's sadness from having to hide a big part of himself from his family. It is a silly situation, perhaps even sitcom-like, but the writing is able to discern between the reality that we—as the audience—and the characters see versus the reality in someone's mind. Good comedies work as a drama.
I loved it every time the Rizzo household gets really loud because it reminded me of my family. It didn't matter if they were trying to annoy each other playfully or yelling out of sheer rage. There is a love that can be felt through the walls and the sharp words. It feels like a real family, not some boring group of automatons where everyone insists on holding it all in until the script forces them to explode. Therefore, when the rather typical third act comes around, it is easy to embrace the reactions incited by awkwardly presented revelations.
"City Island" has a most tender layer involving Vince and a woman he has met in the acting class. Their instructor (Alan Arkin) gives them an assignment about secrets. Vince and Molly (Emily Mortimer) often meet at night and quickly discover that they are attuned to each other's needs. In a way, she becomes his secret. A lesser screenplay and direction might have turned the whole thing into a dirty affair. What they share proves to be more romantic.

At Middleton (2013)
★★ / ★★★★
There is a scene that takes place in the middle of "At Middleton," written by Glenn German and Adam Rodgers, that hints at how wonderful, sweet, and romantic the film could have been. Two strangers who had met each other only about an hour or so climb to the top of a tower. Edith (Vera Farmiga) would rather inhale the breeze and admire the view, but George (Andy Garcia) would rather read off a brochure and learn the importance of the place they stand on. But a couple of minutes later, we discover that the situation is not as simple as it appears.
George and Edith are married—but not to each other. George has a son, Conrad (Spencer Lofranco), who has no interest in the university that his father attended. Edith has a daughter, Audrey (Taissa Farmiga), who, unlike Conrad, is dead set on attending Middleton because she hopes that the linguistics professor she admires will agree to be her advisor. During a campus tour, Edith and George decide to break from the group and get to know one another better—even though they seem to be complete opposites.
The film is at its best when it sticks with the conceit of two people just talking to one another and trying to figure each other out. Though not quite on the level of Richard Linklater's signature series of films starring Ethan Hawke and Julie Delpy, there is an effortlessness in Farmiga and Garcia's performances that helped me buy into what their characters could have had even though the actors, physically, are not exactly attractive or alluring together. Farmiga is luminous as a woman who enjoys living in the moment and Garcia is fascinating as a man who does not say much but one can tell he feels and thinks a whole lot.
A standout scene involves the central couple having to act on a stage in front of a group of theater students. While on that stage, notice how the camera moves and nails itself in one position. The silence builds to a boil then becomes somewhat overpowering. Both stuck in marriages that are not exactly working out, we learn about Edith and George's profound sadness. More importantly, we discover how badly they want to escape.
Significantly less impressive are the more comedic scenes in the latter half. One scene that runs too long involves the couple meeting a pair of twenty-year-olds in a relationship. They spend some time inside the dorm room getting high and complaining about what they feel is wrong in their lives. The clash between an elegant exorcism of romantic wants and needs versus an overt disclosure of what they feel are wrong in their lives do not work tonally. Why not make an adult picture that does not try way too hard to be funny and stick with it?
I enjoyed that the screenplay does not force Audrey and Conrad to have any sort of romantic feelings toward one another. The actors look good together physically so writers with less resolve might have been tempted to put a little spice into the equation. Instead, the film, directed by Adam Rodgers, makes the two young people more complicated—even unlikeable at times—than what we come to expect. On that level, it respects the audience.