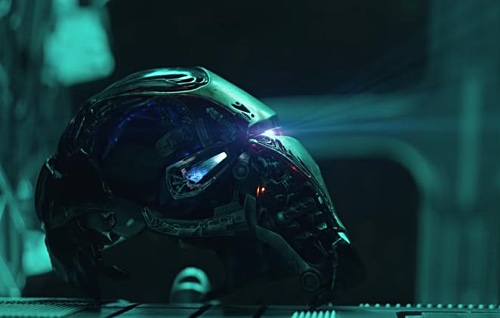 Avengers: Endgame (2019)
★★★ / ★★★★
It requires a daring decision to surprise me when it comes to modern superhero films and, quite miraculously, "Avengers: Endgame" manages to do so about fifteen minutes in. It has been a while since a Marvel film left me wondering, "So then… what's next?" and it is a most refreshing feeling, a promise, a question mark followed by an exclamation point, that there is plenty more to unbox considering its hefty running time of three hours. The well-paced and consistently entertaining direction by Anthony Russo and Joe Russo gives the impression that just about anything can or will happen given that the material at hand is meant to be a closing chapter to one of the most ambitious projects Hollywood has given moviegoers.
The expectation is enormous and the picture delivers for the most part. The action sequences are busy but always given context in addition to being well-choreographed and so those giving at least a modicum of attention would not be lost; the special and visual effects are first-rate—certainly ostentatious at times but not once do they come across as empty decorations; there are enough moments of silence and ponderation given the fact that the characters remain in mourning over their fallen comrades and loved ones after Thanos (Josh Brolin) succeeds in eliminating half of the universe's population; and the direct and indirect nudges to Marvel films that came before are throughly entertaining—handled with creativity, humor, and a solid sense of foreboding.
And yet the picture is not without notable shortcomings. The screenplay by Christopher Markus and Stephen McFeely takes on a monumental task of putting together more than a decade's worth of stories and creating an unforgettable, possibly instant-classic, culmination. While I admired that the goal is nothing short of magnificent, the work scrambles at times at trying to be everything at once.
Most noticeable is the humor, how it comes across as shoehorned—at times cringe-y—when events begin to feel a little grave. In previous films, the well-written and well-delivered comic lines succeed in alleviating tension. Occasionally, it works here. But not nearly all the time. I think the reason is because the heavy atmosphere of foreboding consistently points to the demise of characters we've learned to love. Laughter fizzles rather than helping to elevate excitement. In the middle of it, I wondered if it would have been a more daring decision to minimize the humor that Marvel films thrive on. It absolutely would have been more challenging.
Considering the running time, it is curiosity that there isn't more in-depth character development. Instead, we receive one too many scenes or shots of our heroes looking solemn or trading conciliatory handshakes. Sometimes there are close-ups of tears flowing down one's cheeks. I found the melodrama to be unnecessary; a more elegant choice might been to trust the audience to grab onto the story and understand the gravity of the plot without such dramatic signposts.
The remaining tension between Captain America (Chris Evans) and Iron Man (Robert Downey Jr.), for instance, may have been worth exploring. Instead, the two leaders are given only about three to five minutes to sort out their personal issues. People forget that Evans and Downey Jr. are dramatic actors; they work best not when the charm is on but when it isn't, when the material demands that they let go of their masculine chain mail and reveal their character foibles.
While the chosen strategy is understandable from a point of view of an action-centric story, an argument can be made that an amplified drama leads to stronger moments of catharsis. Here, catharsis often comes in the form of surprise deaths and teary reunions. I was not particularly moved by any of them—with one exception that comes late into the picture.