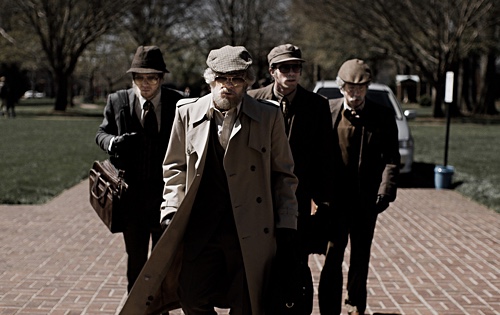 American Animals (2018)
★★★ / ★★★★
Writer-director Bart Layton tells the story of an actual crime planned and executed by four university students with such joie de vivre that I couldn't help but feel electrified by the images, feelings, and psychology emanating from the screen. It is strange, incredible, and fascinating—that Spencer Reinhard (Barry Keoghan), Warren Lipka (Evan Peters), Eric Borsuk (Jared Abrahamson), and Chas Allen (Blake Jenner) actually managed to convince themselves that they could get away with stealing extremely rare and valuable books, some of which date back to the eighteenth century, in broad daylight… and then actually sell them without the authorities knowing about it.
The young men gambled their futures simply because they were bored with the present. And so there is undeniable power in putting the real people portrayed in the film in front of the camera to tell the viewers directly what they thought about at the time, how they felt while planning the heist, and learning about what happened to them following the inevitable prison time. There is delicious irony particularly in Spencer's case, the artist who found himself uninspired or dispassionate toward the craft he had chosen while in university. In a way, a compelling argument can be made that it is almost poetic, or karmic, or destiny that the heist would fail just so he would find his calling.
Layton plays with the story's form like an expert juggler, shuffling between reenactment and documentary with buttery ease. There is an engaging flow in his approach, always propulsive, even when the pacing slows down at times, but not once painting his subjects using sentimental brushes or colors. On the contrary, his approach touches upon darkly comic moments, but never cruel, especially when the writer-director highlights the thieves' sheer stupidity. They talk big but their actions are desperate, messy. They learn first-hand that heists are not like the movies where robbers simply slip in and out, despite sudden left turns, after excellent planning. We are meant to feel tickled by watching the quartet squirm and struggle under the pressure of possibly getting caught.
Keoghan, Peters, Abrahamson, and Jenner do share chemistry but it is not the kind that is pleasant—which is the correct decision. They must not come across as friends but accomplices. Instead, each performer brings something different to the table. For instance, we are able to recognize with ease which one is the most intelligent, the most practical, the most uncertain, the one most willing to take risks just so the plan becomes reality. I found it interesting that although each character embodies a certain archetype, the writing, as with everything else, consistently leaves enough room for uncertainty. (At one point, I doubted whether the purported real figures were truly the actual people involved in the heist.) Thus, not one of them is ever boring or one-dimensional. Although they are criminals, we are reminded they are still people who care about the ramifications of their actions.
"American Animals" is a success for the most part because it dares to tell a truly bizarre story in a strange way—combining the dramatic genre with that of a documentary approach. Although some level of suspense is sacrificed due to the handful of interruptions between reenactment and recollection, the film, as a whole, offers a compelling experience nonetheless because it inspires those watching to create our own interpretation of the truth. Heist films usually just… are. This film, on the other hand, leaves enough room for curiosity.