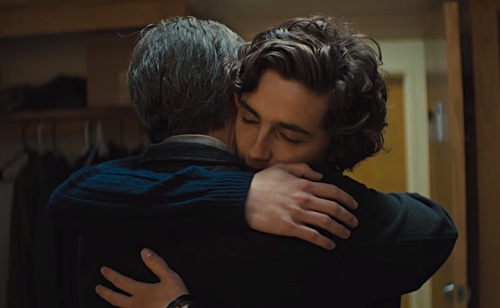 Beautiful Boy (2018)
★★★ / ★★★★
It is not often that I encounter a dramatic film in which I find myself—multiple times—having to pull my eyes away from the screen because what's going on is so realistic, looking at the images feels like a breach of privacy. "Beautiful Boy" is based on the memoirs "Beautiful Boy: A Father's Journey Through His Son's Addiction" and "Tweak: Growing Up on Methamphetamines" by David and Nic Sheff, respectively, and the works are adapted to the screen by searing honesty by Luke Davies and Felix Van Goreningen. It is not interested in using large brushes to paint a portrait of drug addiction. Instead, it is specific to Nic's story and his family's numerous attempts to help him.
It shows how so many movies about drug addiction tend to utilize clichés to amplify the drama. In order to avoid common trappings, observe how it employs time. For instance, within a span of twenty minutes, several weeks or months can pass. Flashbacks are introduced in a non-linear fashion. An unexpected dramatic parabola is created and so our expectations are shuffled like a deck of cards. Sometimes these expectations do not materialize at all. And yet, intriguingly, we still have a full appreciation of the subjects' struggles.
This can be attributed partly to the film's strong central performances. Steve Carrell plays the father and Timothée Chalamet plays the son. Their interactions command great tension, particularly during moments when David feels he must confront Nic about his disease. Each confrontation is different. At times it is approached from the perspective of anger. Sometimes confusion. Other times of great frustration. The father wishes to understand his son's affliction, but he fails to see that his son doesn't understand it either. Yet despite the whirlwind of rehab centers, sleepless nights, Nic going missing for days, and receiving calls from various professionals, there is always love there. Sometimes love isn't always in the form of being there or giving. Sometimes love comes in the form of restraint.
Carrell and Chalamet appears to feed off one another's energy. And so when the father looks at his son and asks whether he is on drugs, the question is not really a question. A parent always knows deep down. And so I wished Maura Tierney, who plays Nic's stepmother, were given more to do. Tierney is wonderful when she must act in the background. Great performers can say a lot without saying a word. Standing from a few feet away with a concerned body posture tells us plenty. While it is appropriate that the camera focuses on father and son, I found my curiosity inching toward her character sometimes. David has two young children with Karen. It is apparent that Nic's sudden disappearances impacts them, too. They ask about him. They miss him. They know he is on drugs.
I loved that the material manages to set aside some time to present facts not normally shown in movies involving drug addiction. For example, we see brain scans and hear what methamphetamines does to the brain, particularly in the amygdala. There is talk about receptors being destroyed following consistent meth usage. Given enough time, these receptors might recover. These are seemingly small but important details—mundane to some. They are often found, for instance, in science books or niche documentaries, not dramatic films. I enjoyed that it assumes viewers will be interested in details rather than repelled by scientific or medical jargon. It treats viewers as curious and intelligent. It may even inspire them to do more research about the topic. To further understand drug addiction, one must have an appreciation of biological events.

Beautiful Boy (2010)
★★★ / ★★★★
Kate (Maria Bello) and Bill (Michael Sheen) were about to get a divorce. They lived in the same house, able to carry on a conversation, though nothing deep, eat at the same table, but couldn't bear to sleep on the same bed. When their eighteen-year-old son, Sammy (Kyle Gallner), called from college one night, it was a final contact. The next morning, Kate and Bill found out that their beloved son had killed over a dozen of his fellow students and, eventually, himself. Written by Michael Armbruster and Shawn Ku, directed by the latter, "Beautiful Boy" worked both as a life-changing tragedy and as a marriage drama, which was interesting because there was not one image of Sammy using a gun was ever shown. Instead, the picture focused on how the couple reacted to the news which was heartbreaking to the say the least. The bereaved questioned themselves what they did or didn't do as parents to have raised such a depressed child who eventually gathered so much rage and alienation. Kate hated the fact that Bill was always emotionally unavailable due to the nature of his work, while Bill begrudged Kate for picking at every single flaw whether it was about a household item or person with feelings. But in my opinion, neither of them, as well as the real families of those teens who went on a rampage in their high school and college campuses, was to blame. Sometimes kids just can't cope and their decision to allow others to feel their pain is beyond explanation. Though their action begs for a sound reason, no amount of psychology is good enough to ameliorate the grief of everyone involved, directly or indirectly, at least for the time being. The first year of university and being hundreds of miles away from home is difficult. I know this from personal experience and I believe that the film, in only two or three scenes, captured the yearning of physical contact while parents and their child conversed via telephone. Like most people, I was able to get through the demanding first year by making new friends, being open to new experiences, embracing changes, but still staying true to who I thought I was. College students break down more often than most people would probably like to think. And it's not just those who flunk out. Just because a student is still in school, it does not mean that the student is necessarily healthy. A whole lot of students engage in reckless casual sex as a substitute for real connection, some decide to stay in bed all day and neglect hygiene altogether, others take refuge in the party scene and drown their problems with alcohol, a handful try to overcompensate and take on more responsibilities than they can handle. I know because I've known and lived with those kinds of behavior. The very few who go on a shooting rampage, in my opinion, is an extreme form of that behavioral (and most likely hormonal) imbalance. That's what they are to me: behavior. Behavior does not necessarily (nor accurately) define a person. That's what I believed the film tried to communicate about tragedy by allowing us to watch Bill and Kate to try to make it through one day at a time. It managed to do so in an elegant, contemplative way sans judgment.