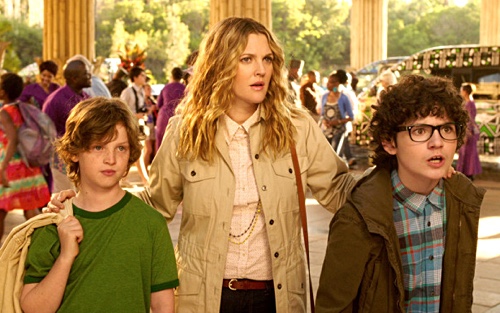 Blended (2014)
★ / ★★★★
The first date between Jim (Adam Sandler) and Lauren (Drew Barrymore) at Hooters is a complete fiasco. The food is terrible, the venue is inappropriate, the conversation is either bland or offensive, and not once did either of them feel a spark that might warrant a second date. They're convinced they are never going to see each other again. But given that this is a romantic-comedy, of course they do.
The screenplay by Ivan Menchell and Clare Sera is to blame for the picture's lack of overall energy, entertainment value, and real emotions worth investing in. Without Barrymore and Sandler's charm, I would not have been surprised if the film had not been given the green light. There are very few things here that makes it worth sitting through for two hours. Why watch this rubbish when Peter Segal's "50 First Dates," starring both Barrymore and Sandler, is lightyears more worthwhile?
I laughed a couple of times. Although a cliché, I liked that the single parents either have children that are all boys or all girls. The running gag that involves Hilary/Larry (Bella Thorne) being mistaken for a boy because she clothes herself in an athletic way and has a boyish haircut works for the most part because it is never mean-spirited. Thorne is quite good because unlike the other young actors, she never exaggerates.
Of course there is an inevitable makeover scene when we are shown how beautiful Hilary really is given the right haircut and clothes. But what I loved about it is Thorne's decision to downplay the character. Everything is exaggerated: the flow-y extensions, the bright short dress, the makeup, and the shot unfolding in slow motion. But what does she do that stands out? She keeps her shoulders square, holding a lot of tension, which looks awkward—but it is right. Hilary comes across as a real person because for years she didn't feel like she was beautiful. A makeover does not alter one's confidence—at least not right away. I appreciated that the performer has the insight to keep it somewhat realistic.
I found its representation of Africa insulting at times. Everybody is a caricature in the resort. While the material is supposed to be light, accessible, and friendly, it did not need to be so hyperbolic all the time. Because the representation is so cartoonish, we never get a real sense that the characters are visiting a real and wondrous place. Later in the film, some of the characters claim that they miss Africa. We do not buy it for a second because we know that what they have experienced is a sham.
And then there is the central romance between Jim and Lauren. The screenplay spends so much time showing them interacting with one another's children that there is not one convincing scene—one that is spot-on—that is dedicated only to the couple. As a result, we understand why they want to spend time with each other's kids but not necessarily spend time with one another. We never get a sense of who they really are as a couple.
"Blended," directed by Frank Coraci, is appropriately titled because it is a mess. It does not offer enough moments of subtlety and maturity to appeal to adults. And yet it is also not appropriate for children because it does have jokes that are so inappropriate, it requires parents to do some explaining afterwards. And so who is the target audience? People who want to see Barrymore and Sandler together again? That's a low bar.

Keep Watching (2017)
★ / ★★★★
Perhaps the title of Sean Carter's film is a desperate plea to the audience because there is absolutely no reason to continue watching the film, let alone start it, other than to see how the story would end. Predictably, it ends like a most generic modern horror picture by shamelessly setting up room for a sequel that is likely never going to happen. In other words, it exists solely to steal money from the viewer; the craft and the love for the genre simply isn't there. Here is a piece of work that gets every fundamental element completely wrong. It is an example of how not to tell an engaging, creative, and suspenseful horror-thriller.
One of its most egregious misstep is its lack of love for and understanding of its protagonists. For a home invasion horror-thriller, it is natural that we be on the side of those hoping to make it through the night. But this film is most pessimistic, almost heartless, and I found its brazen display of apathy for its characters to be, quite frankly, really disgusting.
The heroine is Jamie (Bella Thorne) and she is having a difficult time with moving on from her mother's death—even though her passing had occurred six years ago. Jamie is still having nightmares; her trauma is exacerbated by the fact that her father (Ioan Gruffudd) has married a much younger woman (Natalie Martinez) who is closer to Jamie's age than her father's. While the screenplay by Joseph Dembner presents a potential dramatic core, one by which the heroine could use as fire or motivation, to fight the intruders, to fight for her family and for herself, it fails to explore Jamie's depression and anger. As a result, the character does not undergo a convincing evolution.
There is a dearth of creativity in its gimmick. These home invaders' modus operandi is broadcasting their crimes online. When a family is away, they break into the house and install cameras at most unlikely places. Viewers online assume that what they are seeing is either fake or just another horror film. The gimmick sets up a potentially potent social commentary. However, the screenplay once again does absolutely nothing to turn potential into actuality. In the middle of the picture, I was convinced the writer is simply lazy.
But keep watching indeed and one realizes that the filmmakers have no understanding of how horror films work. Even before the so-called scares are delivered, the look of the images are murky and flat. With the story taking place inside of the house for the majority of the picture's running time, nearly everything looks uninteresting. It creates no sense of foreboding, let alone a feeling of claustrophobia. Even the teenagers' bedrooms offer no personality. Take notice of the type of lighting utilized. It offers no intrigue or mystery. I imagine if this film were being played at midnight on television, it would work better than taking a sleeping pill. The images are truly that nondescript.
There is no scare to be had in "Keep Watching" other than when one realizes how awful it is. Each setup for a masked figure to appear suddenly in the shadows is predictable and contrived. Every opportunity that characters take to get help ends in failure. Even the score, when it does make an appearance, is an affront to the eardrums. Still, despite such an especially intolerable experience this film offers, I attempt to come up with at least one positive comment about it. Here it is: at least the movie is in focus.

Babysitter, The (2017)
★★ / ★★★★
"The Babysitter," directed by McG and based on the screenplay by Brian Duffield, is particularly difficult for me to review because I acknowledge that it offers a few laughs, the two leading performances are highly watchable, and the premise involving a preteen's discovery that his babysitter is actually a part of a Satanic cult is so wild, I was excited how the story is going to take shape. But without a shadow of doubt, the film belongs under the category of children-in-danger movies, and it is most unfortunate that it keeps the protagonist under constant torment—so constant that right from the opening scene this boy is already being terrorized at school.
Children-in-peril pictures can work given a sharp, intelligent writing that functions as commentary. For example, it can tackle the subject of young people being so sheltered that modern parenting is essentially training future adults to constantly demand being in a safe space. In my opinion, children-in-peril movies rarely work as a straightforward horror-thriller, or even as a horror-comedy, because there is a tendency toward fetishizing not only the violence or gore but also our expectation that a child must not be harmed or mutilated in any way. In other words, films that generate thrills solely through the guise of the audience not wanting to a child being hurt can be considered as lowest hanging fruit.
And so throughout the film, I constantly had to ask myself what the material is saying behind the superficial entertainment. I found none. I suppose one can claim that the story is about a twelve-year-old, who is pretty much afraid of everything, being forced to to find courage in himself to stand up against bullies. But that is a stretch because the villains in the film, members of the Satanic cult (Robbie Amell, Hana Mae Lee, Bella Thorne, Andrew Bachelor), are purposefully written as walking stereotypes.
In real life, bullies are more than archetypes and in order for the film to have meaning beyond the images on screen, the writing must command depth and subtlety. Those who dare to compare this film, for example, to Joss Whedon's writing ("The Cabin in the Woods," "Buffy the Vampire Slayer," "Angel") clearly have little to no understanding about why Whedon's works possess cultural relevance. They aren't just post-modern, have quirky premises, or tapping into zeitgeist. They are genuinely saying something beyond what we see and experience on screen. These works care about teenagers and young adults.
It is too bad because I really enjoyed the central performances here. Samara Weaving as Bee the babysitter reminded me at times of Margot Robbie's ability to go from warmly intrigued to sexually electric, while Judah Lewis as Cole the fearful adolescent brought back flashes of Corey Haim in the underrated 1986 coming-of-age picture "Lucas." A standout scene in the picture is a dramatic moment when Cole reveals to Bee that he feels such a weirdo at times that, essentially, he feels helpless in his own skin. This is such a moving scene that I wished the movie had been about the bond between the sitter and the preteen, completely throwing out the wacky chases, over-the-top gore, and absurd resolution.
The horror-comedy will certainly entertain some, but those looking for a more substantial story and character development with smart decisions throughout are best advised to stay away. And because of the title, it must be stated outright that "The Babysitter" is not at all a successful throwback to late-'70s and '80s slashers. There is no suspense to be had here.