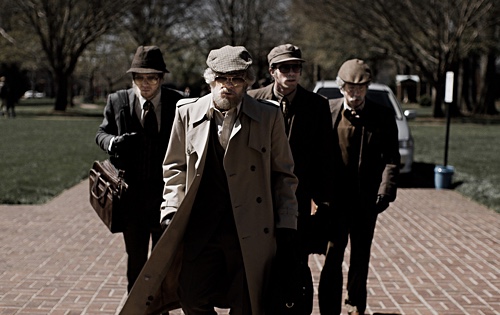 American Animals (2018)
★★★ / ★★★★
Writer-director Bart Layton tells the story of an actual crime planned and executed by four university students with such joie de vivre that I couldn't help but feel electrified by the images, feelings, and psychology emanating from the screen. It is strange, incredible, and fascinating—that Spencer Reinhard (Barry Keoghan), Warren Lipka (Evan Peters), Eric Borsuk (Jared Abrahamson), and Chas Allen (Blake Jenner) actually managed to convince themselves that they could get away with stealing extremely rare and valuable books, some of which date back to the eighteenth century, in broad daylight… and then actually sell them without the authorities knowing about it.
The young men gambled their futures simply because they were bored with the present. And so there is undeniable power in putting the real people portrayed in the film in front of the camera to tell the viewers directly what they thought about at the time, how they felt while planning the heist, and learning about what happened to them following the inevitable prison time. There is delicious irony particularly in Spencer's case, the artist who found himself uninspired or dispassionate toward the craft he had chosen while in university. In a way, a compelling argument can be made that it is almost poetic, or karmic, or destiny that the heist would fail just so he would find his calling.
Layton plays with the story's form like an expert juggler, shuffling between reenactment and documentary with buttery ease. There is an engaging flow in his approach, always propulsive, even when the pacing slows down at times, but not once painting his subjects using sentimental brushes or colors. On the contrary, his approach touches upon darkly comic moments, but never cruel, especially when the writer-director highlights the thieves' sheer stupidity. They talk big but their actions are desperate, messy. They learn first-hand that heists are not like the movies where robbers simply slip in and out, despite sudden left turns, after excellent planning. We are meant to feel tickled by watching the quartet squirm and struggle under the pressure of possibly getting caught.
Keoghan, Peters, Abrahamson, and Jenner do share chemistry but it is not the kind that is pleasant—which is the correct decision. They must not come across as friends but accomplices. Instead, each performer brings something different to the table. For instance, we are able to recognize with ease which one is the most intelligent, the most practical, the most uncertain, the one most willing to take risks just so the plan becomes reality. I found it interesting that although each character embodies a certain archetype, the writing, as with everything else, consistently leaves enough room for uncertainty. (At one point, I doubted whether the purported real figures were truly the actual people involved in the heist.) Thus, not one of them is ever boring or one-dimensional. Although they are criminals, we are reminded they are still people who care about the ramifications of their actions.
"American Animals" is a success for the most part because it dares to tell a truly bizarre story in a strange way—combining the dramatic genre with that of a documentary approach. Although some level of suspense is sacrificed due to the handful of interruptions between reenactment and recollection, the film, as a whole, offers a compelling experience nonetheless because it inspires those watching to create our own interpretation of the truth. Heist films usually just… are. This film, on the other hand, leaves enough room for curiosity.

Edge of Seventeen, The (2016)
★★★★ / ★★★★
There is a profound sadness in the heroine of "The Edge of Seventeen," sharply written and directed by Kelly Fremon Craig, which is only one of the many reasons why its story is worth telling. The film is head and shoulders above similar coming-of-age stories about socially awkward high school students because there is an authenticity in both script and performances. And while the target audience is likely to be smart and self-aware teenagers, twenty-somethings and above who remember those turbulent years will probably be able to relate to every character here since we have already gone through the seemingly interminable trials that come with being a young adult.
Hailee Steinfeld plays the central character named Nadine with electric energy and alluring vibrancy. Most interesting is that although Nadine is indeed our protagonist, there are numerous times when she comes across unlikable. I found the material to be honest in its portrayal of teenagers in that sometimes they mistake honesty for being purposefully hurtful. Steinfeld fits the role like a glove because she is able to communicate a number of thoughts and emotions all at once without ever losing the viewers' empathy. She commands the role especially because she has the ability to evoke both nuances and broad strokes often within one scene. Steinfeld should aspire to take on more roles with this level of complexity since she is clearly more than capable. I am convinced we will see her on screen for a long time.
The picture is exciting due to its ability to surprise. Although most unsurprising is the trigger that sends Nadine over the edge—her best friend friend (Haley Lu Richardson) and her brother (Blake Jenner) sleeping together—what's refreshing is in how the characters are painted after the fact. No one is a villain, only flawed people responding to their mistakes. As Nadine is forced to make connections when the bond between her and Krista is severed, sooner or later we realize that every person she comes across are worth exploring further. Lesser comedy-dramas tend use supporting characters as crutches or punchlines. Not here.
Particularly interesting are the history teacher and a classmate in history class. Woody Harrelson plays Mr. Bruner, a teacher who appears to be apathetic about his job, his students, and perhaps even his life. Although there is a lot of great humor in the exchanges between Mr. Bruner and Nadine, the dramatic payoff between the teacher and student later on is equally great—if not more—despite the former offering no words of wisdom about high school or life. They do not even share a hug or a look of approval.
I am particularly difficult to please when it comes to romantic interests in movies. A second fascinating supporting character is played by Hayden Szeto, a classmate who has a lot of talent and heart. Despite the fact that early on it becomes all too clear to us that Erwin and Nadine are a good fit for one another—whether it be through friendship or something more—the way their relationship as two teenagers simply trying to figure things out is a breath of fresh air. The high level of writing and performances overcomes the expected cutesy-ness.
High on emotional intelligence, pointed sense of humor, and entertainment value, "The Edge of Seventeen" belongs on the shelf among superior modern coming-of-age films such as Mark Waters' "Mean Girls," Jason Reitman's "Juno," James Ponsoldt's "The Spectacular Now," and Stephen Chbosky's "The Perks of Being a Wallflower." Aspiring coming-of-age pictures about smart teenagers should look up to it as an example.

Everybody Wants Some!! (2016)
★★★★ / ★★★★
Those expecting a defined beginning, middle, and end, along with the standard parabolas of plot and pacing, are certain to be disappointed by "Everybody Wants Some!!," written and directed by Richard Linklater, a delightful and fresh comedy about college baseball players simply living, bonding, and partying together before the first day of university.
In mainstream films, especially comedies, jocks are almost always a target of ridicule. They are often depicted are dumb, mean, and sexist, sometimes downright racist—with nothing on their minds but throwing balls, driving expensive cars, chasing girls, and getting some action. We are so aware of these stereotypes that we almost expect these assumptions to come to the surface every time we meet a character in the movies who just so happens to be passionate about sports or a specific sport. Linklater, a most humanistic writer-director, unveils a world where audiences do not have to settle for the lowest hanging fruit. Instead, he inspires us to look up and recognize alternatives that are much closer to reality.
The picture is an extended hangout with the guys. Aside from their shared athleticism, they are painfully ordinary which makes them all the more relatable. Our conduit to the story is pitcher Jake (Blake Jenner), one of the five incoming freshmen who, like their seniors, were the best baseball players in their high schools. It is interesting to observe the dynamics of the team members as they live in two neighboring houses. All of them are competitive; all of them hate losing. When someone loses a game, even it is over something as silly as a pingpong match or a round of billiards, we get a chance to peek at their true characters. Hilarity ensues.
But the film is funny not because there are great gags that can only happen in the movies. Amusement often comes in our recognition of ourselves in characters we don't image we can relate with on any level at first glance. Sometimes it is through a character's specific sense of humor. Unlike mundane comedies we have been accustomed to being constantly subjected to, every jock we meet here has a personality, a perspective, a certain unpredictability. Each of them has a different "self" which can be observed when he is in a group versus conversing with only one other person. It is enjoyable to discover who they are in different environments and circumstances because sometimes they might not even know who they are just yet.
From a technical standpoint, most impressive is the writer-director's confidence in modulating pacing and tone. Observe that about halfway through when the guys have started to become familiar with one another, there is a considerable slowdown of pace and the tone leans toward a more philosophical ground. There are still parties but the parties in the latter half are not only about getting drunk or hooking up any longer. There is a great exchange between Jake and Finnegan (Glen Powell) in a punk party where they acknowledge that experiences allow them to put on identities that they can choose to take away and cultivate. I loved that there are valuable lessons dispersed throughout the film that one cannot learn only by sitting in a classroom.
Notice I have not used to the word "nostalgia." The story is set in end-of-summer 1980 and there are wonderful (and not-so-wonderful) music, clothes, hairstyles, slangs and phrases. But to define the picture as mere nostalgia is to deny it ample credit. Take away these so-called nostalgic elements and it remains a great picture because its core radiates humanism. "Everybody Wants Some!!," like Linklater's excellent comedy "Dazed and Confused," is a piece of work that will, or should be, remembered many years down the line. Both films simply show young people as young people and such an honest approach transcends time.