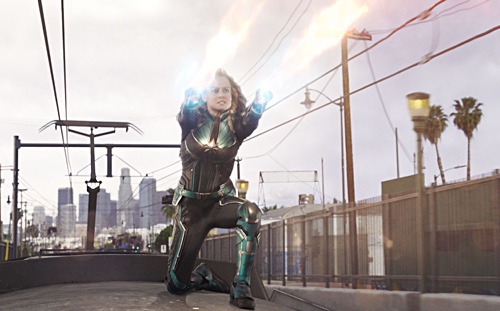 Captain Marvel (2019)
★★★ / ★★★★
A third of the way through the picture, I couldn't help but feel like an important ingredient is sorely lacking. The war between Kree and Skrulls is propelled with a high enough level of excitement, the special and visual effects are strong, and there is intrigue in how the events unfolding in 1995 may tie into Nick Fury (Samuel L. Jackson) eventually putting together Earth's mightiest superheroes. The problem becomes tantalizingly clear when the picture hits its first important dramatic note. Given Brie Larson's track record of independent dramas, she is most powerful as a performer when the scene is quiet and the camera is still—almost the polar opposite of an action film.
This does not mean Larson does not belong in the picture. In fact, I enjoyed her interpretation of Captain Marvel, who comes to know herself as Vers, a soldier of the Kree Empire, but has fragmented human memories as Carol Danvers. Despite a potentially confusing exposition, Larson has a way of making us care for our heroine not just as a superhero but also as a woman who feels incomplete due to being in the dark when it comes to her very own identity. Notice that for the first forty minutes or so, it is a challenge to invest emotionally into the material because there are far too many attempts at making jokes but not enough convincing dramatic gravity. It would have been such a breath of fresh air if "Captain Marvel," written for the screen by Anna Boden, Ryan Fleck, and Geneva Robertson-Dworet, had been a character drama first and an action picture second. Of course, this more inspired avenue would not rake in the big bucks.
Still, this Marvel outing is entertaining enough. I liked how chase scenes on Earth during the mid-90s are photographed and directed almost exactly as similar movies within the genre at the time—clichés included. There is a wonderful chemistry between Larson and Jackson which is necessary because their characters must forge a convincing friendship from the moment they meet at a payphone next to a Blockbuster video store until one of them must leave and travel to another galaxy. (The story's timeline is about twenty to thirty five hours.) Danvers and Fury share a handful of amusing moments but not once do these come across as forced as bad buddy comedies.
Like many superhero films, this one, too, suffers from a lack of a strong villain with complex motivations. Observe that once Captain Marvel is able to reach her full potential, her enemies, including the main antagonist, are simply thrown about like rag dolls. Because they are no longer a threat, the bright colors, the bubbly soundtrack, and the acrobatics are reduced to an exercise of futility. I was bored by them and I was reminded of what I disliked immensely from "Wonder Woman"—we are handed action with not much context or purpose. It can feel like a waste of time.
Perhaps the most curious relationship is between Danvers and her best friend Maria Rambeau (Lashana Lynch). Both were Air Force pilots and their few but valuable interactions suggest a deep history. The two sitting down and having a conversation can be more entertaining than the big, loud, and ostentatious action pieces. The reason is because, with the former, we know precisely what is at stake. There are times when it is easy to forget that we love or admire our superheroes not because of what they can do but rather who they are despite their powers or abilities, when they are unmasked, vulnerable, one of us.