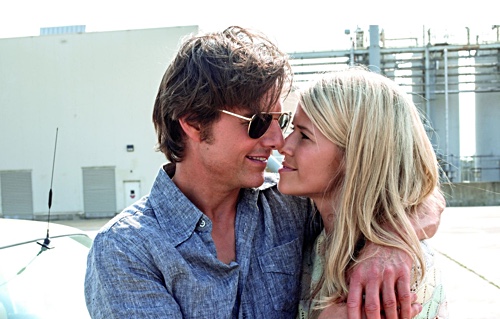 American Made (2017)
★★★ / ★★★★
Executed with great style and energy by director Doug Liman, "American Made" becomes all the more baffling with each passing second as it tells the story of an airline pilot named Barry Seal (Tom Cruise) who is recruited by a CIA case officer (Domhnall Gleeson) to take pictures of enemy camps over South America. A quirky premise, one loosely based on a true story, quickly evolves into an entertaining dramatic thriller with both real stakes and enough nuanced comedic touches designed to release our astonishment only to build up again as increasingly tricky situations present themselves. It is for the curious viewer for the material demands the viewer to pay attention and have fun, too.
Cruise fits the role like a glove, banking in on his dependable charm to make the portrayal appear effortless or easy. But imagine a different performer in the role and realize that waking in Seal's shoes is to traverse a minefield of traps; one wrong note is certain to disrupt the suspense of disbelief that the ace screenplay by Gary Spinelli establishes right from the get-go. While some may cite the fact that Cruise has played similar roles in the past, I argue that it is necessary to have such experiences because the role requires specificity, without leaning on well-worn clichés, in order to come across as believable.
I enjoyed that there is minimal character development. In a way, the story being told does not require it since it is meant to show a risky lifestyle or occupation, one that is not solely motivated by money or luxury but rather excitement and danger. Notice Seal's reactions when he is about to get caught by authorities. The fear is there—but it is marginal. The realization that it is over and the growing disappointment inch toward the forefront. It is these moments that we get to see Seal not as a smuggler, or a husband, or a father but as a person with an addiction for thrill. Cruise delivers an intelligent performance.
The weakness of the picture, as colorful as it is, both in tone and how it looks, is its lack of willingness to dig more deeply in its supporting characters. For instance, Sarah Wright plays Seal's wife who knows something is up, Jesse Plemons plays the observant sheriff in a small town in Arkansas, and Caleb Landry Jones plays Seal's brother-in-law. As the picture goes on, it becomes apparent that any of these three could have done more with their potentially interesting characters. During dramatic moments, Wright appears to have the emotional range to go head-to-head against Cruise. Plemons can give half a suspicious look and it communicates paragraphs. And Jones is such a wildcard that a slight change in body language can turn into a threat. While the material is indeed Seal's story, it could have been more intriguing had there been more detail regarding the people who surround him.
I found it fresh that at times the film dares to invoke the look and feeling of a music video—certain to alienate viewers who expect a more mainstream way to digest a biographical crime film. Instead, the filmmakers choose to embody the thrilling but dangerous lifestyle of the subject rather than forcing an elegant or restrained tone that is so common within the sub-genre. This gamble pays off because while the content is not especially memorable, its sense of style, its levity, has a good chance of lingering on the mind.

Byzantium (2012)
★ / ★★★★
Eleanor (Saoirse Ronan) and Clara (Gemma Arterton) have a secret: they have been "alive" for over two hundred years. They are vampires and on the run from a trio of men (Thure Lindhardt, Sam Riley, Uri Gavriel) who appear to know what they are. With a fresh corpse lying face down in their apartment, Eleanor and Clara escape to a seaside town. The plan is to allow enough time for their trail to cool off and earn enough money before they move to a more secure location. Meanwhile, Eleanor gets the attention of Frank (Caleb Landry Jones), a waiter she meets after playing a beautiful melody on the piano.
"Byzantium," based on a play by Moira Buffini and directed by Neil Jordan, is acted quite exquisitely but it is a trial to sit through. Its look and feel is quite somber, heavy on the eyes with dark shades of red and occasionally poorly lit indoors, so the molasses slow pacing does not do it any favor. Though a much needed adrenaline surges through its veins in the third act, it is too late. I long ceased to care about the figures sulking about on screen.
Part of the reason why it does not work involves the execution of the so-called attraction between Eleanor and Frank. While the actors look good together at times, the dialogue feels too much like a play. They give each other plenty of longing glances but what they have is not allowed to evolve into something interesting. The script is stuck on one idea only different words are utilized to communicate the same thing. As a result, the passion is barely an ember. The relationship needs to be scorching hot—to be a bit more exaggerated—and readily able to move forward at right time so the film demands the attention consistently.
It is plagued with one dimensional characters—somewhat of a surprise because the story jumps between the past and the present which means that it has more of a chance to show certain characters on a deeper level. Clara should have been the most complex. We see her having a difficult background but there is no bridge between she and us. Therefore, it is difficult to care what for what she values. Instead, she is reduced to looking sexy without actually being sexy. This is from the director who helmed the effortlessly seductive "Interview with the Vampire: The Vampire Chronicles."
The three men on the hunt for the two women are boring. A discussion about rules that must be adhered to—yada yada yada—remain so vague that it is frustrating to follow. In addition, their methods appear so ordinary during the first half. In the third act, however, elements of camp are introduced. Is this intentional? An act of desperation because halfway through the director realized that the majority of the picture is soporific? How are we supposed to swallow what is happening when the tone is suddenly schizophrenic? It was a mess; it could not end any sooner.
When the picture has nothing to say—which is often—the melancholy piano comes to the rescue and attempts to fill in the empty moments. Clearly what we have here is a screenplay that fails to connect and translate a play onto celluloid.

Last Exorcism, The (2010)
★★★ / ★★★★
Reverend Cotton Marcus (Patrick Fabian) agreed to have his last exorcism to be documented on camera. In the first few minutes, he admitted to us that exorcism was only real in the minds of religious Christians plagued by something they cannot explain. In other words, the placebo effect guided the effectiveness of an exorcism. Despite Reverend Marcus being a sham, strangely enough, I understood why he made a career out of it because he had an obligation to provide for his family, especially his son who had difficulty hearing. Understandably, people feel the need to compare the movie to Daniel Myrick and Eduardo Sánchez' "The Blair Witch Project" and Oren Peli's "Paranormal Activity" because of its faux-documentary style. But I say it was more like John Erick Dowdle's chilling remake "Quarantine." However, I think "The Last Exorcism" had its own identity and therefore its own strengths and weaknesses. The film was its best when it described the history of the practice, the circumstances in which one should get an exorcism, and the religious heretics so willing to go to the extreme to the point where they became blind to more conventional explanations such as the so-called possessed person having an undiagnosed disease or mental disability. I was also happy with the fact that it acknowledged the cruel act still happening today in various forms depending on the culture. The picture thrived on the build-up of strange information especially when we finally met a farmer (Louis Herthum) with a creepy son (Caleb Landry Jones) and "possessed" daughter (Ashley Bell). The rising action of the girl sleepwalking, killing animals, being violent and making strange noises was unsettling and sometimes downright horrifying. However, the movie's weakness was its own conceit. The faux-documentary style did not always work because there were times when the daughter, in an altered state, would pick up the camera and we saw what she saw and did. I loved that the film was purposely comedic, especially in the first half when the techniques of the scam were revealed, but the comedy and horror did not always complement each other in one scene. Instead of feeling scared, I felt detached and I almost felt the need to laugh because there was an underlying message that the devil despised the constructed false (if not almost illusory) reality like in movies mentioned earlier and reality shows on television. I also found some inconsistencies such as the addition of music during the scarier scenes (it was supposed to be a found footage!) and camera angles that only one cameraman can normally accomplish. Although I give kudos to Daniel Stamm, the director, for infusing a sense of (sort of campy) fun and intelligence in his project, I wanted more scenes where I find myself cowering in my shoes. I suppose that's the reason why a lot of people did not like the movie: they wanted to feel more scared. Nevertheless, I really enjoyed "The Last Exorcism" because it was concise, confident with where it wanted to go and what it wanted to achieve, and its constant build-up was elegant. It made me think of respectable horror pictures from the late 60's and '70s.