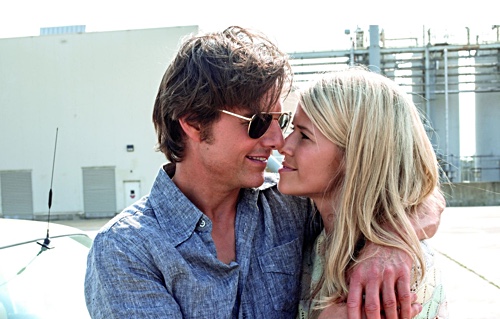 American Made (2017)
★★★ / ★★★★
Executed with great style and energy by director Doug Liman, "American Made" becomes all the more baffling with each passing second as it tells the story of an airline pilot named Barry Seal (Tom Cruise) who is recruited by a CIA case officer (Domhnall Gleeson) to take pictures of enemy camps over South America. A quirky premise, one loosely based on a true story, quickly evolves into an entertaining dramatic thriller with both real stakes and enough nuanced comedic touches designed to release our astonishment only to build up again as increasingly tricky situations present themselves. It is for the curious viewer for the material demands the viewer to pay attention and have fun, too.
Cruise fits the role like a glove, banking in on his dependable charm to make the portrayal appear effortless or easy. But imagine a different performer in the role and realize that waking in Seal's shoes is to traverse a minefield of traps; one wrong note is certain to disrupt the suspense of disbelief that the ace screenplay by Gary Spinelli establishes right from the get-go. While some may cite the fact that Cruise has played similar roles in the past, I argue that it is necessary to have such experiences because the role requires specificity, without leaning on well-worn clichés, in order to come across as believable.
I enjoyed that there is minimal character development. In a way, the story being told does not require it since it is meant to show a risky lifestyle or occupation, one that is not solely motivated by money or luxury but rather excitement and danger. Notice Seal's reactions when he is about to get caught by authorities. The fear is there—but it is marginal. The realization that it is over and the growing disappointment inch toward the forefront. It is these moments that we get to see Seal not as a smuggler, or a husband, or a father but as a person with an addiction for thrill. Cruise delivers an intelligent performance.
The weakness of the picture, as colorful as it is, both in tone and how it looks, is its lack of willingness to dig more deeply in its supporting characters. For instance, Sarah Wright plays Seal's wife who knows something is up, Jesse Plemons plays the observant sheriff in a small town in Arkansas, and Caleb Landry Jones plays Seal's brother-in-law. As the picture goes on, it becomes apparent that any of these three could have done more with their potentially interesting characters. During dramatic moments, Wright appears to have the emotional range to go head-to-head against Cruise. Plemons can give half a suspicious look and it communicates paragraphs. And Jones is such a wildcard that a slight change in body language can turn into a threat. While the material is indeed Seal's story, it could have been more intriguing had there been more detail regarding the people who surround him.
I found it fresh that at times the film dares to invoke the look and feeling of a music video—certain to alienate viewers who expect a more mainstream way to digest a biographical crime film. Instead, the filmmakers choose to embody the thrilling but dangerous lifestyle of the subject rather than forcing an elegant or restrained tone that is so common within the sub-genre. This gamble pays off because while the content is not especially memorable, its sense of style, its levity, has a good chance of lingering on the mind.