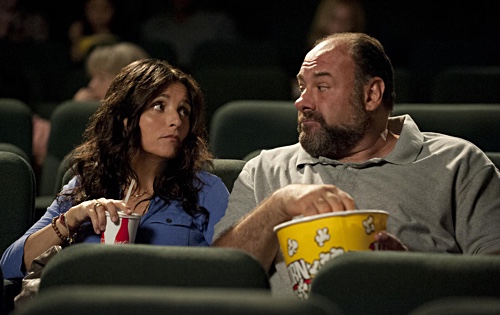 Enough Said (2013)
★★★ / ★★★★
Eva (Julia Louis-Dreyfus), a masseuse, and Marianne (Catherine Keener), a poet, meet at a party. The two get on so well that Marianne hires Eva to be her masseuse. But at that same party, Eva meets Albert (James Gandolfini). They, too, get along very well that they agree to go on a date. Eva and Marianne become friends while Eva and Albert become lovers. Eventually, Eva learns that Marianne and Albert are formerly married.
"Enough Said," written and directed by Nicole Holofcener, could have taken a television sitcom route: harmless, constantly going for easy laughs, sentimental turn of events, easily solvable problems. Instead, the picture accomplishes a small feat. It does so by taking a sitcom-like premise and telling a story that is human. It has funny and sad moments. We are frustrated with the characters at times. We come to recognize the good and the bad in all of them.
We get details of the blossoming relationships. First, the connection between Eva and Marianne is allowed to go beyond girlfriends who gossip. We get a sense that Eva is envious about certain aspects of Marianne's life: the gorgeous house, the unconventional but very cool career, recognition for the work she produces. Meanwhile, Eva has a more simple life… but perhaps a more harmonious one. While the inner workings of the poetess' mind does not get ample screen time, the difference in their moods and perspectives are significant enough so that we are able to make knowledgeable conclusions.
Second, and perhaps more obvious, is Eva's relationship with Albert. Louis-Dreyfus and Gandolfini share great chemistry, she with her infectious laugh and he with his outpouring of compliments but meaning every single one. Since each performer is charming in his or her own way—sometimes on the same level, other times on competing wavelengths—it is easy to root for Albert and Eva being and remaining together. We know that the elephant in the room will have to be recognized eventually. I wished the screenplay has done it sooner.
Not only is putting the revelation near the end of the picture predictable, it circumvents a further opportunity to dig deeper into the characters. The fallout of the discovery is less powerful than it should have been. Furthermore, though the last twenty minutes remain well-acted, I could not help but feel slightly disappointed because the material went exactly to places I had expected it would go. It should have gone with a path that is less traveled because the material is more than good enough to take on a risk so it can be memorable.
There is a subplot about mother-daughter relationships. While tolerable, it feels too much like a distraction. It would have been funnier if it were shown that the teenagers—hormonal as they are—were more secure with themselves than their parents.