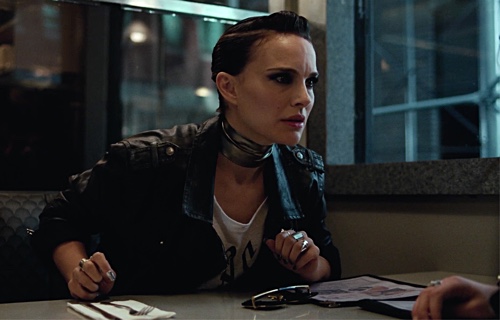 Vox Lux (2018)
★★★★ / ★★★★
Those who take the film at face value would likely scratch their heads in confusion. Because, in a way, it is an exercise of extremes: the story opens with a terrifying school shooting in 1999, continues on as an intimate portrait of a fourteen-year-old who has no idea that she is about to become an international pop star, then it has the courage to jump seventeen years into the future and focus on a woman who is so broken, so commodified, we observe her concert performance and feel incredibly sad for her. We watch the main character first as a girl who could have gone on to become a respected—and respectable—artist, fully in control of her career and destiny, but instead she became a puppet in an industry that doesn't really value her as a person or what she can offer. It values the money that she generates from her concerts, her album sales, her controversial image. In some ways, the picture is an unflinching look at modern celebrity. It made me thankful I am not under the scrutiny of the public eye. But "Vox Lux" is more than that.
Writer-director Brady Corbet creates a character study for the thoughtful viewer who appreciates irony. I enjoyed his approach of laying out pieces that may initially come across as too strange or awkward to be able to fit together (mass shootings, pop idols) and somehow, almost by sorcery, by the end of the tale these fragments make sense only when, or if, the audience manages to connect emotionally with each segment. Employing strong images, music—score and soundtrack—that demands attention, and pointed dialogue, it cannot be denied there is great confidence propelling the work. It is all the more impressive that it is only Corbet's second feature; I very much look forward to what else he can offer. Even the presentation of the opening credits is inspired.
Natalie Portman plays the thirty-one-year-old Celeste. She is required to sing and dance, to be in control of ridiculous costumes, to wear heavy cosmetics and emote in every second of every frame. She must communicate that Celeste is a tragic figure and yet one who may not necessarily deserve our pity because, after all, she put herself in her current situation—drugs, booze, surrounding herself with toxic people but distancing herself from those who genuinely love and care for her—despite being a survivor of a school shooting. Without relying on obvious or tired tropes, I appreciated that the film is clear: One can be a victim of an event but the victim can choose not to feel victimized for the rest of her life.
At the same time, there is humor in the performance; Portman's histrionics are best seen to be believed. As seasoned performers do, she milks every millisecond when the camera gets a glance of her face since each tiny opening is a chance to enrich the portrayal. I could tell she had put a lot of thought into the woman she is playing. Still, though, the melodrama fits the story being told and the character being explored. Celeste's physical outer wounds may have healed, but in a way the real Celeste is suspended in time, in that particularly horrifying day. It is a wonderful performance, one Portman should be proud of, especially given the caliber or her already colorful filmography.
I admired the material's willingness to take risks. First is in the casting of teen Celeste and Albertine, Celeste's teenage daughter. Both are played by Raffey Cassidy which is genius because we get introduced to her version of Celeste first and then later as the protagonist's daughter who is yearning for a true connection. By casting one actor for both roles, seeing the same face causes a ripple effect of implications, the sadness of the story all the more amplified. Second is the cinematography by Lol Crawley, particularly in how interiors of hotels, makeup stations, and backstages are captured so realistically. When it makes an uncommon pivot to images of landscapes, for example, it is like a slap in the face, a reminder of what's important in truly being alive.