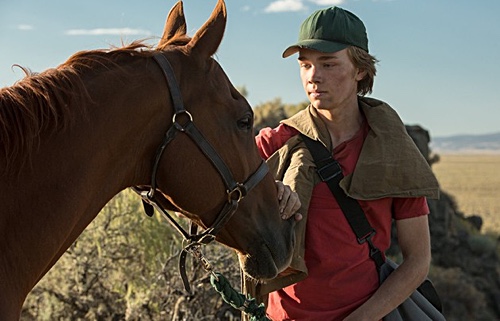 Lean on Pete (2018)
★★★★ / ★★★★
Although the plot involves a fifteen-year-old boy deciding to rescue the titular racehorse from being put down because it is no longer deemed profitable by its owner (Steve Buscemi), it is not what the movie is about. It is about a young person without an anchor, without a home, and little hope for the future. The horse, I think, is a metaphor for his willingness to fight and take his life toward a direction that makes sense—even if the road required to get there may not make a whole lot of sense to us. I found it achingly beautiful, poetic, and moving.
"Lean on Pete" is based on the novel by Willy Vlautin—and it shows. Notice that nearly every single adult Charley (Charlie Plummer—perfect for the role) knows or comes across has been chewed up and spit out by life, from his own father (Travis Fimmel) who pays more attention to wooing women than ensuring the well-being of his son, a female jockey (Chloë Sevigny) who has had her share of broken bones but cannot seem to care deeply about the horses she rides, to the pair of young soldiers (Lewis Pullman, Justin Rain) who just returned from the Middle East. A humanist writer-director, Andrew Haigh underscores the loneliness and sadness that these characters attempt to cover up. So even when someone makes a cruel decision, we do not hate them for it. It can be interpreted that their actions are based upon what life has taught them.
And then we look at Charley—quiet, hardworking, smart, and not yet hardened by life despite the near poverty of his household. We suspect what might be in store for him, the challenges he will face once he takes the horse in the truck and drives to nowhere. Particularly impressive is how the second half rests on Plummer's shoulders and there is not a moment that rings false. It is interesting how the writer-director keeps sentimentality at bay, often choosing to highlight the boy's inner fire, his ability to push through even when he must sacrifice a bit of his innocence just so he can take one more step toward his destination, than the tough circumstances that plague his journey. Lesser filmmakers may likely have opted for tear-jerker moments.
I read somewhere that the movie is not for children—which surprised and frustrated me. I cannot disagree more; it is exactly the kind of movie, I think, that children will connect with, especially because they will have questions. But the questions, I think, will not be about plot points but why certain things are happening, why there is death, why children are neglected or abandoned by their parents. These are tough questions. I believe that those who think that the movie is not for kids are people who are not ready to face and answer the challenging questions for someone else. We often underestimate what children can process.
"Lean on Pete" is a story of a boy who does not have a home. He looks to the people around him: his father, a horse trainer, a jockey; to the gentle animal considered to be old and useless; to the strangers capable of both kindness and inhumanity. They offer no home. He even looks inside himself and finds nothing still. And so he forges on, looking to the past to see if remnants of comfort remain. As the minutes trickle away, we look at Charley, desperately hoping he'll be all right somehow even if he doesn't find what he's looking for.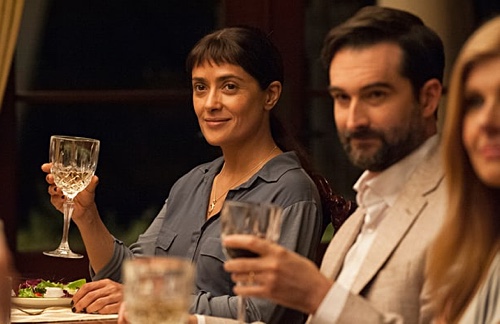 Beatriz at Dinner (2017)
★★★ / ★★★★
Some will walk away from this picture wondering what it is all about. One might say it is about the rich versus the poor, the powerful against those without much power. Another might argue it is about how a person of color is treated in an environment where she is the minority. Yet a third person may claim it is about a selfless person suddenly finding herself face-to-face with the embodiment of greed. Like many films worth watching, "Beatriz at Dinner," written by Mike White and directed by Miguel Arteta, is open to interpretation and yet it remains highly watchable because it is making a statement about the human condition. We relate to what's unfolding on screen.
Salma Hayek plays the titular character, an alternative healer in just about every aspect of her life. It is easy or convenient to label Beatriz as weird or unconventional because she seems to function on a plane slightly higher than everyone else. Despite this, Hayek ensures that the character feels grounded, honest, and real. We almost wish to protect her. This is critical because the people she is invited by (Connie Britton, David Warshofsky) and those she meets at the dinner party (John Lithgow, Amy Landecker, Chloë Sevigny, Jay Duplass) are shallow, corrupt, and fake. It is a classic clashing of opposite beings, ideals.
I believe the picture is about microaggressions. Intense feelings are ignited inside the pit of the viewers' stomachs as her fellow guests act as if she were less than. They don't say that she doesn't belong but they treat her exactly what they think of her. It is in the looks given, the words used to make a point, the manner by which the body language communicates disinterest when the brown person gets the spotlight as she explains what is on her mind. Even the caterer, also white, dares to interrupt Beatriz, fully aware that she is also one of the guests, when she is recalling a highly personal memory involving an animal she must kill.
Clocking in at about eighty minutes, the film is efficient in ensuring that we are on our toes when it comes to detecting micro-inequities. Notice that although the setting is quite palatial, when a group is on a circle, a wide angle shot is almost never utilized. It shows that although they occupy the same room, appearing to be talking about one thing, they are not on the same page. They fake being on the same page; they have become so accustomed to it that it is business as usual. Beatriz functions as our conduit. At times we almost feel her laughing to herself at the sheer ridiculousness of her company.
Although relatable on so many levels, especially if the viewer is a minority or a part of the working class, "Beatriz at Dinner" is not for everybody. Its sudden solemn turn toward the end might be considered to be hyperbolic if taken literally. But if taken from a satirical point of view, the statement it makes is smart and funny. It makes us wonder how much better our world would be if people capable of deep thoughts and feelings, coupled with the ability to take action or lead by example, were actually in charge.

Barry Munday (2010)
★★ / ★★★★
Barry Munday (Patrick Wilson), despite his pudgy frame, was a womanizer. He exuded confidence which charmed some but repulsed others. When an underaged girl (Mae Whitman) lured Barry in a movie theater, her father, with a trumpet in hand, walked in on them and hit Barry in the groin. Doctors at the hospital informed him that there was nothing they could do to save his testicles so the boys were going to have to be removed. A couple of days later, to Barry's surprise, he found out that he had impregnated a woman named Ginger (Judy Greer), the ugly duckling of a well-to-do family (Malcom McDowell, Cybill Shepherd). Based on a novel by Frank Turner Hollon, "Barry Munday" was amusing only half of the time because the director, Chris D'Arienzo, ended his scenes just when the punchline was delivered. For instance, when Barry met Ginger for the "first" time (he couldn't remember their sexual encounter), the two shared awkwardness, which was mildly funny, but they were left with only references of the night in question. Ginger pointed at the area where they had done the deed and the specific song that played in the background but there was not one memorable joke that incited laughter. I felt as though the film could have played upon Barry's vanity when he met Ginger. He obviously thought she was ugly so why not overtly play upon the fact that maybe he didn't feel like she was good enough for him? Yes, the main character would have come off as mean-spirited but it would only highlight the journey he had chosen for himself. The filmmakers' decision to not take on certain risks lowered the movie's level of comedy and it missed potential character arcs. I enjoyed Chloë Sevigny as as Ginger's sister, the favorite of the family. She wasn't afraid to acknowledge her sexual needs. What I expected to see was her character being used to create a divide between Barry and Ginger. After all, there was a jealousy between the sisters. But I was glad it didn't take that route. I believed Barry's change toward becoming a better man because his evolution was mostly two steps forward and one step back. It took some time for him to decide to take real responsibility. However, what I didn't find as effective was Barry suddenly wanting to know about his father who left before he was born. It offered an explanation involving why Barry turned out to be a womanizer when it didn't need to. Most men just can't help but want the idea of being with other women. And that's okay. Anyone who had taken a psychology course could surmise what the film was trying to say. It implied that his father's absenceled to his desperate assertion, through being with a lot of women, that he was a man. It was unnecessary because I felt as though Barry's journey was already complete. He may still not be the kind of guy one would take home to meet the parents, but he was likable enough. We knew he eventually meant well.