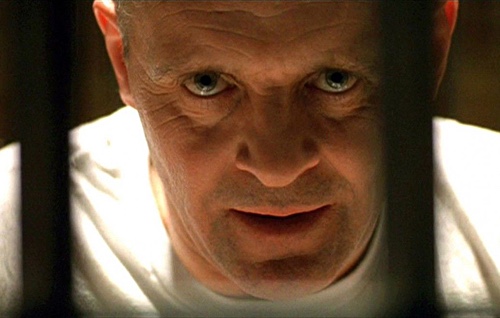 The Silence of the Lambs (1991)
★★★★ / ★★★★
It seems everywhere she goes Clarice Starling (Jodie Foster), one of the top students at the FBI training academy, feels the male gaze caressing her: the local cops who find a corpse that had been underwater for days; her fellow trainees and superiors; the director of the Baltimore State Hospital for the Criminally Insane (Anthony Health); even the serial killer Dr. Hannibal Lecter (Anthony Hopkins), dubbed Hannibal the Cannibal by the media, the former psychiatrist Clarice has been assigned to interview in order to gather information about a recently infamous psychopath known as Buffalo Bill—whose M.O. involves removing women's skin after murdering them. He intends to stitch the skins and wear them. "Are you about a size 14?"
"The Silence of the Lambs," based on the screenplay by Ted Tally and directed by Jonathan Demme, is first-rate entertainment. It is filled to the brim with sharp, intelligent, and fluid dialogue; carefully calibrated performances that not only demand viewers not to blink but also invite us to lean in and listen more closely; and memorable images so graphic at times that when we close our eyes our brain traces the outlines of grotesque images in the back of our eyelids. It is a psychological thriller so potent, tension gathers every step of the way—and it doesn't let go until Clarice's gun is fired in the expertly paced final ten minutes.
The picture's centerpiece is the interaction between earnest Clarice and cunning Dr. Lecter. The relationship is curious because it is strictly a business transaction, a bartering of crucial information: Clarice provides details—sometimes painful details—about her past, Lecter gives insight on how to detect and capture Buffalo Bill. There is no trace of romantic connection. Not even a twisted father-daughter connection. It is a thrilling chess match between two perceptive individuals must who must work together in order to achieve their goals.
I think deep down they like each other. Perhaps there is even respect there. This is a masterstroke in an already top notch material. It is a true horror film in that we are asked to identify with a serial killer who eats his victims and feels no remorse. There is no explanation offered regarding this compulsion. It just is. Hopkins appears on screen for less than fifteen minutes in total yet his presence can be felt throughout. The level of menace he injects in the Lecter character is so high that it is able to pierce through every scene with ease. He need not be mentioned because Foster carries Clarice's exchanges with Dr. Lecter like a scar. She is challenged to think like him but at the same time overcome him in order to avoid being played.
Demme possesses an understanding of how to capture situational horror effectively. Forget corpses on a platter or blood spatters as security guards are beaten with a truncheon. Look at the way images are framed as Clarice walks down the hall seconds before she introduces herself to the notorious Dr. Lecter. Observe the manner in which Buffalo Bill interacts with his victims, particularly the scene where he tries to copy the way a woman screams. On the surface, it appears as though he's simply mocking her misery. But no. Like Clarice and Dr. Lecter, Buffalo Bill is a person who studies, who yearns to be free through a kind of transformation.
Pay special attention to the finale when Clarice must make her way through the dark… while the killer, standing about five feet away from her, wears night vision goggles… gazing at her. All of these examples require patience to unfold so that they truly get under our skins. We remember them not necessarily for the images but how they make us feel, how anticipation grips us by the throat.