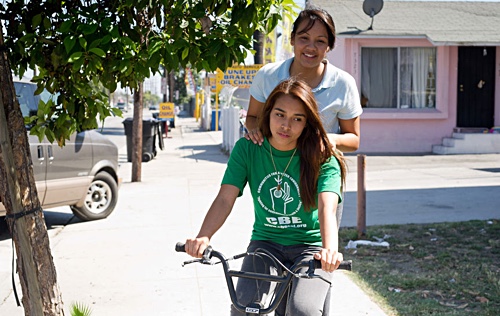 Mosquita y Mari (2011)
★★★ / ★★★★
Yolanda (Fenessa Pineda) is a high school sophomore with parents (Laura Patalano, Joaquín Garrido) who push her to excel so that she can have a shot at attending college. Though Yolanda has friends, it does not seem as though she cannot connect with them completely, so when a girl named Mari (Venecia Troncoso) moves into the house across the street, the prospect of having a new friend, one with whom she can get close to, excites her. Yolanda is ecstatic when she learns that Mari is in her Geometry class.
Writer-director Aurora Guerrero captures a genuine Mexican-American experience, one that is complex, subtle, involving, and, in its own way, touching. I grew up with girls similar to the title characters and it is so refreshing to see what I know is real, so beautifully portrayed on screen. Though a small picture, "Mosquita y Mari" is leaps and bounds ahead of many independent films because it knows exactly what to communicate without relying on the usual cinematic tactics of blossoming female friendship.
Pineda and Troncoso's lack of experience works. I liked that at times they seem to be unaware of where to put their bodies or how to angle them just so in order to look "good" on camera. There were even moments when I felt their nerves as they work toward certain lines that are not natural to them. In a lot of movies, these are qualities I find rather undesirable. In here, however, I found such traits endearing because the story is about the two young women trying to be comfortable in their own skin as well as around one another—as friends and perhaps something more.
One can tell that there is a lot going on inside Mari and Yolanda's minds, the latter nicknamed "Mosquita" by the former during the early stages of their relationship for looking "like a little fly." Though they share the same heritage, their respective home lives are very different. Through their dominant personalities and actions, we come to learn what they value. Perhaps Yolanda thinks about not having many friends, the spark that remains in her parents' marriage, and her prospects of going to college. On the other hand, Mari thinks about getting a job to help her single mother pay rent and if completing high school is the right path for her. Guerrero treats us as smart audiences; there is no explosive scene that shows the major stresses of both teens just in case it isn't obvious enough.
Though there is an undercurrent of a lesbian story, it feels right that it is underplayed. At least when I was fifteen, it was difficult for me to verbalize my exact feelings, let alone act on my desires with someone who may or may not be interested—or brave enough—to reciprocate my feelings. The screenplay touches upon how it is like to be curious and insecure, how a mixture of the two can lead to a whole world of frustration.
The core of "Mosquita y Mari" is friendship. I found it a surprise that when two girls get jealous or have a disagreement, they express their emotions, sometimes reluctantly, but they are never made into a big deal. Not every teenager's life is a soap opera. Instead, the characters are allowed to speak to each other about things that are important to them and what they will do or where they hope to be in ten years. Even though they are optimistic, there is a tinge of sadness there. Because they are so different, it is possible that they may no longer be friends—or at least not as close—by graduation.