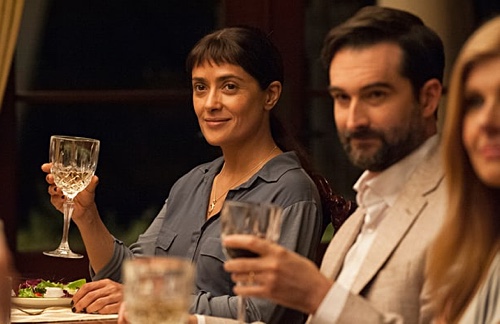 Beatriz at Dinner (2017)
★★★ / ★★★★
Some will walk away from this picture wondering what it is all about. One might say it is about the rich versus the poor, the powerful against those without much power. Another might argue it is about how a person of color is treated in an environment where she is the minority. Yet a third person may claim it is about a selfless person suddenly finding herself face-to-face with the embodiment of greed. Like many films worth watching, "Beatriz at Dinner," written by Mike White and directed by Miguel Arteta, is open to interpretation and yet it remains highly watchable because it is making a statement about the human condition. We relate to what's unfolding on screen.
Salma Hayek plays the titular character, an alternative healer in just about every aspect of her life. It is easy or convenient to label Beatriz as weird or unconventional because she seems to function on a plane slightly higher than everyone else. Despite this, Hayek ensures that the character feels grounded, honest, and real. We almost wish to protect her. This is critical because the people she is invited by (Connie Britton, David Warshofsky) and those she meets at the dinner party (John Lithgow, Amy Landecker, Chloë Sevigny, Jay Duplass) are shallow, corrupt, and fake. It is a classic clashing of opposite beings, ideals.
I believe the picture is about microaggressions. Intense feelings are ignited inside the pit of the viewers' stomachs as her fellow guests act as if she were less than. They don't say that she doesn't belong but they treat her exactly what they think of her. It is in the looks given, the words used to make a point, the manner by which the body language communicates disinterest when the brown person gets the spotlight as she explains what is on her mind. Even the caterer, also white, dares to interrupt Beatriz, fully aware that she is also one of the guests, when she is recalling a highly personal memory involving an animal she must kill.
Clocking in at about eighty minutes, the film is efficient in ensuring that we are on our toes when it comes to detecting micro-inequities. Notice that although the setting is quite palatial, when a group is on a circle, a wide angle shot is almost never utilized. It shows that although they occupy the same room, appearing to be talking about one thing, they are not on the same page. They fake being on the same page; they have become so accustomed to it that it is business as usual. Beatriz functions as our conduit. At times we almost feel her laughing to herself at the sheer ridiculousness of her company.
Although relatable on so many levels, especially if the viewer is a minority or a part of the working class, "Beatriz at Dinner" is not for everybody. Its sudden solemn turn toward the end might be considered to be hyperbolic if taken literally. But if taken from a satirical point of view, the statement it makes is smart and funny. It makes us wonder how much better our world would be if people capable of deep thoughts and feelings, coupled with the ability to take action or lead by example, were actually in charge.