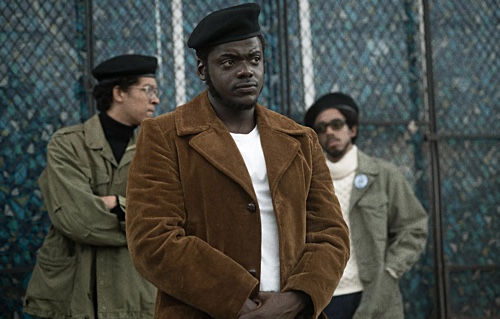 Judas and the Black Messiah (2021)
★★★ / ★★★★
Politics is war without bloodshed while war is politics with bloodshed.
In most movies that revolve around an informant, viewers end up empathizing with him or her one way or another. This isn't the case in Shaka King's "Judas and the Black Messiah." The story opens with William "Bill" O'Neal (Lakeith Stanfield) choosing to be a rat for the FBI—under the superintendence of Special Agent Roy Mitchell (Jesse Plemons)—after he is caught stealing a car and pretending to be an FBI agent. And by the end of the story, Bill is not only a rat but a traitor who served a critical role in the killing of Fred Hampton (Daniel Kaluuya), chairman of the Black Panther Party in Chicago.
Hampton is so slick with words that he is capable of uniting not only black Chicago gangs but also multiethnic militia groups who are tired of being treated as second-class Americans. As a collective, The Rainbow Coalition demands progressivism from a government that excels in maintaining not only status quo but oppression of the poor, the marginalized, and people of color. It is no wonder Hampton is regarded as a national threat.
Right from the opening minutes the work proves propulsive. Themes regarding appearances tending to deceive, that real power is held by folks hiding in the shadows, and that one of the government's greatest weapons is persuading people who belong within a community to turn against their own. This is done in subtle and often entertaining ways. Particularly efficient is when Bill sits in an interrogation room, face dripping with blood, as Special Agent Mitchell reminds the powerless black criminal in front of him that he has no sensical choice but to become a slave for the US government; it is a scene in which a black man sells his soul to a white devil.
I choose powerful words—pointed words that carry heavy judgment—but make no mistake that picture never paints circumstances in black and white. Even Mitchell is shown to be human, that although he is an FBI agent and that the organization he works for is filled with racists, he is also a man with his own beliefs about race and racial tension in 1960s America.
He is also a father. There is a revealing and terrifying scene between Mitchell and Special Agent Carlyle (Robert Longstreet), the latter asking what the former will do if his daughter ever brought a black man home. King languishes in tight, uncomfortable headshots. We can hear a pin drop as the cornered Mitchell is forced to provide a response. There is the answer in Mitchell's head, somewhere along the lines of, "Why would it matter if she did?", and then there is the "correct" answer, the one that his colleague needs to hear.
The Hampton character is given even greater complexity. He is a wonderful orator; he can survey a room full of people, find its pulse, and adapt his words into messages that will resonate. I found it so fascinating that the key issues that the man fought for are issues that progressives are fighting for today: closing the gap in regard to food insecurity—particularly in children, free healthcare for all, free education. You see, those in power remain in power when people are hungry, sick, and uneducated. This role is a strong addition to Kaluuya's increasingly impressive resume. He creates personas: a public figure, a leader, and a man. Each persona is worth close inspection. And there are times when the identities bleed into one another.
It is most disappointing that the pacing slows to a crawl during the latter third. It is the point where Bill must make a decision on whether or not to betray the man with whom he had grown to have great respect for. Since the material spends the majority of its time with Hampton as well as the Black Panthers as a group but only fleeting moments between Bill and Mitchell, we do not have a deep and thorough understanding of the informant. The title reveals which course of action he will take and so tension must come from somewhere else. But because he is not layered enough—and I think he is meant to be—the battle within himself is not compelling; it simply feels drawn out and repetitive. At one point I thought, "Just get on with it already."
Regardless of this shortcoming, "Judas and the Black Messiah" delivers a story worth our time, attention, and consideration. It is without question that the film is about race. But it is also about the working class attempting to rise up and the establishment feeling threatened so it feels the need to squash the bugs. Surely it is so annoying when commoners want equality. Why can't they just be thankful for the crumbs they are given? The story told here happened in the 1960s. But make no mistake that the story continues to this day. That's the power of the establishment.