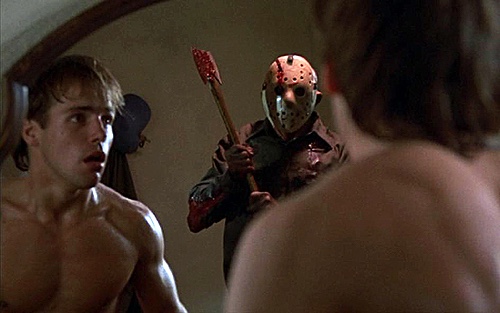 Friday the 13th: A New Beginning (1985)
★ / ★★★★
I counted. It took fifteen kills until a victim is given a chance to run for her life. Up until this moment, by then the movie is an hour deep into its interminable running time of ninety minutes, every single kill involves a person getting hit once and he or she drops dead almost immediately. No suspense, no thrills. Just an exercise of violence. Stab. It is ugly and boring, not at all a worthy follow-up to its inspired direct predecessor. "Friday the 13th: A New Beginning," the fifth in the series, based on the screenplay by Martin Kitrosser, David Cohen, and Danny Steinmann (who also directs), is without redemption. It is—without question—the worst entry so far.
We follow one of the survivors in "The Final Chapter," Tommy Jarvis, now a teenager (John Shepherd), who is sent to Pinehurst Youth Development Center, led by Dr. Matthew Letter (Richard Young), so that he can undergo further healing from severe trauma, prepare to re-enter society, and start life anew. Although Tommy is the central protagonist, no thought or insight is put into how the character is written. His evolution is non-existent and so when the picture goes for a last-minute twist—which is completely predictable—it is most unconvincing. I would like to know how much the writers got paid to helm the screenplay and demand, if they kept the check, that the money be donated to the poor—with interest. Because they did no work. The final product is an amalgamation of the worst elements of horror films within and outside of this series. This movie's existence is an act of spitting upon the fans of the series with impunity.
We are provided no detail regarding Pinehurst and how the halfway house works. This is supposed to be where a massacre will take place later on, but the filmmakers could not be bothered to establish a realistic, creepy, or foreboding atmosphere. Not once did a scene not look like it had been shot on a set. Nearly everything comes across as fake: the decor, the plates and the dinner table, down to the bunkbeds. These objects appear as though they have not been used once. And we are supposed to believe that this is an established halfway house? The movie expects the viewers to be dumb and blind.
Furthermore, other than Tommy, I found it impossible to remember any of the residents' names. And so I assigned them nicknames—a few of them not-so-nice because the clichés come hard and fast. The reason is because a person is gutted before an interesting fact or specific trait about him or her surfaces. To add insult to injury, the kills are not inspired… or even framed correctly. The approach is almost always a close-up of the weapon piercing the body. Showing blood does not magically generate horror. You have to work at it. Those in charge from behind the camera have no understanding of this. Cue the badly edited reaction shots.
This degenerate of a film contains some of the most offensive representation of rednecks I have ever seen in the movies. I understand that the intention is to generate humor, but the jokes, I felt, came from a mean-spirited perspective. It shows rednecks as constantly obnoxious, dimwitted, and dirty. That they talk like wild animals. That they live like pigs. That they essentially eat pig slop, too. I couldn't believe that in the mid-80s, this sort of stereotype was still considered to be acceptable. I found zero entertainment value from this sequel.
I hope "A New Beginning" is the bottom of the barrel. How can it get worse?