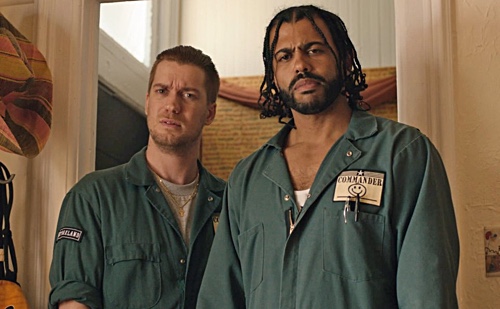 Blindspotting (2018)
★★★ / ★★★★
Carlos López Estrada's directorial debut is an exciting piece of work—certainly ambitious because it attempts to tackle an enchilada of challenging topics from white police shooting unarmed black men, gentrification, a convicted felon's place in a society with a bias against them, to racial identity and the disparity between how one feels on the inside versus how one is actually perceived. These are elements easily found in dramatic pictures but somehow, almost miraculously, "Blindspotting" is also quite comedic—and, it works. Here is a film in which one does not walk away without an opinion—or, at the very least, a strong impression. It is meant to incite discussion.
Collin (Daveed Diggs) is three days away from finishing his probation. But it will prove to be a long three days after Collin, on his way back home for curfew, witnesses a fellow black man—without a weapon in hand—being shot four times by a white cop. The police gave only one warning and the time span between the warning and the gunshots is less than two seconds. The encounter haunts both Collin's dreams and waking moments. He begins to have anxiety about every little thing that might send him back to prison. It does not help that his hot-headed best friend, Miles (Rafael Casal), has recently purchased a gun and insists on bringing it wherever they go.
The film's energy is highly infectious. The screenplay by Rafael Casal and Daveed Diggs is so devoid of storytelling shackles that characters may end up rapping for whatever reason. These need not have a point or contain pointed social commentary. At times it is simply because it would be a fun or funny thing to do. However, these sung poetry almost always provide insight about the character spitting out the words—sometimes during that moment in time and other times how he perceives his place in Oakland, California.
As someone who lives ten minutes away from Oakland, I appreciated that the film is not afraid to show the city as is in 2018. So many movies, television shows, and songs paint Oakland as a dirty, scary place where crime is prevalent. While it may embody these characteristics depending on the neighborhood, Estrada is also willing to show the brightly painted houses, clean streets, people so diverse and multicultural that seeing my reality on screen made me feel proud. Also, it actually shows that people do wish to move to the city, not just a place to run away from. It reminded me how films—to this day—still represent or portray the San Francisco Bay Area in general with one scoop of truth and two scoops of lies because it needs to be more digestible by vanilla America.
Its comic moments aside, it works as a dramatic piece. This is a work in which the viewer can capture the moment when one character's opinion of another changes. Strong impressions are not expressed right away; as in life, we keep what bothers us to ourselves until a seemingly small trigger breaks the dam and all of it comes pouring our of mouths. Tension-building is a required ingredient in strong dramas—the filmmakers are always aware of this. Sometimes more is said in extended silence than sitting through a barrage of words.
Although it does not compare to Spike Lee's great social dramas ("Do the Right Thing," "Get on the Bus"), it is apparent that "Blindspotting" is inspired to function on a similar wavelength. By comparison, it is not as confrontational to the point where it threatens to offend more than handful of viewers. Personally, it could have used a bit more spice, particularly when it broaches the subject of gun violence, but I was disarmed by its flavor.