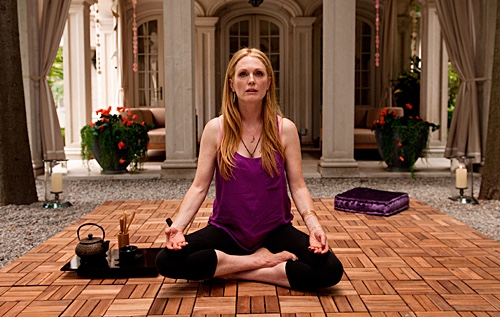 Maps to the Stars (2014)
★★ / ★★★★
Agatha (Mia Wasikowska) makes a trip from Jupiter, Florida to Los Angeles, California because it has been seven years since she had seen her family—the very people she tried to set on fire. Her goal is to make amends but she is unsure whether enough time has passed for them to be able to forgive. In the meantime, she gets a job as a personal assistant to Havana Segrand (Julianne Moore), an actress with many connections and even more personal demons, including a history of drug abuse.
"Maps to the Stars," based on the screenplay by Bruce Wagner, is not the sharpest biting satirical film about Hollywood culture but it does command highly watchable performances across the board. There are plenty of familiar faces, from Robert Pattison as a limousine driver to Carrie Fisher playing a version of herself, and just about each one, no matter how brief they appear on screen, intrigues. Looking at the material from a big picture point of view, however, it leaves a lot to be desired. The bad, erratic, and self-destructive behaviors are present but there is no soul. At one point one cannot help but wonder, "What's the point?"
Not surprisingly, Moore is the standout performer. Although Havana is not the lead character, Moore plays Havana as larger-than-life but tragic. In one scene she is despicable, but the succeeding scene makes us wonder that maybe there is more to her than pills, guilt, and a past she is unable to run away from. The best scenes involve Havana wanting to get a part so badly—a role that her late mother played many years ago—that she comes across as on the brink of breaking down. So people around her tiptoe. She, too, is in self-denial; she thinks she's a bright star but in actuality, maybe she needs to focus on getting into the right frame of mind to be able to handle holding down a job.
I did not expect to feel sympathy toward a child actor who is a complete jerk to everyone he encounters—even to young fans who just want a simple autograph. Thirteen-year-old Benjie (Evan Bird) already has a history of drug abuse and he is trying to keep clean—not because he wants to necessarily but in order to keep a role that his mother (Olivia Williams) thinks he should hold onto. I wondered at times about the kind of future Benjie might have given he continues traveling in the same self-destructive track.
Looking at their rather palatial home, one must wonder why the mother insists that he remain in show business. Is it for his future or is it a way for her to compensate on what she feels she is lacking, a missed opportunity when she was young? Of course, in a movie like this, which follows expected beats in terms of story arc, the answer is somewhat obvious.
Directed by David Cronenberg, "Maps to the Stars" shows the ugly side of being in the Hollywood machine: the vanity, the histrionics, the exploitation, the loneliness of living in spacious home but there is no joy or laughter in it. There is a sadness here that the picture seems almost afraid to touch, afraid of delivering more dimension to cynicism. I get the point that it aims to make but cynicism must be paired with something else—preferably contrasting elements—or else the film ends up being a one-note critique.