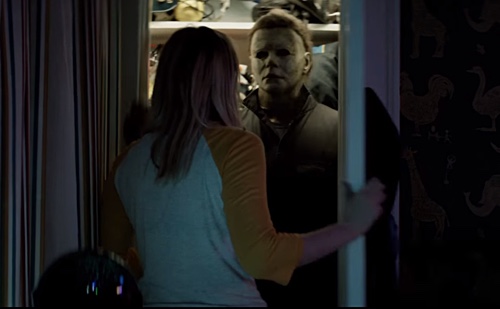 Halloween (2018)
★★ / ★★★★
The first kill in director David Gordon Green's "Halloween" left a strong impression on me. It isn't because the kill cannot be seen from a mile away nor is it due to the brutality of it. It is because the type of murder victim is new. It shows that not even children are safe from Michael Myers (James Jude Courtney, Nick Castle), the boogeyman known as The Shape who went on a killing spree in Haddonfield, Illinois in 1978.
In the original, not one child is harmed physically. They could have been but we get the impression that it is the killer's choice not to. And so perhaps it is a part of Michael's behavioral profile given that he himself was only a child when he committed his first murder. The restraint gave depth to the character. Here, once the victim's final breath is released, I caught myself feeling excited at the prospect of a back-to-basics slasher flick. Notice the kill is without blood. No weapon is used. It is over just as soon as it began. There is a ruthless efficiency to it. However, I regret to report it does not live up to its potential.
If anybody could have successfully put "Halloween" back to its original form, it ought to have been Green. With impressive movies like "George Washington," "All the Real Girls," "Undertow," "Snow Angels," and "Joe" under his belt, he has shown that he has the ability to strip his stories of plot complications and focus solely on the human drama. Now, that may sound strange given that a horror film is in question, but since the plot of this picture revolves around how Laurie Strode (Jamie Lee Curtis) has dealt—or not dealt—with the trauma of her encounter with Michael forty years ago, the screenplay demands that it has a thorough understanding of human psychology, particularly how a traumatic event can not only alter but actually shape a person's life. It is clear Curtis could have done more with the character had the screenplay given her more of a challenge.
While some effort is made, it is all so… ostentatious. We observe Laurie shoot a number of guns, wield hunting knives, and stroll across her panic room. The script makes a big deal of Laurie's broken relationships with her daughter (Judy Greer) and granddaughter (Andi Matichak) because the former's intense preparations—just in case Michael escapes the mental facility and returns to Haddonfield—have taken over her life. Nearly all of it comes across rather superficial, tacked on, unnecessary. Greer is not fit for the role while Matichak does not command a strong enough presence to be memorable. Subpar performances aside, these characters are so underwritten, I did not care whether they would or could survive the night. A part of me actually wanted them to get killed because they felt more like decorations rather than natural extensions of our iconic survivor.
In the middle of it, I wondered if it would have been the braver choice to make a horror film with a running time of only fifty minutes to an hour. Instead of plot or character contrivances, the focus is on the meeting of predator and prey—only we do not know which is which any longer since forty years have passed. After all, it is the filmmakers' decision to ignore all sequels. It is only appropriate to just go for the jugular, so to speak.
Green's interpretation of "Halloween" is surprisingly loud given that he excels in the quiet. I'm not simply referring to the school dance scenes or guns being used excessively. (Do not get me started on the generous use of score—especially during the most inappropriate times.) I also refer to the images. There is excessive display of gore and sharp weapons piercing through body parts. There is even a man whose head is split open and we see it front and center. There are moments when violence is implied, but these are few and far between.
There are those who are quick to say that this is pretty much a remake of the original. I think these individuals are not observant enough. While Carpenter's 1978 classic is more interested in building suspense and breaking it at the perfect moment, Green's attempt leans toward evoking thrills through homage. Carpenter employs light and shadows to imply violence while Green hoses us down with gore. And that makes a whole world of difference.