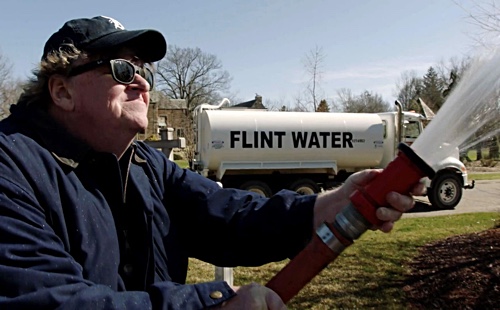 Fahrenheit 11/9 (2018)
★★★ / ★★★★
Those familiar with Michael Moore's hilarious, razor-sharp, educational, and occasionally sensationalistic approaches when it comes to framing and tackling topics that all Americans should care about are certain to be entertained, fascinated, and maddened by the documentarian's recent work. This time, however, instead of focusing his critiques on, for example, guns and violence in the United States ("Bowling for Columbine") or the American health care system ("Sicko"), we are presented an amalgamation of social issues, particularly the choices made by those with power in politics and the media, that led up to the presidency of Donald Trump.
There is plenty to admire in "Fahrenheit 11/9," but utilizing clips in most effective ways is not one of them. For example, while it is appropriate to draw comparisons between the way Donald Trump addresses his rabid supporters with that of Adolf Hitler and the Nazi party, I found it unnecessary, even distracting, to use archival footages of the latter making a speech while dubbing in the former's voice. It cheapens Moore's point because the resulting the partnership of image and sound comes across cartoonish, almost like a joke—when the critique is anything but. Another weakness, although to a lesser extent because Moore does it only once, is reminding the viewers of the creepy way Trump sexualizes his daughter Ivanka. I failed to appreciate how this angle is relevant to the film's thesis.
Yet despite these weaknesses, the documentary is thoroughly eye-opening. It is well-paced, readily able to create a sudden surge of urgency in a matter of seconds, and capable of playing the audience like a piano—especially those not especially informed when it comes to American politics, those who still believe that there is a clear demarcation between Democrats and Republicans. Being aware of these parties' ties with corporate money, I could see some of Moore's punchlines coming from a mile away. Still, the film almost plays out like a darkly comic satire, filled with valleys and mountains, of despair and hope.
While there is plenty of entertainment to be had—backed by sound effects designed to dig the dagger a little deeper… and then twisting it—in revisiting the results of 2016's Election Night, especially in how the mood changed in Hillary Clinton and Donald Trump's respective camps as later electoral votes poured in, most captivating to me is the water crisis in Flint, Michigan. Many of us have heard of the city's residents—a large percentage of them being African-Americans, which is no coincidence—not getting clean drinking water. The water was so poisoned with lead that more than ten thousand children had been poisoned by the time of filming. Many of these kids have been permanently damaged—the proof can be found in their genes and will remain in the genes of generations after them.
Moore is an ace documentarian when he is with his people, simply sitting back, asking questions, and allowing the people of Flint, Michigan to speak. There is no need for archival footages, no need for musical cues, no need for humorous dramatizations. Because when a person being poisoned by the water coming out of the faucet or shower head, everybody can empathize and relate with her. Regardless of the viewer's socioeconomic status, race, or politics, it is only natural to be able to identify with anyone who just wishes to have clean water for his or her community, especially for the children. Rick Snyder, the governor of Michigan, should be in prison. There are no ifs, ands, or buts about it.
There is plenty to be angry about—this review does not scratch the surface. I could go on about, for instance, how the so-called Democratic Party had blatantly cheated Bernie Sanders of the presidency, but I won't. I admired Moore for introducing hope in a seemingly hopeless quagmire that is the American politics today: the grassroots movement, regular teenagers and school shooting survivors who organize record-setting national rallies using social media, and everyone else who is willing to take action for the changes he or she wishes to make. Based on the film's thesis, the real enemy is not Donald Trump, or Rick Snyder, or racist white America. These are echoes, byproducts of American complacency and inaction.