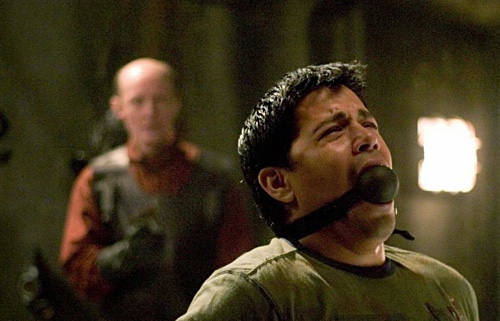 Hostel (2005)
★★★ / ★★★★
I think the goal of Eli Roth's "Hostel" is to make the viewers so uncomfortable that somewhere during its descent to hell they find their heads pulling away from the screen without thinking about it. As ugly, gory, and violent as the film is, an argument can be made that it is true horror in a sense that it elicits a response so visceral and so powerful that by the end it leaves one enraged, drained, or wallowing in disquiet. I found it to be entertaining from beginning to end; the story is propelled with great energy combined with a "Look what I can do!" gall.
Those who consider only the surface of the picture will be quick to label the work as "torture porn." I'm not so sure it qualifies. Consider the extended scene in which we find one of our three backpackers—Paxton (Jay Hernandez), Josh (Derek Richardson), and Oli (Eythor Gudjonsson)—handcuffed to a chair. From the moment the physical torture begins, the camera fixates on his face. We are there with him the first time a drill punctures his skin, as he shrieks in pain, begs for help and to be released. If the purpose were to excite the viewer, the camera would have focused on the tormentor's facial and body expressions throughout the ordeal. But no—physical suffering and desperate screaming are front and center. By framing the face just so, there is no escape; we are forced to sympathize with the doomed character.
The picture begins like a comedy—a stereotypical comedy surrounding two Americans (Hernandez, Richardson) and one Icelander (Gudjonsson) being boisterous, rude, always on the lookout for weed and women who wish to sleep with them. I was amused by their shenanigans because the performers do a good job in looking and sounding the part. They share chemistry, and what elevates the comedy is the precise phrasings, looks they give to one another, and timing in terms of when to go for hyperbole versus when to downplay. It is not until forty-five minutes into the picture when we finally encounter something especially gruesome.
There is a creative idea here. Rich folks from all over the world pay to torture and kill unsuspecting individuals. To be able to do whatever they wish to an American, it costs $25,000. Considering the film was released post 9/11, there is merit to claims that a) the movie is made for Americans and b) it wishes to make a statement about what Americans consider to be their place in the world following that tragic day. But I go further. I think the writer-director wants to show his American audience that we as a society are not blameless for 9/11.
Like the characters in this film, we go into other people's countries and act like we own the place, sometimes forcing them to adopt our values and morality—a modern day invasion. To make that point is brave and Roth opens himself—as a filmmaker, as an American, or just any other person—for censure. And yet to do so is a very American thing to do. To criticize ourselves for what we are doing wrong is, in my eyes, patriotic. Clearly, there is substance in "Hostel" should one bother to wade through the warm blood, shredded organs, and fatty tissues.