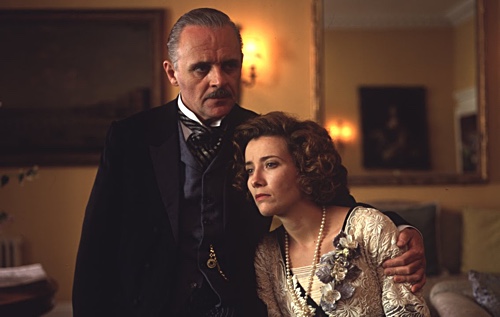 Howards End (1992)
★★★ / ★★★★
Handsome-looking every step of the way, "Howards End," based upon the novel by E.M. Forster and adapted to the screen by Ruth Prawer Jhabvala, is a film to be admired from a sensory point of view but, for most, including myself, not one to invest emotionally despite first-class performances. Yet it is worth seeing at least once because there are numerous fresh choices here that modern dramas, particularly of the mainstream variety, that can learn from. More importantly, how these choices are utilized in order to make a rather old-fashioned plot feel new and engaging.
One of these choices is in the use of transition between scenes. The plot revolves around a wealthy family who owns various estates in England whose patriarch, Henry Wilcox (Anthony Hopkins), strict in maintaining his wealth, reputation, and privilege, chooses to ignore his wife's dying wish (Vanessa Redgrave) of the titular estate being passed on to Margaret (Emma Thompson), a middle-class unmarried woman who lives with her siblings (Helena Bonham Carter, Adrian Ross Magenty). Because the story unfolds in different houses, certainly of varying prestige, it is critical that the transitions do not come across as sudden or jarring. An interesting choice is employing seemingly random images like a group of horses clip-clopping their way down the street, a person reading out loud the words of the novel he is immersed in, or the camera moving away from the focal point of the action and toward a nondescript object that just so happen to be in the same room.
It is such a clever way to denote a movement in location, to highlight a passage of time, to underscore emotions felt but not expressed. A deep level of poetry can be found in these images which is most appropriate because Margaret and her siblings are the type of people who take pleasure in appreciating art, reading and discussing literature, listening to music and form theories about them. Thus, the artistic choice of making each transition special puts us into the mindset or lifestyle of Margaret's family—which also serves as a contrast against the Wilcox clan: how they tend to value money and what people say about them over everything else. If there were love in the Wilcox' household, it would be found in their bank accounts.
Another interesting approach is minimizing the drama—which may sound odd because the material is dramatic by nature. For instance, revelations about certain characters, especially their pasts, are almost treated as afterthoughts. We suspect that certain secrets will be a big deal when revealed, but more often there are no screaming matches, no yelling, no tears. There is, however, compartmentalization. Although it did not always work for me because I found that certain characters a not fully fleshed out, particularly in establishing thoroughly convincing relationships, especially the romantic variety, there is great drama in not expressing. Consummate performers like Thompson and Hopkins thrive in being quiet and letting us know how knowledge of certain things affect their characters. And that is enough to make us feel for them. After all, we have all been situations where we find ourselves at a loss for words, sometimes on purpose in order to maintain a level of control, even though coming across such information bothers us to the core.
To elaborate further, I felt that the relationship between Margaret and Henry is curious but lacking detail—that certain crucial elements are lost between novel and film. For example, I found no compelling reason for someone like Margaret to want to have anything to do with Henry. Did she enjoy the man's attention because she herself is getting older yet she remains unmarried? Was she interested in his money? Being the central character, her motivation must be clear. Instead, the possible romantic connection felt rushed. Another example is the change in Margaret and Helen's relationship. Again, it is hastily handled which felt contrived and unconvincing about half the time.
So, you see, I admired the film for its craft but not necessarily the human connections. Another example: The cinematography, the rural outdoors being juxtaposed against the metropolitan London, offers great beauty in different ways. Perhaps the intention then is to create contrasting impressions. It does, after all, tackle the subject of contrasting worlds.
Watching the work is like looking at a seemingly ordinary painting of a house sitting in a field but as you look more closely, its world opens up and speaks to you. It was a strange feeling and I urge others to see if they would have that experience, too.