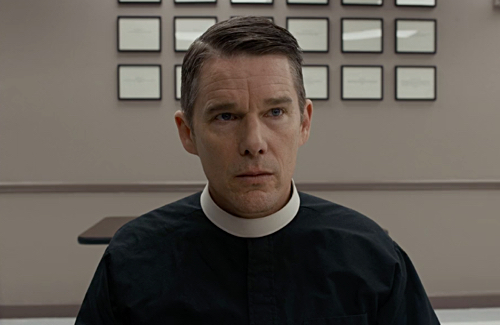 First Reformed (2017)
★★★ / ★★★★
The first thing I noticed about the character drama "First Reformed" is its alarming cleanliness. Notice how the inside of the church is extremely well-lit and spotless—like heaven's light itself forbids imperfection from anything it shines on, how the minister's home is lacking furniture as if the austerity's sole purpose is simply so that dust would not settle on extraneous surfaces, how the waiting room of a neighboring church's pastor commands the impersonality of a hospital. Clearly, these purposeful images is an invitation. Writer-director Paul Schrader wants us to take note of the tidiness, symmetry, and organization of every room. He pushes us to feel uneasy and to examine closely the growing darkness thrumming just beneath the picture-perfect facade.
The work unfolds like silent thriller but a drama at its core. Ethan Hawke plays a minister named Ernst Toller whose life has been in shambles ever since his son's death in Iraq—followed by his marriage's dissolution. To numb it all, he drives himself to alcoholism; and despite finding blood in his urine, he continues to postpone a doctor's visit. Does his suffering come with a purpose? Toller is a fascinating character and Hawke plays him with graceful intensity. When the camera is up close and there is no escape, we can almost feel the demons writhing inside this man. We wish to understand him, to pull him out of his hopelessness even though deep inside we know—and he knows—it is probably too late. In the meantime, Toller is approached by a pregnant woman (Amanda Seyfried) whose husband (Philip Ettinger) does not want them to have the baby.
It is bizarre that the material offers environmental messages—which enraged and fascinated me. On the one hand, I agree that, as residents of this planet, we can do a whole lot more to take care of plants, animals, oceans, and untouched lands. We should be mindful of the trash we make and where we put them. We should take action in making sure that our government works for us rather than with money-driven corporations. Climate change is a fact, not an opinion or an interpretation.
Yet despite these, nearly everything about it is so heavy-handed that at times I felt like these well-intentioned messages overshadow the rich character study. I grew impatient. I caught myself wondering where it is going or if it is even going anywhere. On the other hand, it is interesting because eventually the astute screenplay finds a way to tie them into Toller's increasingly skewed psychology. Maybe emphasis on the environment does need to feel so extreme so that we can appreciate the subject's fragile mind and spirit. The atonal approach did not work for me completely.
Toller keeps a journal and in it he writes down events of each day for a year. I enjoyed how the film adapts the format of diary; nearly every scene is just another day—sometimes something important happens and other times it is merely composed of meeting with people and continuing to plan a celebration for the church. (The First Reformed Church is about to have its 250th anniversary.) Although a slow burn, there is urgency in each day. We get a sense early on that it is building up to a crucial event—and it does not disappoint.
"First Reformed" is not for the impatient viewer. It is, however, for those who delight in peeling off each layer with a keen eye. On a surface layer, it is a story about a man in crises: his relationships with fellow man and God, his health, his faith, his purpose as a man of the cloth as well as just a man with many flaws. On a deeper layer, it tasks us to consider our morality and our actions.
At one point, Toller offers advice: "Wisdom is holding two contradictory truths in our mind, simultaneously, hope and despair. A life without despair is a life without hope. Holding these two ideas in our head is life itself." As an individual, do you intend to live your life closer to hope or closer to despair? And what about your actions? Do they reflect your intentions?