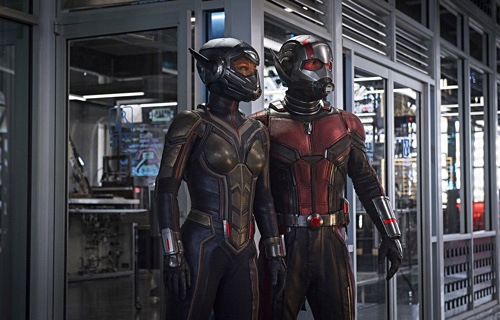 Ant-Man and the Wasp (2018)
★★★ / ★★★★
Peyton Reed's "Ant-Man and the Wasp" may be lacking the epic scale that some of the other Marvel movies possess, but what it has to offer is equally invaluable: terrific entertainment without even lifting a finger. And yet—it tries to engage the viewer every step of the way, whether it be in terms of wacky banters, larger-than-life action pieces, or surprisingly emotional turns of the plot which remind us that our protagonists are fighting for something close to home: to rescue a family member (Michelle Pfeiffer) from the so-called Quantum Realm, a universe composed of worlds in a subatomic scale.
Under Reed's direction, the film moves at a brisk pace with imagination to spare. Notice that although action scenes almost always involve Dr. Hank Pym's (Michael Douglas) miniaturized lab being stolen, and it can be argued that one or two of them drag during the latter half, a new setting is consistently utilized to show us interesting ways for Ant-Man (Paul Rudd) and Wasp (Evangeline Lilly) to exercise their powers. What results are memorable scenes with distinct flavors. Particularly impressive is the car chase that unfolds in the winding and hilly streets San Francisco which leads to our hero increasing his size to dangerous levels in order to chase a tour boat in Fisherman's Wharf. Although these scenes are busy and exciting, the effervescent humor runs parallel to them.
There is a running joke about magic tricks but the approach likens that of a juggling act. The rescue mission lies in the center but there are also bits such as the house arrest of Scott Lang (Rudd) following the events of "Captain America: Civil War," in which an FBI agent (Randall Park) attempts to keep a close watch, an enigmatic figure called Ghost (Hannah John-Kamen) who is able to walk to through walls but is in constant nearly unbearable pain, and a black market dealer (Walton Goggins) hoping to steal the lab's technologies and make a healthy profit. It even has time to inject the humor of the X-Con Security crew (Michael Peña, T.I., David Dasmalchian). Somehow these elements work together not only because of the performances but also due to the screenplay being written smartly, always aware not to wear out a subplot's running gag.
Like numerous Marvel movies, the "Ant-Man" sequel suffers from an antagonist that ought to have been more interesting. While Ghost is provided a rudimentary background, and it is great that she is not intended to function as a typical villain who wish to end the world or make people suffer, she is not intriguing outside of what she can do to prevent Ant-Man and the Wasp from pulling off their central mission. While John-Kamen is fit for the role, I recognized a common ailment that performers rely on when the material does not inject enough substance into its characters: quirky behavior. More interesting, however, is her relationship with a father-like figure. I wished to know more about them and their work together following Ghost's orphanhood.
Another relationship worth further examination is the titular characters'. Scott and Hope's more romantic moments are reduced to awkward dialogues (mostly executed and dragged on by Scott without losing a percentage of charm) and googly-eyed exchanges. While the romantic chemistry between Rudd and Lilly is strong, we do not experience genuine growth in their relationship nor do we recognize that, following their struggles in this film, they come to see one another under a new light, that they appreciate one another more. I suppose something has got to give when the action and comedy must be at the forefront. Yet one can argue that we should expect more exactly because the writers and filmmakers are so talented in juggling disparate elements.
Despite its secondary shortcomings, "Ant-Man and the Wasp" offers great fun. It is always visually dazzling whenever the film showcases images from a miniaturized point of view, particularly during the action sequence at a hotel kitchen. Even more daring images are found within the Quantum Realm, the pavonine colors almost overwhelming the senses.

Little Evil (2017)
★ / ★★★★
The would-be horror comedy "Little Evil," written and directed by Eli Craig, is an unambitious, barely TV-movie quality picture in which the humor is broad and the horror is non-existent—characteristics that are exactly wrong in the kind of film it wants to be. It is a formless, toothless, unintelligent bore, relying too many times on pop culture references when it should have bothered to forge an identity of its own.
Craig's screenplay targets only the lowest hanging fruit, thus assuming the audience is not smart enough to engage in a story that is worthwhile. Although the filmmaker wishes to play with the trope involving a child who might be a spawn of Satan, there is no central thesis. It were as if the writer-director had forgotten to ask himself why the sub-genre works in the first place. Broken down to its basic elements, these stories touch upon the fear of fatherhood, feelings of deep uncertainty, perhaps even reluctance, perverted into such a hyperbolic extreme that these concerns turn into paranoia. This is a picture unconcerned about psychology or the trials of parenting.
Adam Scott and Evangeline Lilly are unconvincing newlyweds. Barely sharing any chemistry, their lines are recited in automaton-like manner, supported by fake-looking interiors of a home that is obviously shot in a studio. Those in charge of set pieces do not even bother to get the small details right. Put these scenes side-by-side with sitcoms that do not even last a season and they share numerous similarities. Perhaps the only thing missing is the laugh track. Maybe because the material is not funny enough to deserve one.
Horror-comedies are pointed, specific, and filled with purpose. There is almost always a balance of amusing moments and dead-serious revelations that get under the skin. Notice that within a span of fifteen minutes, it attempts to put on way too many hats but fails to excel in any one of them. In one scene it is a buddy comedy and the next it is a supernatural thriller. It does not spend enough time wearing the same pair of shoes so that it can dig in and excavate the uneasiness of being a step-parent. At least there is Bridget Everett, a butch lesbian step-dad named AL, the protagonist's enthusiastic co-worker. Her portrayal, and the character, is more interesting than everything else in the movie.
The mediocrity of "Little Evil" shows a lack of inspiration. If the writer-director were inspired, he would have strived much harder to deliver work with hints of originality, at the very least. Instead, what we find on our laps is regurgitated dross, an insult to the mind and the senses, a complete waste of our limited, precious time.

Real Steel (2011)
★★★ / ★★★★
Charlie Kenton (Hugh Jackman) was addicted to robot gambling which was inopportune, in the least, because he was neck-deep in debt. After his robot was demolished by a raging bull, he was informed that his former girlfriend had passed away and his son, Max (Dakota Goyo), needed an official guardian. Charlie was to appear in court to pick up the boy, but Max' aunt, Debra (Hope Davis), who married a rich man, wanted to adopt him. For a hundred thousand dollars, the gambler made a deal, unbeknownst to Max and Debra, with the husband: Max was to spend time with his father over the summer but he was to be returned in Debra's care after their trip to Italy. Written by John Gatins, Dan Gilroy, and Jeremy Leven, "Real Steel" managed to be quite involving as it explored the connection between father and son through robot fighting. The picture was smart in first establishing Charlie as our protagonist on the path to self-destruction. He was a good guy, but he often relied on instincts instead of measured calculation to make a quick buck. On the outside, he seemed to do it for the money. He was a former boxer who saw himself as a failure in that field. I looked at him and considered that perhaps he gambled for the rush. Maybe watching his robot fight was like being in the ring himself. As his machines were eradicated, so were his personal connections. Bailey (Evangeline Lilly), his somewhat girlfriend and the daughter of the man who taught him to box, really needed the money that Charlie burrowed to pay for the gym she managed. This made him so desperate, he didn't even think twice to sell his son. Charlie and Max were quite opposite but the same in important ways. Meeting for the first time, the son suspected that he'd been sold and asked his father if he, in fact, was. Charlie told the boy the truth but Max, plucky and sarcastic, digested the information with dignity and dealt with it on his own. When presented by bad news, neither shriveled; both saw it as a chance to start anew and to prove everybody wrong. That was the reason why I wanted Charlie and Max to succeed as robot gamblers and as father and son. Notice that I haven't even discussed the robots. That's because they were secondary to the human drama that propelled the movie forward, yet necessary as a catharsis for these characters. Max stumbled upon a robot named Atom in a junkyard. It was a sparring robot, designed to take a lot of hits but not actually hit back as effectively. With the help of Charlie's robots, Ambush and Noisy Boy, that had been destroyed, Max was able to extract necessary pieces from them to make Atom stronger in both offense and defense. Eventually, they won enough fights to gain popularity and be invited to World Robot Boxing Tournament in which they had to face Zeus, the undefeated robot champion. Based on "Steel," a short story by Richard Matheson, "Real Steel," directed by Shawn Levy, was ultimately a story of redemption. Our decision to emotionally invest in the characters, if one so chooses, was worthwhile because it wasn't just about metals clanging against each other like in Michael Bay's egregious "Transformers" movies. There was something real at stake. That is, a father finding his son and recognizing that he was good enough even though he wasn't perfect.