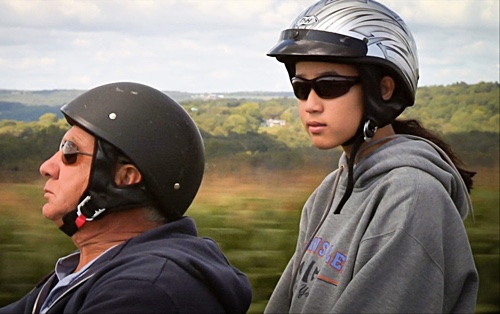 Somewhere Between (2011)
★★★ / ★★★★
Having just adopted a baby from China, Linda Goldstein Knowlton is aware that her daughter will come to ask questions about her roots eventually. In order to help and guide her child in creating a strong sense of identity, Knowlton feels she needs to further her understanding when it comes to the struggles of being adopted. So, the director turns her camera on four teenage girls who are raised by white American parents.
One of the subjects is Jenni, living in Berkeley, California, who, as a child, was found roaming the streets and later sent to an orphanage. Out of the four girls, she is perhaps the most relatable or accessible because she has a way of explaining how she is feeling or what she is thinking in a way that is beyond her age. At one point, she tells the camera that no matter where she is—whether it be visiting China or living in the Bay Area—everyone knows she is foreign.
She delivers this in such a matter-of-fact way that in about a minute or so I realized that there are times when I feel exactly the same about being an immigrant: that no matter how much I've assimilated in the "American" culture, characteristics that are ingrained in me—whether it be how I look, how I've been raised, how I perceive and process information—can never really be ignored or erased.
Jenna of Murburyport, Massachusetts is an interesting case as well. Being one of the very few Chinese people in her town, she tends to describe herself as being "yellow on the outside and white on the inside" to her friends and to the camera. I dislike descriptions like that but, admittedly, that was exactly how I—and a few friends—described myself during the early years of high school. I think that deep down the commonality is the need to belong. Like Jenni, Jenna—even though she may not admit to it—does not feel good enough in her own skin sometimes. This explains why she feels she has to be best or be in control of whatever task she is given. I know that feeling, too.
The final two girls are Ann from Pennsylvania and Haley from Tennessee. They meet through a program that gives Chinese adoptees a chance to be able to connect with one another. The two are almost complete opposites: the former has little interest in wanting to meet her biological parents while the latter embraces the idea. The film does not judge whether one course of action is better than another. What we do see is how the girls deal with excitement, wrestle with disappointments, and what it is they hope to accomplish in the future with respect to their roots.
I hope to adopt a child one day. Whether or not he or she will come from the same culture as me, I believe the documentary does a good job in raising questions I would not have considered otherwise. The picture makes a point that the answers that each of the subjects comes to terms with are specific to every one of their stories.