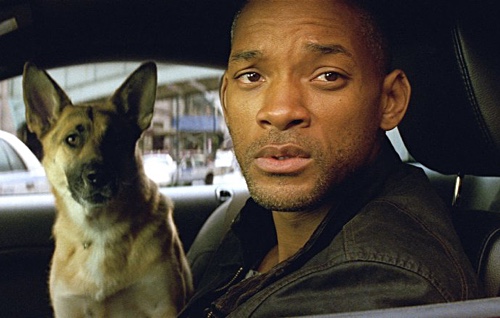 I Am Legend (2007)
★★★ / ★★★★
In most post-apocalyptic movies where the human population is pushed to the verge of extinction, I tend to believe that I not only could live in such a world, I would thrive in it. I relish the idea of walking down streets that are dead silent, driving down the freeway at 120 miles per hour, raiding supermarkets, having all the time in the world to read books, and taking on target practice as a hobby. There is no worry about work, money, family problems, friend dramas, American politics, and attending social gatherings in which you are forced to make small talk.
But not in Francis Lawrence's "I Am Legend," a sci-fi action-thriller loosely based on Richard Matheson's 1954 novel which centers around a military scientist who chooses to stay in New York City because a. it is the ground zero of the worldwide pandemic that killed 90% of the human population and b. he hopes, given enough time and effort, to find a cure. Most of the remaining 10% who had natural immunity to the genetically engineered measles virus, originally hailed to be a panacea for the emperor of all maladies called cancer before the virus inevitably mutated, became food for the rabid, vampire-like monsters.
The first half of the film is terrific entertainment. We follow Dr. Robert Neville (Will Smith) and his German Shepard companion named Sam go on about their day-to-day activities: hunt for deer meat, look for uninfected survivors, visit video stores for a bit of chit-chat with mannequins, a trip to the lab to determine which drugs are effective at killing the virus but not the host, and the like. Although we are in Manhattan, the rules of the new world are demonstrated to us through this microcosm. Critically important: Allow ample time to head indoors before the sun goes down.
For a while, we are are not shown what goes on outside during the night. We hear, however, a cacophony of sounds: wailing, screeching, roaring. Combined, they are deafening, terrifying. It gives the impression that the world no longer belongs to humans but to a new apex predator without regard for rules or morality. Lawrence ensures to focus on Smith's expressive eyes, particularly when those windows show a mixture of dread and sadness, of anger and determination. Smith fits the role wonderfully; he exudes so much charm that although he must act with nothing by his side other than a well-trained canine, it always feels like there are two people on screen communicating: he with us and us with him as we empathize with his increasingly crippling isolation. At times he himself is unsure whether he has gone crazy.
The less impressive but still tolerable second half begins when Dr. Neville comes across a woman (Alice Braga) and a boy (Charlie Tahan), on their way to Vermont because it is rumored that there is a colony there composed of humans immune to the Krippin Virus. Neither is interesting enough. We feel as though they are introduced to the story simply to push the plot forward. Even though their stay is short-lived, the screenplay by Mark Protosevich and Akiva Goldsman could have found ways to show, with cunning and efficiency, why these two are worthy sharing the screen with the fascinating Dr. Neville. I am convinced they could have found creative approaches given the power and imagination of the first hour so.
Still, there is plenty to appreciate here. A few standout scenes: Sam running into an abandoned building containing a hive of Darkseekers, Dr. Neville coming across a mannequin that should not have been where it was, and all of the flashback sequences when panic takes over Manhattan following the president's address that the mutated measles virus has gone airborne. This is a memorable science-gone-wrong picture. I wished it closed just as strongly as it began.