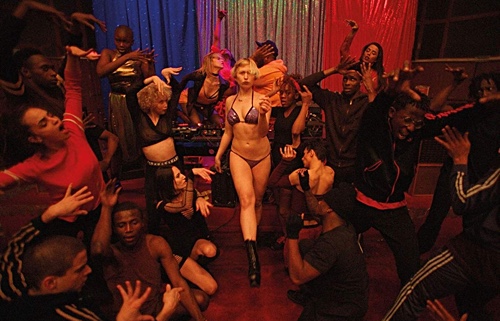 Climax (2018)
★★★ / ★★★★
An argument can be made that there is no movie here, let alone a strong story that is worth the emotional journey. But leave it to shock maestro Gaspar Noé to create an unadulterated sensory experience from a near-nothing. I found "Climax" to be hypnotic, brave, and free. We are not meant to care about any of the characters on screen so long as they move their bodies and create amazing shapes and contortions. It cannot be denied that it is exactly the film that the filmmaker wanted to make. And for that, it is certainly worth seeing.
The work is divided into two halves: a relatively tame party after a successful dance rehearsal followed by the aftermath of drinking sangria spiked with LSD. But before the first half begins, we sit through various interview tapes of the dancers who may or may no live through the night in question. We learn about their attitudes about sex, sexuality, sensuality, drugs, country of origin, and America. We get a strong impression of how much they value being able to express themselves through dance. One of the dancers claims that if she could not dance any longer, she would commit suicide. As we see her dance for the first time, we realize she is dead serious.
It is apparent there is a strong partnership between Noé and choreographer Nina McNeely, proven by the first dance sequence seemingly shot in one take. It is amazing how every performer is ready to shuffle in and out of the shot as they execute eyebrow-raising moves. It is a joy and a surprise to watch because, for example, a dancer who comes across a bit stiff thirty seconds prior can suddenly return to the middle of the frame so soft and pliant. It makes the viewer question whether potentially erroneous moments were actually done on purpose in order to subvert expectations. Furthermore, notice that although the dance is focused on limbs and torsos being thrown about, performers always have strong emotions on their faces. This sequence alone requires repeated viewing; it is that impressive.
There are no characters, but there are personalities. A few standouts include a mother (Claude-Emmanuelle Gajan-Maull) of a little boy (Vince Galliot Cumant) who is suspected of having drugged the drinks simply because she was the one who prepared it, the man who would not stop bragging about his sexual conquests (Romain Guillermic) which earns him the title of being a "ticket to an STD," the siblings who clash (Giselle Palmer, Taylor Kastle) when the subject of personal freedom is broached, and the woman we see during the opening shot (Souheila Yacoub) as she crawls through the snow while drenched in blood. Every one of these subjects is followed by the camera at some point without compromise. Showing people experiencing a high is one thing—so many filmmakers do this. But to show paralyzing repercussions through the lens of realism is another. At times the movie works as a horror film.
Noé is strongest when constructing a claustrophobic chamber piece. While "Climax" is not his strongest work, it is still a cut above generic filmmaking so often constrained by plot and the need to create characters worth rooting for. Not here. What matters is that we have a reaction to it. If you walk away from this film and finding yourself not having an impression or an opinion, you are dead inside. The movie's purpose, I think, is to provoke. Get on.