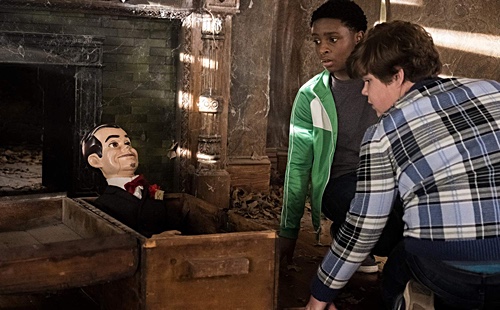 Goosebumps 2: Haunted Halloween (2018)
★ / ★★★★
One of the problems with the inferior sequel "Goosebumps 2: Haunted Halloween" is an absence of one good scare or even a series of slightly suspenseful moments specifically made for pre-teens. As a former reader of R.L. Stine's work, it is easy to tell that the film has failed to capture the spirit of the source material: Pick any one book and it is likely there is at least one memorable moment, often pregnant with irony or at least smeared with dark humor, that sticks in the mind like gum. This picture is so generic and kid-friendly, it makes Disney Channel's original "Halloweentown" look edgy. Not even the most impressive visual effects can mask its unexceptional nature.
Like the predecessor, the plot revolves around the living dummy Slappy (voiced by Mick Wingert) wreaking havoc around town by bringing "Goosebumps" villains to life on Halloween night. Those who have seen the original are likely to tune out completely because the familiar elements are not strong enough to garner much interest. In fact, the repeated beats and tired rhythms are not only redundant within the scope of the series but also compared to other fantastical Halloween-themed family comedies. Characters fall over during the most inconvenient times, they end up scaring themselves, and, of course, somebody has to be rescued somewhere. It is all so uninspired.
Even the characters are barely characters, just skeletal personalities to be utilized to execute the plot. Once the central story gets going, every one of them is useless; it certainly isn't convincing why the story must be told from their perspective. Sarah (Madison Iseman) is the elder sister who aspires to become a writer but she does not prove to be resourceful or creative, Sonny (Jeremy Ray Taylor) is intellectually curious but not especially sharp or motivated, and Sam (Caleel Harris) is the best friend but not an especially useful sidekick. And they are so bland; remove any one or two of them from the screenplay completely and the difference is likely to be negligible. The three performers try hard to conjure up excitement but the screenplay gives them nothing to work with.
The script lacks a range of humor. Are we supposed to laugh at the hip-talking mom (Wendi McLendon-Covey) who at the same time wants to be taken seriously by her children? Is the school bully (Peyton Wich) being pantsed for the third time in under a minute supposed to be funny? It is illogical one too many times, too. There is a big commotion involving gummy bears (a neat scene) but the grandmother sleeps through it. Is anybody amused by this?
Far too many screenwriters equate kid-friendly with vanilla. "Goosebumps 2" is directed by Ari Sandel and written for the screen by Rob Lieber, and neither takes a risk to break the ennui of the material. Consider kid-friendly and family movies that have gone on to become classics: "E.T.: The Extra-Terrestrial," "Babe," "The Sandlot," "Big," to name a few. Each one of these movies have an idea that are not especially original. But they work because the writing is committed on a high level and it is apparent that the execution from behind the camera is enthusiastic at the very least. Here, those in charge simply choose to go through the motions, relying on the brand recognition alone to make money. There is no invention or even a whiff of an attempt to create compelling protagonists.