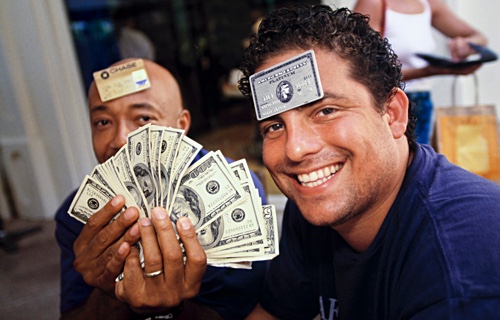 Generation Wealth (2018)
★★ / ★★★★
Photographer and filmmaker Lauren Greenfield looks back on her twenty-five career in order to examine the potential elements that have contributed to our wealth-obsessed society. On the outside, it has the makings of a truly fascinating documentary, especially given Greenfield's level of access with past subjects that range from children of rock stars, pornographic performers, to former hedge fund managers. However, looking more closely, it is a work that lacks balance, focus, and, perhaps most importantly, subjects who are more relatable: the every day people, those who consume the media on a daily basis, those who choose to swipe their credit cards despite the fact they are low on funds, those who allow celebrities or personalities to define one's worth or value.
Despite the director's access to a handful of individuals with interesting stories to tell, it is most frustrating that some of them are introduced early in the picture but are not seen again until about an hour or so. Because the project attempts to tackle so much, it veers off in so many directions to the point where at times we end up forgetting its thesis. Its approach feels scattered, desultory, failing to build intrigue or even suspense. At its worst, notice we are simply provided a parade of clips from Greenfield's oeuvre. "Thin" and "The Queen of Versailles" are films that are so focused, it is impossible to look away.
As for the subjects we do see often, notice they are not given enough time to speak. Either that or the editing is so omnipresent that cuts are made for no good reason. I wondered if it was meant to modernize the work, to provide it a sense of urgency. But great documentaries have the patience to keep the camera on the subjects and stare. No decorations, no blinking, no cuts, no apologies. The camera is there to capture to truths, lies, and everything in between. The audience is left, challenged, to sift through the said and the unsaid—sometimes even the subjects, in a way, function as mirrors to those watching. Thus, watching the film becomes an experience of sitting through critiques of ourselves.
Shouldn't this be the point of the documentary: To look at the subjects and recognize ourselves? After all, each and every one of us, to a degree, is a part of the global capitalist machine. Sometimes we confuse wants for needs. We allow ourselves to be manipulated by the media and this impacts what we buy, how we see our bodies in the mirror, how we define success or being successful. I felt the work lacks self-awareness and a grounded nature or feeling that makes viewers relate to it even though it is a critique on our society.
There are few instances, however, when it exercises raw power. Greenfield makes the correct decision to put her family in front of the camera. In roundabout ways, she asks her children, for example, how they think her obsession with her career have impacted their relationship. There is no question that Greenfield's intelligent sons are closer to their father. And it's funny because not once does the father appear in front of the camera. His story is told through voicemails, pictures, and the children's memories of him.
It is without question that "Generation Wealth" is a work with ambition, but it does not deliver on the level beyond a career retrospective. It lacks the necessary depth to be able to pierce the heart of what makes our modern society so pathologically obsessed with excess and vanity. For such a rich subject, it offers no eye-opening or surprising insight.