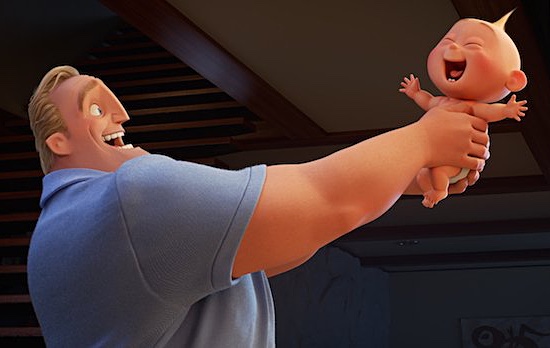 Incredibles 2 (2018)
★★★★ / ★★★★
While the soulless "Cars" sequels are made solely to sell more toys, chugging out yet another mediocre entry approximately every five years, the follow-up to "The Incredibles" is released fourteen years later—and it shows. Notice right from the opening action sequence the numerous and seemingly superfluous details. For example, how light hits an object from a certain angle and the reflected light, its intensity, is adjusted based on tricky camera movements and hundreds of other factors, like shadows, around the object of interest.
This is one shot. Now imagine this love for detail and level of hard work throughout a handful of fast-paced battles or even when it is just two characters sharing a clever and funny conversation. Freeze every frame and it is highly likely that something in the background is changed even just a little. Pixar delivers yet another home run.
Sequels to animated movies tend to annoy me because most of them end up becoming just a rehash of what had worked in the original. "Incredibles 2," written and directed by Brad Bird, is a shining exception, more within the veins of John Lasseter's "Toy Story 2" than "Despicable Me 2," "Hotel Transylvania 2," or, dare I say it, even "Finding Dory." I appreciated that this entry is actively interested in world-building: more superheroes are introduced, the politics of their legalization is explored a bit more, we get a villain who relies less on explosions and more on the long game of waiting to strike until all chess pieces are properly placed in order to optimize chances of victory.
Most importantly, the veteran writer-director is aware that the most effective weapon of the original is the Parr family dynamics—when they do not have their superhero suits on, when they are just a regular family dealing with regular things, like the pains of raising a toddler and babysitting, of being liked by a boy at school, struggling to get through math homework. The voice cast is top-notch. Craig T. Nelson and Holly Hunter, providing the voices for Bob and Helen, Mr. Incredible and Elastigirl, respectively, have such lovable chemistry. How they emote command such range.
For instance, when it sounds as though the dialogue is leading them toward a big argument, like whether or not Helen should accept a curious job that could eventually lead to the legalization of superheroes around the world, the material is capable of shifting suddenly toward sillier territory, like Bob's jealousy of not being the client's first choice. In the middle of the picture, I was convinced that the actors must have been in the same room while creating the exchanges because the final product commands dynamism—the kind that we do not feel in our bones when performers simply recite lines by themselves rather than aiming the words toward another person who is within an arm's length. Context and subtext matter in voice work—especially when conflict is supposed to be convincing. Sarah Vowell, Huck Milner, and Eli Fucile provide voices of the Parr children.
Notice I have not detailed much of the plot. This is because the picture is not about the plot and so it is negligible in my eyes. Rather, the focus is on the colors, the energy, the painstaking details of animation, the visual jokes, the clever lines, the surprising and ironic situations. "Incredibles 2" delivers on providing a terrific time. I was in high school when its predecessor was released. I have a career now but this film, even though it has some familiar elements, inspired me to lean forward with my childlike eyes, a big smile plastered on my face.

Once Around (1991)
★★★ / ★★★★
Renata (Holly Hunter), despite being thirtysomething, still lived with her parents (Danny Aiello, Gena Rowlands) and she seemed to lack direction in life. The first scene of the film was Jan's (Laura San Giacomo) wedding, Renata's sister, which was happy on the outside but its purpose highlighted the fact that Renata was lonely, if not almost desperate to have someone she can call her lover. But her insecurities were seemingly thrown out the window when she met a successful salesman named Sam (Richard Dreyfuss). There was an obvious age difference between the couple but Renata decided to continue the relationship because Sam made her genuinely happy. But more problems ensued when Sam overstepped his boundaries within the close-knit family. What I loved about this picture was its focus involving the principle of "Once around, always around." The scenes of Sam trying to wriggle his way into situations that didn't concern him made me angry and uncomfortable because I really identified with the family. He was a social man who liked to joke around (dirty jokes especially) and sing songs but he wasn't used to filtering his words and wasn't aware that sometimes he could be very offensive to certain people. In a way, we all know people like him whether it be with our own families or group of friends. Or maybe it's us but we just aren't aware of it. I admired that Lasse Hallström, the director, didn't frame the family as a group of eccentrics sickeningly common in movies of the 2000s. They were essentially a normal family but their worst were at the forefront when Sam was in the room with them. It was fascinating to observe the way the characters responded to each other because the reactions weren't always predictable. When I thought a situation would end up being sad, it ended up being funny. When I thought a situation would end up funny, it would end up being bittersweet. Hallström had control over the material's mood and I felt like each scene had a purpose with stakes that became increasingly higher. Best of all, "Once Around" was relatable. In my family gatherings, I like to observe people while I eat. Most of the time the in-laws keep a certain distance while the core family members are not afraid to make fools out of themselves. (Filipinos love to karaoke… most of the time while drunk.) But sometimes the in-laws lose a bit of control and everybody could feel a difference in atmosphere. That's why I thought "Once Around" was very smart. It was able to pinpoint that familiar awkwardness and successfully built a story around it.

Firm, The (1993)
★★★ / ★★★★
Based on a John Grisham novel, "The Firm" is about a Harvard Law School graduate named Mitch McDeere (played by Tom Cruise) who receives an offer from Bendini, Lambert & Locke with an offer that surpasses other firms' with benefits that no man in his right mind would refuse. McDeere's wife (Jeanne Tripplehorn), coming from a rich family, tells her husband that it's too good to be true but McDeere ignores his wife's concern, only to find out later on that the firm he works for are tied to organized crime like the Mob. I'm at the borderline whether or not to recommend this film because even though it managed to entertain me more than half of the time, I didn't find any reason for it to be two hours and thirty minutes long. Though its story is shrewd, it's not efficient in its way of telling the story. It purposely piles a stack of one complex idea after another to the point where I found myself giving up trying to find out how one thing relates to another and just observe how it would all play out. It's a shame because this movie had powerful performances, not just from Cruise, but also from Gene Hackman, Ed Harris, Hal Holbrook and Holly Hunter. Also, I don't know if it's just me but I thought there were some unintentionally funny scenes during the last thirty minutes of the picture. Even though what's being presented on screen is serious, the soundtrack suggests otherwise which was aided by Cruise' tendency to overact. Maybe Sydney Pollack, the director, wanted to achieve something different but that lack of agreement between images and tone took me out of the experience. I feel like if it had been darker and edgier, I would enjoyed "The Firm" a lot more instead of just giving it a slight recommendation. I was very interested in the story and the way McDeere untangles himself from the trickiest situations but the execution could've been stronger.