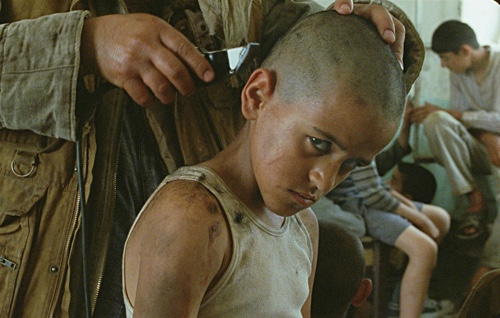 Incendies (2010)
★★★★ / ★★★★
Twins Jeanne (Mélissa Désormeaux-Poulin) and Simon (Maxim Gaudette) are summoned by a notary (Rémy Girard) after their mother, Nawal (Lubna Azabal), passed away. The deceased has an unusual request. If the children do not follow through with her final wishes, she is to be buried faced down, with no coffin, naked, and no tombstone. Jeanne is handed an envelope that she is to deliver to her father, a person of whom they believed to have been dead. Simon is also handed an envelope but this is meant for a brother they never knew about. Jeanne goes to Lebanon but Simon insists on staying in Canada.
"Incendies," adapted from a play by Wajdi Mouawad, is an elegant dissection of memory of both the past and the present of a family in grief, questioning, and yearning. In the middle of a picture, a character informs another that death is never the end because the final destination tends to leave tracks that life has left. They can be seen if one is willing to look hard enough. Through flashbacks, when Nawal is still a young woman in war-torn Lebanon, we learn about her tragic history and how she has ended up halfway across the world.
The fact that I do not know much about the civil war in Lebanon in the '70s adds another epithelium of mystery to the story. We are given information about the factions and elementary reasons why they are at war with one another, but the focus is never on the politics. Instead, what is underlined is the human experience. We see soldiers with guns and trucks, families lining up on checkpoints, children getting shot by snipers, university students trying to make sense of and are angered by the destruction and inhumanity unfolding in the country they love.
One of the most memorable sequences involves Nawal searching for her first-born son's orphanage. She is forced to be separated from him right after she has given birth because her affair with a Muslim refugee (she is a Christian) has already brought enough shame to her family. There is a lot of walking through regions ravaged by war, coupled with close-ups of her increasing anxiety and dread as she is pulled toward one place to another just so she can be reunited with her child. In a riveting scene, a bus is soaked in gasoline by armed men outside while Nawal and other innocent people are inside. We watch her from the chest up and Azabal does an excellent job in avoiding extremes, completely avoiding melodrama. Her silent suffering is enough to make us feel the lashes of disappointment in her discoveries.
"You're looking for your father, but you don't know who your mother is," tells a respected older woman to Jeanne while visiting her mother's village. Though it is tough for Jeanne to hear, it is not meant to be dismissive or mean. It is the truth. The elegance of the narrative is most clearly communicated here. Because of the flashbacks, we have grown to know the mother a lot more than her children. We note their incorrect conclusions and hoping that somewhere down the line they will realize and remedy their misinterpretations.
"Incendies," directed by Denis Villeneuve, makes a statement that we should be aware of our roots. What we grasp may be ugly or painful but it is a part of us. We should take whatever it is and make an effort not to forget. It also has something to say about family. In my eyes, the twins never really knew their mother. Sometimes that's just the way it is.