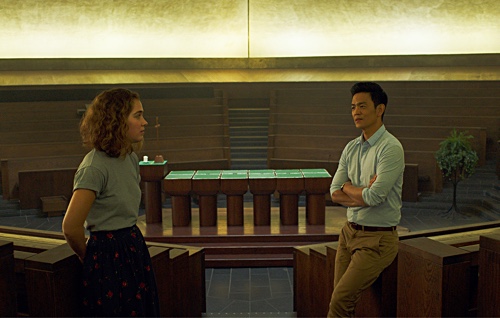 Columbus (2017)
★★★★ / ★★★★
Writer-director Kogonada has the patience of master Japanese filmmakers. In between moments of action or importance are seemingly throwaway moments: pedestrians crossing the street, the sky's blinding blue-brightness, plants being watered, children at play. This storytelling technique is most appropriate in the impressive debut feature "Columbus," a portrait of two individuals—one a local in Columbus, Indiana, and the other a visitor—who must or feel the need to put their lives on pause because of family. These asides, moments of randomness and freedom, are almost acts of exhalation when the film's protagonists are tired of holding their breaths.
The local is Casey (Haley Lu Richardson) and the visitor is Jin (John Cho), the former caring for her mother who is a recovering drug addict and the latter the son of a professor who has fallen into a coma prior to his lecture. The picture, for the most part, is a collection of Casey and Jin's interactions—how strangers become friends and then later perhaps something more special.
Fresh is the fact that the relationship is not of a romantic nature despite's the leads' wonderful chemistry. It is an exploration of two spirits so different but finding commonalities anyway. There is something beguiling in its simplicity. What they share is beautiful, thoughtful, and often poignant. Surprising moments of honesty—sometimes painful honesty—are in store for those willing to look deep into the characters.
Its pacing is controlled, slow, and mesmerizing. During the aforementioned "throwaway moments," more than a handful of times I found myself thinking back to a scene that had just unfolded. I pondered over the incredibly realistic dialogue; questioned why or how words are expressed a certain way and what these reveal about the subjects; wondered about body language and how reading it accurately may help to extricate big truths from small lies. Facial expressions do not tell all or may deceive. Casey and Jin are the farthest from archetypes so it is most refreshing when they reveal their thoughts about architecture, responsibilities, their pasts, where they hope to be or become one day.
Stunning shots are peppered throughout, whether it be of local buildings or an interior of a humble home. With the former, notice how angles are more dominant, impersonal, we observe structures from a distance. On the other hand, inside houses, colors and patterns are in command. Posh dwellings are bright, filled with hard, shiny surfaces and collectible decorations. Working class homes, by comparison, are quite somber but these are filled by familiar elements like a soft couch, photographs with cheap frames, a cramped kitchen/dining room where family members actually eat and laugh together. Although images may be worlds apart, Kogonada shifts between them with ease. He has a knack for making the images speak for themselves.
Notice the film's willingness to be silent. There is no score. We hear cars swooshing by. Birds chirping. Footsteps and shuffling during house tours. Whispers in the library. The trickling of the water fountain nearby. By having no score, there is one less barrier between the subjects and the audience. And so when they reveal themselves, it feels like a friend is exposing his or her soul.