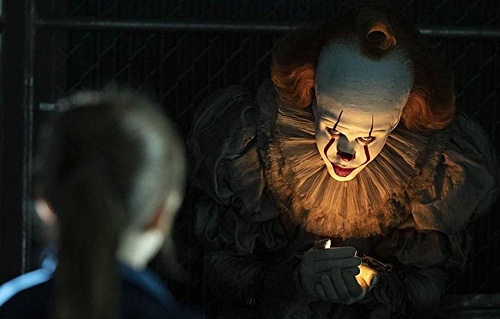 It: Chapter Two (2019)
★★ / ★★★★
For a movie with elaborate set pieces and a willingness to experiment with different types of horror, "It: Chapter Two" is only entertaining parts. Perhaps the problem can be attributed to Gary Dauberman's screenplay. It spends far too much time communicating how the Losers, now adults (James McAvoy, Jessica Chastain, Isaiah Mustafa, Bill Hader, Jay Ryan, James Ransone, Andy Bean), have become traumatized from their encounters with Pennywise the Clown (Bill Skarsgård) twenty-seven years ago. Not one of their plight is particularly compelling or original and so it is a curiosity why the material feels the need to spell out the psychological underpinnings of their behaviors. I found it needlessly expository.
The opening scene is most promising because it underscores the idea that people around us can be just as evil—if not more—as the supernatural kind. A romantic date is turned into something so awful, the events linger in the mind for a while. One is led to believe, if one is not familiar with the source material, that perhaps we will learn, in detail, about Pennywise's history, why he—or it—is driven to terrorize this particular town. Is it solely for its own survival or are the people's behavior in this place (homophobia, racism, xenophobia) directly tethered to his bloody rampage? However, as the film goes on, we learn only one bit of critical information about the villain. Pennywise is pushed to the side until climactic special and visual effects extravaganza.
It is not without good performances. Hader stands out as Richie, a man with a secret, whose life is so sad and lonely that he became a comedian in order to utilize humor as armor. I am familiar with Hader's more dramatic roles but never have I seen him as effective as he is here. At times I caught myself looking in his direction while sharing the same frame as powerhouses like Chastain and McAvoy—highly efficient performers who can do next to nothing and yet remain in control of the screen. It helps that Hader gets some of the best lines. He sells every single one with conviction; we believe this character exists out there in the world. An argument can be made he is the heart of the film.
The movie offers fewer terrifying moments than the predecessor. Part of it is because we are following adults instead of children; there is a natural instinct for us to want to protect children and get them out of harm's way. But the more interesting part is a lack of effective build-up to the scares. I can think of one exception: Beverly's return to her childhood home when she is welcomed by the current tenant, an elderly lady whose father joined the circus. Other than this standout, a deliciously devious sequence, the rest of the Losers' encounters with their pasts feel as though these were taken from other generic made-for-TV horror pictures.
Of particular annoyance is the numerous hallucinatory sequences. I felt as though these comprise the majority of the second act. Sharp writers should recognize that events surrounding hallucinations suffer greatly from diminishing returns. And yet it remains adamant in employing this approach without sudden, genuinely shocking left turns to keep us invested.
Both "It" chapters are based on Stephen King's novel. His works are notorious for being a challenge to put on screen so that the movie is just as effective or even better than its source material. It is because many of his work are so pregnant with imagination that even the most expensive special and visual effects are not able to match the images formed in our minds. Despite the yelling, screaming for help, and terrorized expressions, "Chapter Two" feels like just another scary movie. It is a disappointment because "Chapter One" is a killer springboard.