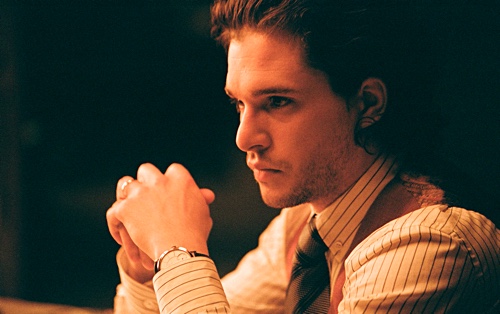 The Death and Life of John F. Donovan (2018)
★ / ★★★★
There is a curious drama hidden underneath "The Death and Life of John F. Donovan," written by Xavier Dolan and Jacob Tierney, a story that involves correspondences between an eleven-year-old boy who aspires to become an actor (Jacob Tremblay) and an adult television actor on the verge of superstardom (Kit Harington), but its fancy touches—like where a camera is placed in order to show a scene in a "unique" way, how characters tend to break into speeches when emotions run high, on-the-nose songs playing suddenly on the radio designed to underscore how a person is feeling just in case the audience doesn't quite "get" it—bog it down. For a film about crippling loneliness, it seems afraid or unwilling to get to the point. There is a minefield of unnecessary decorations here. Sometimes less is more.
It is all the more disappointing that the film is filled to the brim with wonderful supporting performances, from Susan Sarandon as the titular character's alcoholic mother, Natalie Portman portraying a former actress whose promising career perished when the father of her child decided to abandon them, to Thandie Newton as a journalist, typically covering politics, who is thrusted, much to her dismay and exasperation, into interviewing an actor named Rupert Turner (Ben Schnetzer)—the boy, now a man, whose idol died due to drug overdose in 2006.
But out of these veteran performers, Kathy Bates and Michael Gambon shine brightest, the former playing John's no-nonsense manager and the latter as a grandfather whose grandson is a big fan of John's. They stand out for two reasons: 1) strong performances that demand the viewers to look at the screen without blinking and to listen deeply and 2) their ability to put into context what writer-director Dolan fails to accomplish. The Bates character underlines that in order for John to live a life of happiness and fulfillment—and they are two different things—he needs to live an honest life. Meanwhile, the Gambon character highlights the fact that sometimes we forget what we know we deserve. Dolan's story involves dreams, Hollywood, and celebrity, but Bates and Gambon reminds us of the humanity of the people who choose to live a life in front of the camera—that John and Rupert's stories are relevant to yours and mine.
John keeps a secret that the fact he is a homosexual. But there is no drama. Does he wish to keep it a secret because he fears it would extinguish his blossoming career? (He is shown to be a heartthrob, similar to Leonardo DiCaprio in the '90s.) Or does he simply hate the fact that he is gay? Is it a mix of both—or something else entirely? The viewers are left to make numerous assumptions based on stories—better stories—from other movies—better movies—we've seen before. But this is a mistake because we are supposed to learn about and empathize with a specific character, not some vague idea or archetype. It is supposed to be a personal story, perhaps even autobiographical, but it lacks flavor and specificity. It doesn't work.
The drama is dead dull. It has nothing new or special to say about modern celebrity, idolatry, or public and private spheres. And yet it has the bravado to cover itself with stylistic pretensions. I was so detached from it, that, at one point, childhood bullying is happening front and center… yet I caught myself trying to read texts of various posters in the classroom.