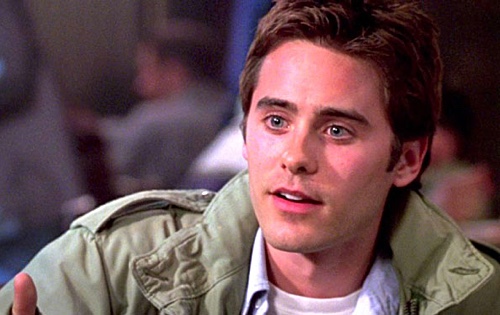 Urban Legend (1998)
★★★ / ★★★★
You've got to hand it to Jamie Blanks' post-"Scream" slasher "Urban Legend": It tries so, so hard to keep the identity of the killer hidden even though it is blatantly obvious who is wearing the hooded parka about halfway through. What results is a final act that is amusing more than horrifying—yet, strangely, the movie still works because it is able to maintain the high level of energy it introduces right from the opening sequence which involves a university student (Natasha Gregson Wagner) who finds out too late that there is an axe-wielding killer hiding in the backseat of her car. Yes, the picture is silly. But it delivers upon the promise of a good time.
There is an awareness to the film that is not quite as meta as Wes Craven's aforementioned 1996 modern classic. In a way, it must be self-aware considering the fact that the murders—well, most of them anyway—are inspired by urban legends, from the grandmother who dries her dog in the microwave, a person waking up in the bathtub to discover that one of his or her kidneys had been taken, to the ankle slasher hiding under the car. Some urban legends can easily be missed. A few others are allowed to unfold in a most elaborate fashion, like a young couple being attacked in a wooded area and the man ending up hanging from a tree.
It is a shame that the characters are not written as smart as the picture's premise. They're outspoken and physically attractive but not especially sharp. Out of the group of friends, we meet Brenda first (Rebecca Gayheart). We assume she is the main character because her face is front and center following the tragic opening sequence and she takes contemporary folklores passed as true stories—urban legends—with a grain of salt. She thinks it's all for a laugh. One night, she takes a friend in front of an abandoned hall—one that is said to have a history of murder back in 1973—and they dare each other to say, "Bloody Mary" five times. The friend, Natalie (Alicia Witt), turns out to be the central character—a left-field move considering she's blander than her best friend. But Natalie is no typical "good girl."
It's too bad that similar tricks are not employed with supporting characters like Paul (Jared Leto), an aspiring journalist who is always hungry for the next big story; Damon (Joshua Jackson), the jokester of the group; Sasha (Tara Reid), the sexy late-night talkshow host; and Parker (Michael Rosenbaum), Sasha's boyfriend who's a bit up himself. These are memorable faces and personalities. They possess a certain presence. Surely the screenplay by Silvio Horta ought to have strived more by, for example, giving every character a reason to want to enact such grisly murders. Fame, popularity, ratings, the Pulitzer, or simply for laughs—had the writer been more ambitious and creative, it wouldn't have been so easy to guess the identity of the killer.
Humor is peppered outside of the core group. I enjoyed Loretta Devine as the sole campus security who idolizes Pam Grier's blaxploitation flicks. She brings fire to a straightforward role. Another is Robert Englund who plays a professor who teaches a course about urban legends. He is frustratingly underused. But when he is front and center, notice his timing, sense of humor, and irony. His character feels at home in this movie… Maybe that makes him a suspect.
"Urban Legend" offers a consistent forward momentum. Characters may make dumb choices more than half the time, but those who get into the picture's groove will find themselves wondering about the next urban legend to be tackled—and changed just a bit so that it fits the college setting and lifestyles. Here is a slasher film in which stabbing, gore, and the like are secondary to the gimmick, atmosphere, and guessing games. It's fun in spite of typical horror elements.