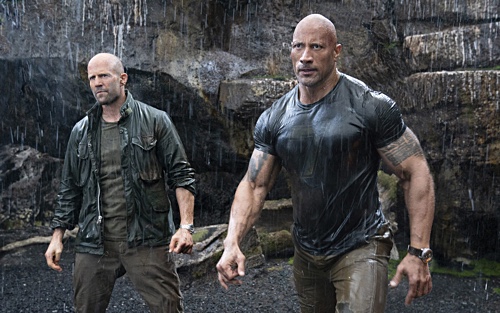 Fast & Furious Presents: Hobbs & Shaw (2019)
★ / ★★★★
Intelligent people will most likely get bored of "Hobbs & Shaw" about twenty minutes in because it reveals its hand too early. Instead of consistently finding new or creative ways to entertain, it offers only two tricks: loud and busy action set pieces and rapid-fire banter between the titular characters (Dwayne Johnson and Jason Statham, respectively) who despise each other. The strategy suffers from diminishing returns and by the end one cannot be blamed for finding any excuse to get up from his seat without the intention coming back. I stayed all the way through and regretted it. I could have spent one hundred thirty-five minutes enjoying the outdoors.
The bombastic action film is directed by David Leitch and his penchant for complex sequences shows, whether it be a car-motorcycle chase across the busy streets London or hand-to-hand combat in a sanitized Russian underground laboratory. He proves to have an eye for what looks good during wide shots or, by contrast, shots that are up close and personal. However, it is surprising that there are screenwriters at all (Chris Morgan, Drew Pearce). Because for every well-lit and marginally impressive choreography, there is at least three cringe-worthy dialogue to go with them. It feels as though the script is written by people without imagination or at least an inkling of how people actually talk in every day conversations. Action movies must be grounded in some way; not everything must be elevated.
This is most problematic during the occasional dramatic moments, particularly when Luke Hobbs (Johnson), a federal agent, and Hattie (Vanessa Kirby), an M16 agent who also happens to be Deckard Shaw's (Statham) younger sibling, find similarities in each other. These exchanges are forced and superficial—awkward and uncomfortable at best. The dialogue also fails to work when the subject of family, particularly being estranged, is broached. These would-be personal moments lodged between action sequences are worthy of the biggest eye rolls. To say the quality is television-like would be an insult to good television with well-written dialogue.
Even the action scenes fail to command a high level of excitement despite increasingly elaborate skirmishes. Here we have a villain named Brixton (Idris Elba) who is part-human and part-machine. Despite all the talk surrounding Brixton being a formidable enemy, notice how he and his team loses in every key confrontation. As a result, especially during the second half, he becomes significantly less intimidating. Introducing science-fiction elements in the "Fast & Furious" franchise is not the problem; the issue lies in the lack of more profound or intriguing ideas behind them. Due to this shortcoming, the work comes across as just another lazy cash grab.
"Hobbs & Shaw" fires blanks. Although it is loud, busy, and appears to look expensive on the surface, it offers an empty, nearly joyless experience. It does nothing to push Johnson, Statham, Kirby, and Elba as performers. The work rests on the actors turning on their charisma and nothing else. At least they are getting a paycheck to sleepwalk though a subpar film. We, on the other hand, must pay money and put in the time to sit through it.