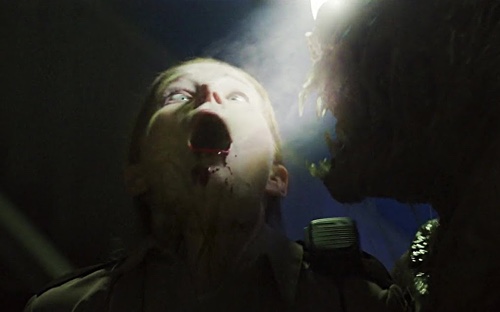 Dark Light (2019)
★ / ★★★★
For a movie that offers plenty of strange noises in a farmhouse in the middle of the night and investigations in the dark using only a flashlight, Padraig Reynolds' "Dark Light" commands no tension, suspense, or horror. It is strange and highly disappointing because the work is written and directed by the same filmmaker who helmed the little-seen gem "Rites of Spring," a hybrid between crime thriller and horror, so confident in what it is and what it wishes to accomplish. This picture, however, is an obvious giant step backward, serving the audience a minefield of boredom and clichés on top of characters more uninteresting than tap water.
The plot is standard but not without potential to genuinely entertain. Annie (Jessica Madsen) and her daughter, Emily (Opal Littleton), recently move into Annie's childhood home following a divorce (Ed Brody), a death in the family, and a mental breakdown. To Annie, the relocation from the city is a chance to start anew with her young child. But it seems that the mother's once happy home is no longer. Doors open on their own. There is scratching and scraping noises in the walls. There are lights that turn on and off out in the cornfield. Emily begins to suffer memory problems. The mystery is laid thick and heavy, but not one of its elements manages to bleed into other territories—surprise, terror, a sense of impending doom—other than mild curiosity.
I became convinced that even the writer-director is aware of this. For a while, the story unfolds in flashbacks and flash forwards in order create a semblance of urgency. Instead, what we get is distraction and, eventually, annoyance because high-priority questions go unanswered for so long to the point where we no longer care. And when questions do get answers or solutions, notice it is almost always action-driven and noisy rather than thought-driven and silent. A more equal mixture might have been more appropriate given the story's setting. Clearly, this is a sci-fi horror hybrid that wishes to impress ostentatiously when playing it simple is more effective.
Further, observe closely when Annie inspects areas she suspects an intruder to be hiding in. She is written to move like a soldier rather than as a mother who is afraid for her and her child's safety. (She has no military background whatsoever.) The intent, I suppose, is to create a heroine who is worth rooting for. But it seems Reynolds did not get the memo that it makes for a far more interesting watch to create a protagonist who is tough on the inside rather than outside—and then allowing that inner strength to shine through. It certainly would have challenged Madsen more—who seems game at whatever the script wishes to throw at her.
"Dark Light" lacks a more elegant, light-handed screenplay. Because it fails to introduce enough wrinkles to an already familiar template, the result is boring, uninspired, and forgettable. Even the relationship between former spouses rings false. Feel the impersonality of their conversations surrounding their child. You get a sense that the actors have got their lines pat but not the emotions and the history of having lived and loved together once. This relationship is robotic and so is the movie. It's a waste of time.