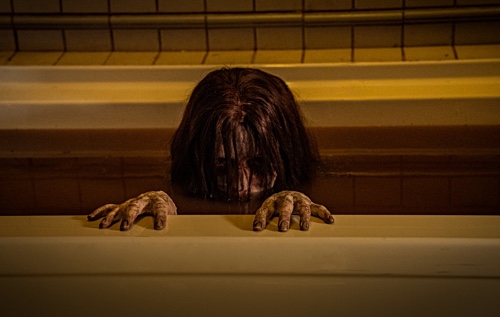 The Grudge (2020)
★ / ★★★★
Nicolas Pesce's "The Grudge" is a most tepid a remake of Takashi Shimizu's "Ju-on." It is so uninspired that in the middle of it, I was compelled to check if this writer-director was the same person who helmed "The Eyes of My Mother," a terrific debut film about how crippling loneliness and deep trauma can destroy the soul of a person. This remake, on the other hand, is not about anything—of substance or value. It contains plot, characters, and lame attempts to scare but it is hollow inside. Who is this movie for? Other than to make money, what is the point of it? Who can be proud of putting this junk out there and wasting people's time and money?
We learn nothing about the vengeful ghost other than it possesses the ability latch onto a person once that individual visits the place it is haunting. In the opening scene, which takes place in 2004, we meet a terrified Tokyo-based American nurse (Tara Westwood) who calls home to inform her family that she'll be returning. In 2006, we meet Detective Muldoon (Andrea Riseborough) who moves to Pennsylvania following her husband's death due to cancer. She is assigned to work with Detective Goodman (Demián Bichir) and soon they visit a possible crime scene involving an abandoned car with a rotting corpse inside. They find an address in the glove compartment: 44 Reyburn Drive. Another cop mentions the Landers case and soon the curious Detective Muldoon becomes obsessed in learning more about the triple homicide.
We meet almost a dozen characters between its 2004 and 2006 timelines. Although they are played by the likes of John Cho, Frankie Faison, Betty Gilpin, and Lin Shaye, these performers are given nothing substantive to work with. And so, in order to create a semblance of intrigue, a few of them rely on histrionics, from yelling to extreme behaviors, and the rest utter lines in a most robotic fashion. Even they are unable to mask their boredom despite being in the movie—and being paid. It is clear that the problem lies in the screenplay. It commands no tension.
Consider: we already know the fates of most of the characters given that Detective Muldoon has a police file in hand. (While Westwood tries her best in looking thoughtful while staring at the photos, notice her character's detective work is minimal at best. We do not get a sense of her intelligence, resourcefulness, and attitude toward her line of work.) And so it is most critical to present intriguing details specific to the unsolved case. Every scene must function as a step forward to a conclusion that's sensical within the story's universe despite its supernatural elements. You guessed it: This is a horror film so generic that mere ten minutes into it, one can surmise that it will offer a non-ending. It assumes that viewers are stupid enough to mistake its laziness for being chilling. This is most pessimistic filmmaking.
Even the special, visual, and make-up effects are not at all memorable. For example, when a figure pops out of the corner of the screen, it is so instantaneous that we never get a chance to appreciate the performance behind the would-be scary facade, the minute touches on dirty or bloody clothing, the look of death or anger on their faces. It gives the impression that the filmmakers themselves are not proud of their work. This "Grudge" lacks energy, an eye for what makes a scary situation effectively, basic pacing, and a distinctive vision. A cheap haunted house walkthrough is scarier than this. And a lot shorter.