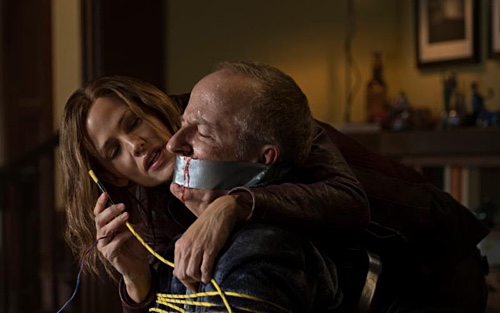 Peppermint (2018)
★★ / ★★★★
As far as vigilante action-thrillers go, "Peppermint" is as generic as they come. It should not have been because the lead is the highly underrated Jennifer Garner, no stranger when it comes to balancing drama and thrills given her extensive experience in the excellent television series "Alias" which wrapped up more than a decade ago. One would think that the screenplay by Chad St. John ought to have aimed higher, wearing its inspirations on its sleeve. Tell a cathartic revenge story first and foremost, then perhaps strive to launch an unapologetically violent film series with a strong female lead. Wouldn't that have been something?
Riley North is looking to serve justice for the murder of her husband and daughter (Jeff Hephner, Cailey Fleming). Corrupt judges and cops shielded members of the cartel from prison time and so North decided to spend the last five years in Asia and Europe to train her body and hone her skills before attempting to take down a massive drug operation. It is most frustrating that we are not shown much during the five-year gap (with the exception of a three-second cage fight video) because showing the character's struggle, and her seething rage, during that time could have provided much-needed insight into her psychology, to imply that the real North died during the drive-by alongside her family.
Numerous bullets fly and there is a smorgasbord of firearms, but the photography leaves a lot to be desired. The picture looks drab. Thus, although action sequences unfold in different locations, they tend to blend into one another both in terms of look and feeling. It does not help that the central villain, too, is painfully pedestrian, a typical cartel boss who talks tough but when the lights go off and compound is broken into, he ends up hiding behind his tattooed bodyguards. In other words, the antagonist is not equal to, or nowhere near, North's level of intensity. It might have helped if the character were written with a more colorful personality—make him extreme, insane, anything other than coming across as another thug to be bulldozed.
The material touches upon a mildly interesting topic: the public's response, specifically through social media, when a person decides to take it upon herself to correct what she perceives to be wrong. For instance, we are shown Tweets and message board responses on television screens, but these glimpses are too quick for us to get a chance to read and appreciate the comments. If something like this happened in real life, you can bet that clever, amusing, cruel, and ignorant responses would get hundreds of likes and responses. Especially when the vigilante is female. And so it is bizarre that the film neglects to pursue a potentially worthwhile avenue. Action movies can have a brain but this work seems incurious to make the story relevant in modern times.
There is nothing wrong with providing violent escapism in the movies. But it has to be absorbing every step of the way, not dead or dying when guns are nowhere to be found and people are simply required to speak with one another. After all, even the best action movies are rooted in drama.